Printable Glasses Cut Out Template
Is your little one feeling left out because they're the only kid in their friend group without glasses? Do they crave a way to add flair to their everyday outfit or dull school uniform? Look no further! Our printable glasses cut out template is the perfect solution for kids to unleash their creativity and craft their own stylish eyewear.
With a wide range of whimsical shapes and eye-catching patterns, our templates offer endless options for your child's personal touch. Whether they prefer to fill in ready-made designs or let their imagination run wild with original doodles, we have the most playful and wackiest glasses templates imaginable. It's time to elevate their fashion game and embrace their uniqueness!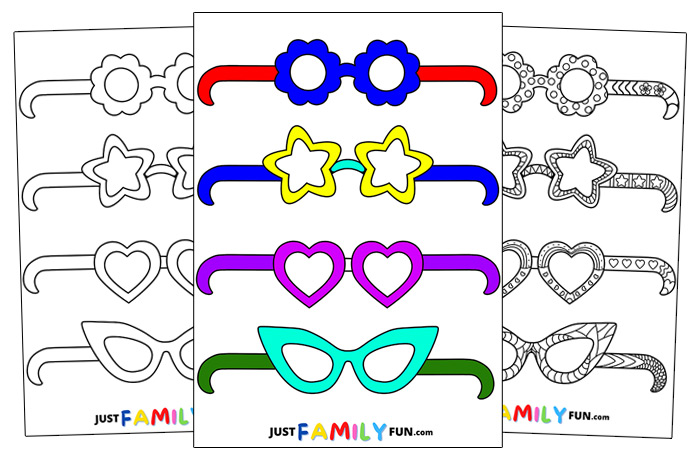 What's Included In The Printable Glasses Cut Out Template:
With our incredible set of printable glasses cut outs, your child will have a blast exploring eight distinctive shapes such as stars, hearts, flowers, and peaks. Half of the templates feature delightful patterns waiting to be colored, while the other half offer a blank canvas for their artistic expression.
To make the most of these cut outs, gather essential tools like scissors, coloring materials, and tape. Additionally, encourage eco-friendly creativity by using recycled plastic to add a touch of sustainability to their DIY eyewear adventure. Let their imaginations take flight and watch as their personalized glasses come to life!
How to Use Our Printable Glasses Cut Out Templates:
Using our printable glasses cut outs for kids is easy! Just follow these steps, use your materials safely, and be as creative as you can.
Choose your favorite glasses template from our selection.
Print out the page containing that pair of glasses.
Tip: we recommend printing on white, A4 cardstock paper

 

Cut around the outline of your glasses.
Gently pinch the face of your glasses together and make a small snip in the eye hole. Flatten your glasses and use this hole to cut the paper out of the eye hole.
Color and embellish your glasses to make them beautiful!
Fold and crease the glasses where the earpiece meets the front frame. This is where the glasses will bend around your face!
Additionally, you can add clear tape to the edges of your glasses after you're done decorating them. This will protect your fake spectacles from tears and any sensitive skin from pesky paper cuts.
Tip: if your children are struggling to keep their glasses on, thicken the paper frames by adding tape. Alternatively, use the frames as a stencil, trace the shape onto thick cardstock or index paper, and glue the two together!
To ensure your children get the most out of their faux glasses, try out these other activities! Just beware they may want real, prescription glasses after learning how fun these projects can be.
Add lenses to your glasses
Prescription glasses work by changing the angle that light enters your eyes. The glass lenses will be different shapes and thicknesses for every user. If you don't need glasses, lenses will make everything blurry and distant – but not ours! Make your own lenses to complete the frames of your glasses.

To make fake lenses that won't hurt your child's vision, cut transparent plastic disks out of clean food containers, cling film, toy packaging, etc. Trace around the eye hole in your glasses like a stencil to find the size of plastic you need. Tape the edges of the plastic behind your glasses and slap them on!

Make 3D glasses
To improve your DIY glasses even more, you can turn them into 3D glasses like the ones you're given at the movie theater or cinema!

All you need to do is color in one of your plastic lenses from the previous activity dark blue and the other plastic lens bright red. Make sure to use dry erase or another type of non-toxic marker for safety. Allow your plastic discs to dry then secure them to the back of your paper glasses frames with tape. Sit down in front of the tv and watch your favorite film wearing your homemade 3D glasses! Just don't get dizzy.

Make pinhole glasses
Pinhole glasses are a unique type of sunglasses. They have full coverage lenses with tens and hundreds of small holes. Make them yourself like this!

Instead of making plastic lenses like you have in the previous activities, cut out a paper lens (or don't cut out your glasses frame's eye holes when first making your glasses!). Carefully, take a sewing needle and pop it through the backside of the paper over and over again. Make as many pin-sized holes as you can fit onto the lenses. Can you see through your homemade pinhole sunglasses?

Use different artistic mediums and tools
If your little ones have mastered crayons and colored pencils, allow them to design and decorate their printable glasses cut out with other artistic mediums. Safely using glitter, sequins, jewels, stickers, foam strips, snippets of paper, and ribbon can improve both your childrens' hand-eye coordination and fine motor skills!
Have a fashion show!
If your children are begging you for a challenge or competition, host a fashion show at home! Dress up in a glamorous outfit that matches your glasses and make a pose for the camera. As a judge, you'll have to decide which of your kids wore it best!

Try to recreate your favorite pair of glasses


What celebrities, tv characters, or other role models have your kids seen wearing glasses? Are you looking for dorky glasses like Dwight Schrute's or fabulous specs like Elton John's? Let your little ones choose a favorite pair of glasses and try recreating them on your printable templates using similar colors, shapes, and patterns. This activity can improve detail-recognition and encourage careful focus in kids trying to match their frames as closely as possible.