17 Free Printable Circle Templates
Are you working on an arts and craft project with your children and need some different size circles to help you to complete your design? Perhaps you're working on a DIY project in your home and need a perfect circle to stencil onto your walls.
Have you been searching high and low for different size circles to suit your needs? Here at Just Family Fun, we have created a range of free printable circle templates for you to download and use. Whether you're decorating with polka dots, drawing a range of designs or even making Halloween or Christmas decorations, we have a wide range of circle sizes to suit you.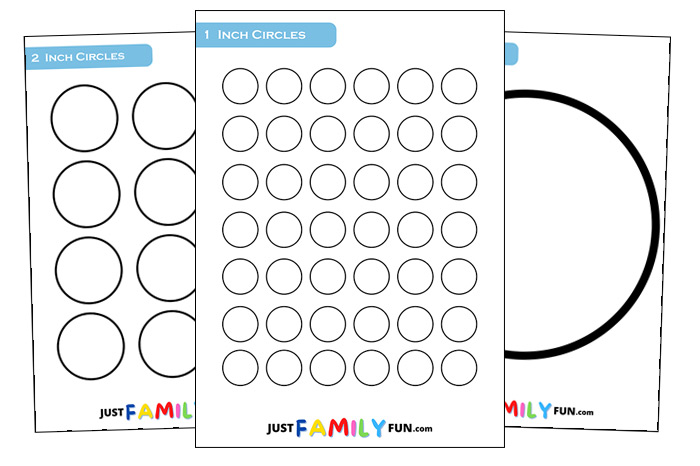 These range in size from ½ inch right up to 7.5 inches. We have also included a free printable template that has a range of different sized circles for you to use. All of our templates are to-scale so you can just download, print, and use. Simple! We have included some suggestions for what each circle template can be used for, but of course every art or DIY project is unique; our circle templates are versatile, and you can pick whichever size suits your project best! The possibilities are endless.
1/2 Inch small circle template printable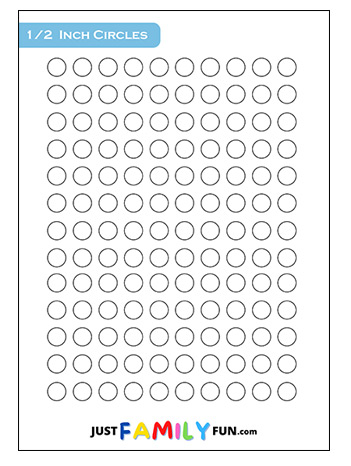 The first available design is this small circle template printable; each circle is sized at ½ inch. There are thirteen rows of ten circles on this download. This design is ideal to use a template to trace around when drawing small polka dots.
Another fun idea for these is to use them to create a doorknob on your tooth fairy door. If you are in the process of bringing the tooth fairy  to life in your home, please do check out our fun printables section and have a browse, it includes several tooth fairy letter and certificate downloads alongside our other free resources and activities.
1 inch circle template free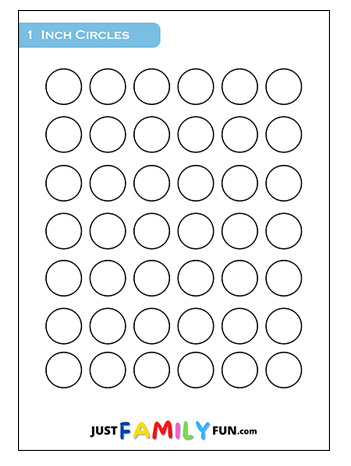 This 1-inch circle template free download is a great size to use for many small projects. For example, this size is ideal to use a gift tag after you have wrapped a little gift – or after you have wrapped several little gifts since the template includes seven rows of six circles. These could also be used for making big googly eyes. This could come in handy for creating spooky Halloween drawings!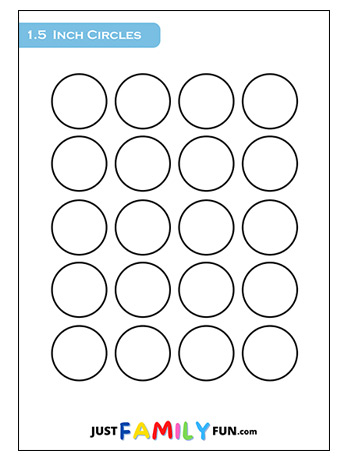 The next available design is this 1.5-inch template. It holds five rows of four circles and could be used to make small price tags for the items in your business or for drawing small-scale representations of planets, moons or suns. These could also be used to draw balloons on your handmade party invitations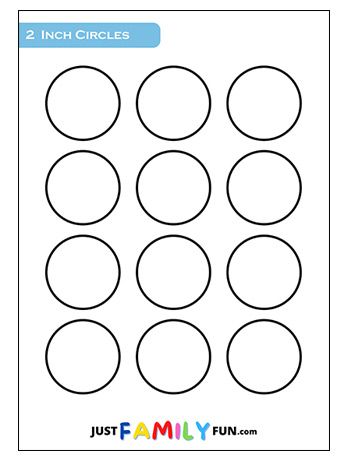 These 2-inch blank circles are great to use if you need larger polka dots for your arts and craft project or if you need a template to draw the perfectly round face of a snowman or scarecrow. This download includes four rows of three circles.
2.5 Inch Circle Templates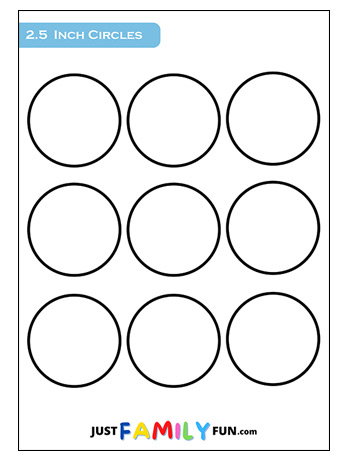 These circle templates are brilliant to use in a wide range of arts and crafts projects, whether you are drawing faces or whether you need a slightly larger gift tag for those slightly larger gifts! These are also an excellent choice for wall stencils. The circles are sized at 2.5-inches and there are three rows of three.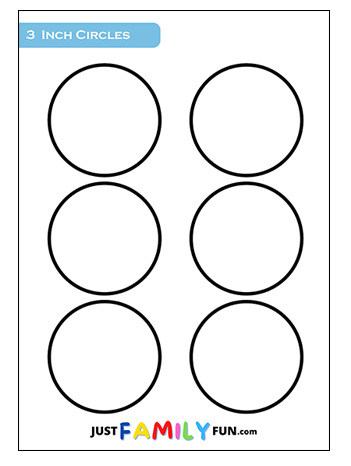 These blank circles are handy to have when your children are filling a size of A4 with a drawing of a person or an animal as they can be used to trace a perfectly round face. Alternatively, they can be drawn on, coloured in and stuck down to the piece of paper if your child likes gluing together different pieces to create textured drawings or if they love to make a collage. There are three rows of three 3-inch circles which of course means your child can have several attempts at drawing faces!
3.5 Inch Printble Circle Template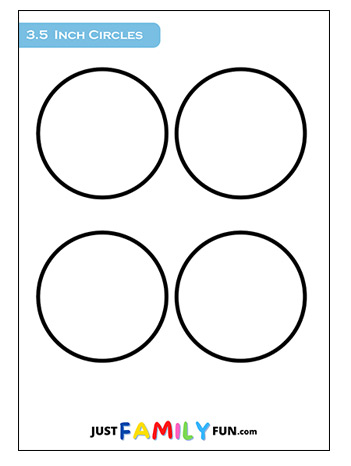 These printable circle templates are sized at 3.5-inches and there are two rows of two circles. If you used a smaller circle size to draw the face of a snowman, these are ideal for helping you to draw the snowman's body. They can also be used to draw different components of various creepy-crawlies at Halloween.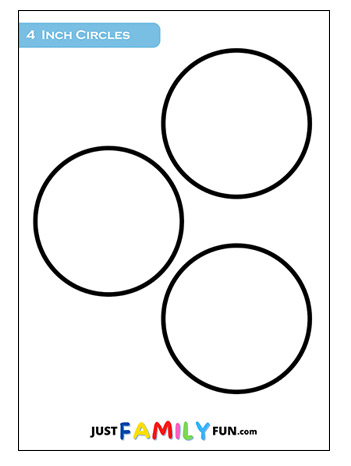 These circles templates are sized at 4-inches and there are three circles on the page. This size is perfect for making Christmas tree decorations. Simply cut these out for your children for them to draw on and colour in and hang them on your tree as baubles. There's something about handmade decorations that gives your home a special touch at Christmas.
4.5 Inch Circle Printables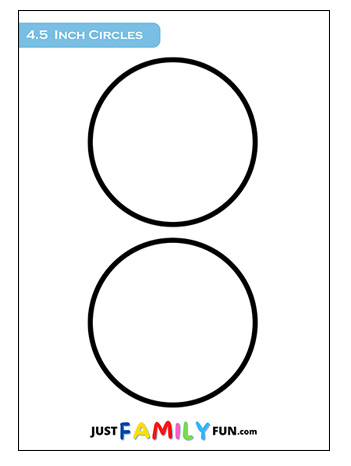 These circles printables contain two 4.5-inch circles. Whilst suitable for a wide range of art projects, if you're feeling particularly crafty, these are brilliant to use when making your very own small homemade coasters, although depending on your personal preference then you may wish to use one of our bigger circle templates to create your coaster. These could also be used for tracing circle patterns for a sewing project.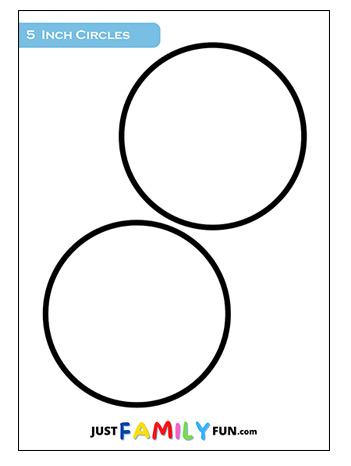 These printable circles are perfect for a number of arts or DIY projects, such as stencilling circles on to your walls. These could also be used in the centre of your homemade snow globes. You could even use them when baking, they can be used as a guide for sprinkling hundreds and thousands. There are two 5-inch circles on the page.
5.5 Inch Free Circle Template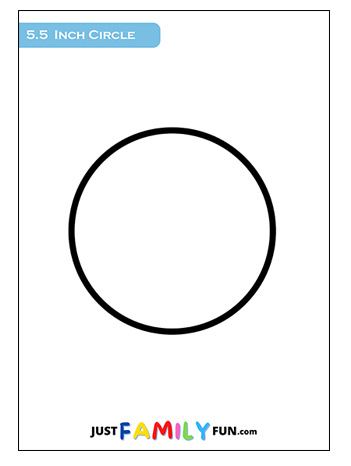 This free circle template contains one 5.5-inch circle. Combined with some of the other different size circles, it's a fantastic choice when drawing the solar system! This size template could help you to make an impressive Jupiter.
printable 6 inch circle template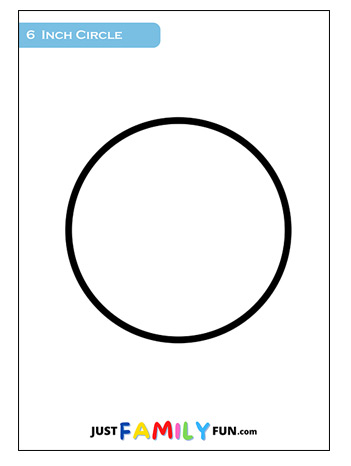 This printable 6-inch circle template is fantastic to use when drawing nice big faces! You could print out some of the smaller circle templates to make stick-on eyes for the face – perhaps you could use some of the googly eyes we suggested earlier. This template holds one circle.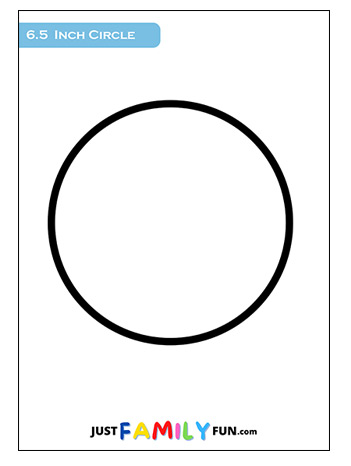 This 6.5-inch circle template contains one circle and is a lovely choice when drawing the centre of large flowers such as sunflowers. These templates are also useful for making homemade coasters if the earlier sizes are a little too small for your liking.
7 Inch Large Circle Template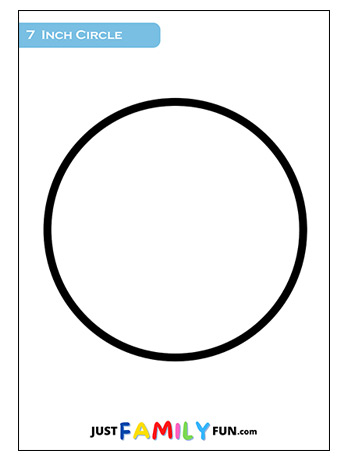 This large circle template holds one circle sized at 7-inches. These look fantastic when stencilling bold circle designs onto your walls. These are also great when your children are creating super-size drawings or paintings, perhaps for Halloween or Christmas decorations.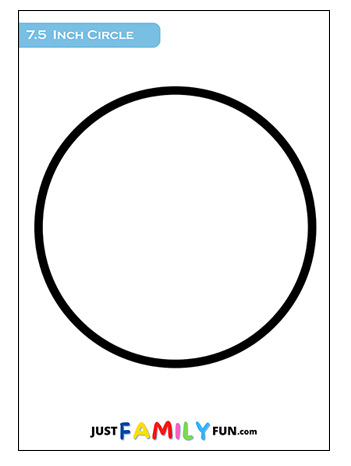 This printable contains a 7.5-inch circle template; there is one circle available on this page. It could be used to create promotional or informational signs within your business. These could also be used to cut around pictures to stick down in a scrapbook or on a collage depending on the size you needed the pictures to be.
8 Inch Printable Circle Template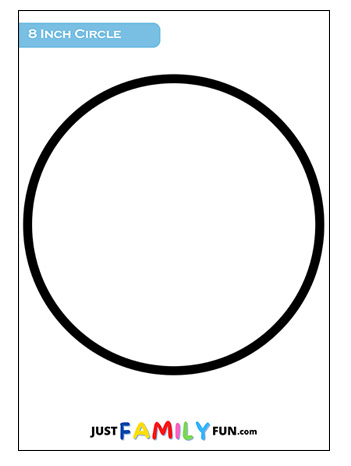 This printable circle template measures in at 8-inches and there is one circle on the page. This is a wonderful choice when decorating for a party, it can be used to paint colourful balloons. If you would like different shaped balloon outlines to decorate your party or party invitations with, we have some of these here. This size of template could also be used to draw several large clocks which always come in handy when teaching your children how to tell the time.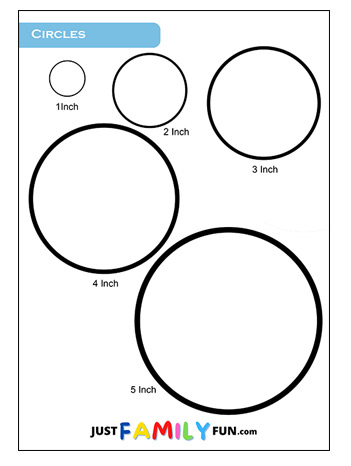 This template contains different size circles, we have created this one for your convenience as this download is suitable for you if you want a variety of different circle sizes on one print-out. The sizes included are 1-inch, 2-inch, 3-inch, 4-inch and 5-inch and each one is marked so you don't get mixed up which is which.
Regardless of whether you are using them for work, school or play, we hope our extensive range of free printable circle templates are useful to you.
If you've found some creative ways to use our circle printables or any of our resources, please feel free to share your stories and pictures with us on Facebook, Twitter or Pinterest. We love to see examples of our resources being used to help you to make something beautiful!