Printable Balloon Outline Templates
Are you looking for balloon outlines to use as colouring pages, make decor or cards for any occasion?  If so, you will love these free printable balloon outline templates that the fairies here at Just Family Fun have created this week.
Everyone loves a balloon – they add an extra bit of happiness to the day. You can add extra happiness and joy to your little ones' day with these balloon outlines. Whether you need a colouring activity to keep them busy for 5 minutes or want to make some balloon crafts these balloons make the perfect resource.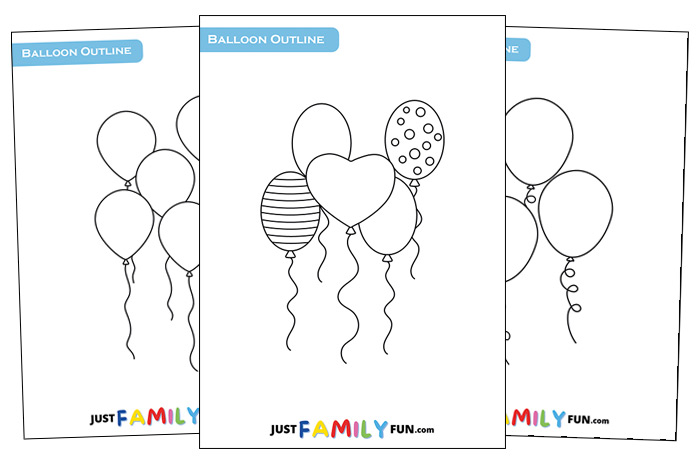 What's Included In Our Balloon Outline Templates
We've included 3 different balloon outline templates for you to use. The balloons are drawn in a black outline on a white background they are size A4.
 The balloon outline templates  include
A bunch of 5 plain teardrop-shaped balloons
A bunch of 3 plain teardrop-shaped balloons
A bunch of 5 balloons – 1 heart-shaped plus 4 teardrop shaped – one of which is stripy and the other is spotty.
What Can Our Balloon Outlines Be Used For?
Our range of different balloon outline printables are hugely versatile. You can use them as simple colouring pages or engage your children with a fun and engaging craft project.
Like all of our outlines these balloon ones can be used as templates or stencils to add images of balloons to walls, cards, doors or anywhere else you want balloons. They make the perfect printable balloons to make a birthday, baby shower, wedding, graduation or new year card. 
If you need some inspiration we have added some ideas below.
Download and print the printable balloon outlines and use them as colouring pages. These balloon outlines are a great way to bring a touch of mindfulness into your house or classroom. Colouring is a great way for kids and adults of all ages to develop colour recognition as well as creativity, focus and motor skills.
Floating Balloons - Scissor Practice
Balloons are a great shape to cut out if your child is ready to move on from straight lines. Print and cut out the balloons. Colour with felt pens, crayons and finger paints as above. Stick the balloons on a wall, fridge, notice board or large piece of paper. Add some lengths of string hanging down from the balloons.  
Have fun creating balloon pictures from the free downloadable and printable balloon outlines. There are so many crafts you could use them for.