Printable Build An Octopus Cut-Outs
Time to let your kid's imagination and creative skills run free with our free downloadable Build-an-Octopus template!
What kid doesn't want to get creative with their own ideas and artistic skills in creating a fun-coloured wild see creature? Our Octopus template will allow them to do just that! Kids can get as creative as they like as our templates come colour free to allow for their own use of imaginative colours. A great source for arts and crafts sessions or just as a fun activity at home with your little ones.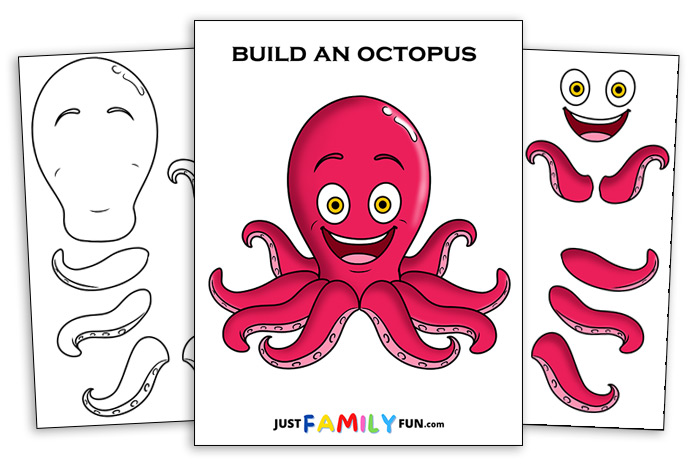 Where can you use this build an octopus cut-out?
Our templates are a great contributor to a classroom setting as well as for parents to spend time with the kids getting started on their art skills (parents don't be shy to get creative as well)! The octopus cut out can be used as a fun game or competition in the class for the most colourful creature. Kids will be able to show initiative in cutting out the template and building it from scratch. Or if you are a parent searching for some at-home activities, you can use our octopus for some 1 on 1 time with you kid and stick up their finished masterpiece for praise (or an eye-catching decoration for their room)
What you will need
          To complete this fun filled activity you will need some recourses at hand:
Pens/colouring pencils/paint
Scissors
Glue
The final recourse needed is your imagination!
How to create your Octopus
First thing you need to do to create your octopus is to colour in each section. You may want to choose the standard octopi's colours or go for something different and bring in multi-colours or a unique octopus of your own creation. You could add spots/stripes its completely up to you!
Next step, once you have finished your colouring, cut out each section of the octopus's body. An easy way to do this is to cut around each tentacle, facial features and the body roughly first. Once you have each part separately, then you can go ahead and trim the edges more carefully. This leaves the job much easier for you.
The final stage to create your octopus is to stick all the parts together. Start by sticking both of the back tentacles to the back of the octopus head so they are pointing upward. Continue with the rest of the tentacles until you reach the two larger limbs that stick to the very front reaching for the ground. After this, pop on the eyes and mouth and there you have your very own octopus!