Maple Leaf Outline Printable
Even though there are 73,000 different types of trees on the planet, when people think about an autumn leaf, a staggering 87% of people imagine the golden maple leaf. So these printable maple leaf outlines make a great resource for a range of activities about autumn.
The maple leaf has been used as a Canadian emblem since the 18th century so the free printable template makes a great resource to use for a range of craft or educational activities when learning Canada.
This Maple leaf outline PDF from Just Family Fun is free, downloadable, and printable.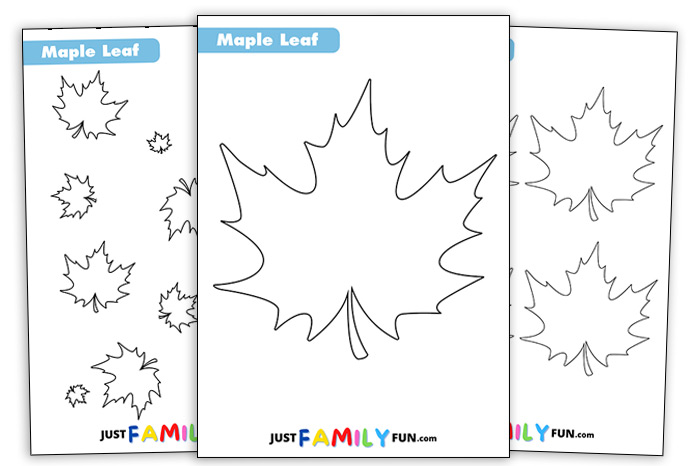 What's Included In Our Maple Leaf Outline Template?
Below you'll find 3 printable pages with various maple leaf outlines on them. And they're all free for you to download and print!
We've included three different A4 sheets with a different number of maple leaves on them. The first sheet has an A4-sized maple leaf, one has four leaves and the last sheet has 11 maple leaves of different sizes.
What Can Our Maple Leaf Outline Be Used For?
These 3 free printable maple leaf outlines make the perfect stencils, patterns, or templates to decorate into fun maple leaf craft projects. These are also great for games and learning activities. We've included a selection of simple ideas on how to use the printable templates to get you started.
If you want to teach your child about Canada Day, which takes place on July 1st you could make a Canadian flag using our maple leaf outline which features at the centre of the flag. See what the Canadian Flag looks like here.
Maple Leaf Colouring Sheet
Our selection of Maple Leaf Outlines makes the perfect colouring sheet. They're ready to use instantly at home or in class so help you to save valuable time preparing.
To begin, simply print the templates and ask your child to colour them in. Give them a selection of greens and different shades of yellow, orange, and red to represent the vibrant colours that appear in the autumn. It's a fun way for preschoolers and kids of all ages to develop creativity, motor skills, and focus.
Use the leaves you have coloured in above to create an autumn display. You may need to colour in a few more though. Stick them on a large piece of paper in a design that looks like lots of fallen leaves.
You could get really creative and draw a tree, place some leaves on the branches, some falling from the tree, and big piles on the floor.