Kids Number Chart 1-10 Poster
Finding it difficult to grasp your little one's attention in learning their numbers? Our free, downloadable Number Chart 1-10  is perfect for getting kids interested in learning!
With its bright colours and use of fun, creative imagery, you can be assured that this will bring engagement between the kids' imagination and their want-to-learn. Soon enough they will be rhyming their 1-10s back to you with ease!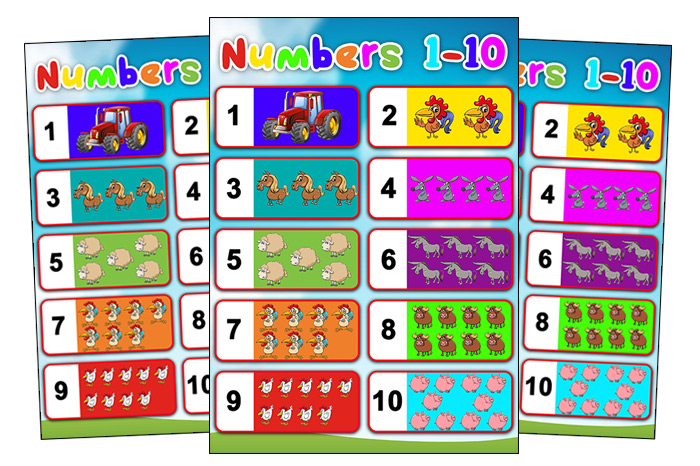 What is our 1-10 Number Chart?
This poster is a great attraction for little one's learning. Included in it are the list of numbers 1-10 with an engaging image following each number to bring attention even further to the number they are focusing on. You may find the child observing the poster without prompt or encouragement due to their fascination in the different animals and the large tractor which is a fun engagement tool to any child who has an interest in farming/ large machines. This is a great help to associate the number to the image the child is observing and will help them learn and memorise them even faster!
What are the benefits of using a poster to help education?
It has been proven the posters help with learning within different environments. Whether you are teaching your little ones at home, or are in a classroom setting, this poster is sure to brighten up the room and entice children into observing it further and paying more attention to your teaching! Children are much more likely to absorb information that is being relayed to them when they have taken a particular interest in the learning tool being used. By having this poster displayed in your home/classroom, you are not only providing this as a once off learning mechanism, but a constant learning observation for the child to be drawn to. They may even have a glance when you aren't!
What this poster can be helpful with
This poster can be used in a variety of ways. You may use it at home to assist with the child's homework or independent teaching. It is of great use to parents also. This 1-10 number chart provides them with something to hold and grab their child's attention rather than attempting to teach them numbers with no helpful resources.
Another way our 1-10 Number chart can be of use is in school or playgroup. This can be displayed around the classroom, which has been very helpful in planting the memory of numbers 1-10 in the little one's heads. Kids often remember how bright and colourful their playgroup is and this is a brilliant contributor and educator all in one!
Games/activities that can be played with this number 1-10 chart poster
In a teaching setting, you can even provide each child with their own 1-10 Number Chart for themselves. A great way to excite them by having their own chart! You can even encourage them to use stickers to display what number they think has been called, which is only one example of a fun educative game to play.
The use of imagery/colours in teaching early years
Experts have stated that the use of imagery and colours within learning for early years has proven to provide a visual and cognitive stimulation for the youngster. In simple terms this means if they become attracted to a chart that has fun picture and bright colours, they are going to learn from it! Our 1-10 number chart is perfect for the job!