We all want our children to grow up happily and healthily, with a positive mindset. It's important that children understand their emotions so that this can happen. With our wonderful, vibrant emotion poster, you can be certain that young children will be able to identify and recognise different emotions.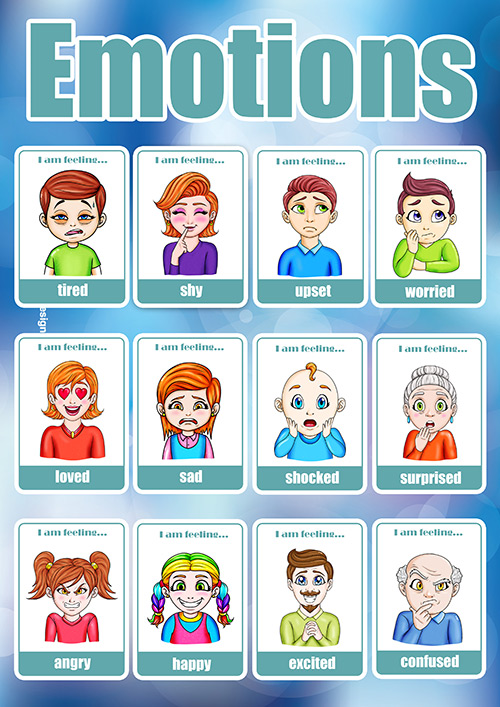 Who is the emotion poster for?
The poster is for both parents and teachers to use with their children. This printable feelings chart is ideal for use with all children, but those with additional needs, or children who are non-verbal, might find it particularly beneficial. Everyone will enjoy the clear, bright images.
What is included?
The poster includes lively, colourful pictures depicting the following emotions: tired, shy, upset, worried, loved, sad, shocked, surprised, angry, happy, excited and confused.
Each picture has the words 'I am feeling…' and the emotion underneath. This not only helps to identify an emotion but also helps children verbalise how they're feeling, by having the sentence starter included, as well as increasing their vocabulary.
Why is it so important for children to understand their emotions?
Understanding their emotions helps children to regulate their behaviour, such as accepting when plans change for example or being able to calm themselves down when upset.
For children to develop good social skills and be able to relate to their friends, children need to understand their own emotions first. Being able to identify how they are feeling, what caused them to feel this way and to know how to rectify it if it's a negative emotion, is essential to understanding how others may be feeling. Our emotion poster is the perfect starting point to help identify their own feelings and others' and to know that all feelings are valid.
How can I use the poster?
There are a number of ways you can use this free feelings poster.
At home
As a parent, you can put it up in the kitchen or your child's bedroom. When you first introduce the emotions faces, you can look at each person's face and talk about how the different features look: 'What shape is their mouth making?' 'What about their eyes?' 'How about the rest of their body?' Being able to identify typical facial expressions and body language in others is an important skill.
You can then ask your child how they are feeling when they're upset or angry; they can point to the picture and verbalise the emotion. Alternatively, they can copy the picture, which might provide the calm time they need, if they're not ready to talk.
Daily activity
You could also make this into a daily activity, using it as a children's emotions chart or a 'how are you feeling today?' poster. At the end of each day, you could ask how your child is feeling and why they might be feeling this way, giving the picture a tick. Using the poster as a starting point can really help reluctant talkers.
Characters
For both parents and teachers, you could give each character a name and your child could talk about the character being in the situation instead of themselves. This is often a good way to get children talking, as it removes any pressure.
In the classroom
This poster will make a great addition to the classroom wall! Teachers can also use these feelings faces for PSHE lessons. They are ideal for all sorts of activities. Children could work in pairs, one partner chooses an emotion and copies the expression and the other guesses which emotion it is. Or the class could think up scenarios for each of the pictures – what led the character to feel this way? Children could also sort emotions into happy and sad feelings. Looking at the negative emotions, how could we help the person to feel happier?
Benefits of using the Emotion poster:
Captures children's attention with bright and colourful images.
Keeps children engaged with simple, friendly faces.
Easy-to-read sentences encourage discussion.
Children will learn all common emotions.
There are many ways you can use these printable emotions faces, helping to ensure your children have the best start in recognising and identifying their own emotions and understanding how others may be feeling too.
More emotion worksheets can be found here