Free Printable Tooth Brushing Chart for Kids
Is it sometimes a struggle to get your kids to brush their teeth? Have you been searching high and low for the perfect kids teeth chart for your little ones?  Your search is over!  Here at Just Family Fun, we have created a free printable tooth brushing chart to help make brushing time fun. 
We know that it's exhausting to try to convince your child to do anything they don't want to do and that's exactly why we design free printable resources like this one, we're here to help!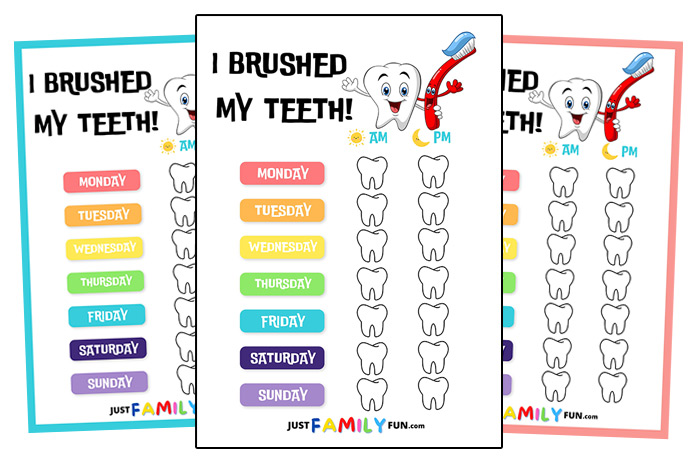 Tired of Battling with your Child Over Teeth Brushing?
Establishing a good dental hygiene routine for kids is vital to do as early as possible, you want them to form good habits so that they have a winning smile for life!  It will also help to ensure that their adult teeth develop properly. 
We all know that the benefits of brushing twice daily are endless, but it's tricky to explain that to a tired toddler who simply does not want to open wide and let you brush their teeth!
That's where the free printable chart comes in.  When trying to establish a routine, reward charts are invaluable!  We would recommend starting to use the teeth brushing chart from around the age of 2 years old.  Once they get a little older, you might find that the routine has been set and they no longer need rewards.
However, it does depend on the individual child.  Some older kids could also benefit from a reward chart, particularly around the age of 7 when they may start brushing their teeth themselves.  Even though this will likely still be under your supervision, it is a change to routine and requires more effort on their behalf so a teeth brushing chart could save you from the headache of arguing with them!
What's Included on the Kids Tooth Brushing Chart?
We have included 3 versions of the free chart.  One has a blue border, one has a pink border and the other has no border.  There are two fun characters – a tooth and a toothbrush, of course!  The days of the week are listed with two teeth beside each day one for morning and one for nighttime.
How Should I Use the Kids Brushing Tooth Chart?
It's completely up to you!  Some parents like to use the free printable teeth brushing chart as a sticker reward system.  Every time your child brushes their teeth, you can give them a sticker to place on to the teeth brushing chart.  At the end of the week, if they have successfully completed the toothbrush chart then you can give them a reward such as letting them play a new game or puzzle.
Alternatively, you could let them colour in the teeth every time they brush their teeth.  My kids absolutely love colouring in so that alone would be reward enough for them to be racing to brush their teeth!
It's also a lot of fun for them to name the characters from the chart and to practise drawing these themselves!  My kids nicknamed them Toothy and Brushy.  Perhaps they don't win points for originality, but it certainly made brushing time easier!
Have You Got Any Other Tips?
Alongside the free printable teeth brushing chart, there are several other things you can try out to make brushing time fun:
Lead by example and make your brushing time the same as theirs. It can be a fun family activity, and you could even let your toddler practice brushing your teeth after you've brushed theirs!  If your child can brush their own teeth, you could make it a competition.  Set a timer and whoever brushes without stopping for the whole two minutes without stopping wins!
Let them choose their own toothbrush. If they have chosen a brush they like, it will make the experience much more enjoyable for them.
Play their favourite song whilst they brush their teeth. It's especially handy if the song is two minutes long.
Tell them about the Tooth Fairy! Do they know that the Tooth Fairy only accepts teeth that have been well-cared for?
Find some age-appropriate educational resources about the importance of good dental hygiene. There's a wealth of videos online, including some brush-a-long songs.
Tell them a fun story about the characters on the kids teeth chart whilst they brush their teeth. They'll be so excited to find out what happens to them next that they will be desperate to brush their teeth!
Teeth brushing time can be a source of dread for parents, but with excellent resources such as our free printable tooth brushing chart, it doesn't have to be.  We'd love to see or hear about the creative ways you and your kids use the kids tooth chart and characters, so don't forget to tag us on Facebook, Twitter or Pinterest and share your stories with us!
Good luck!