Free Printable Fairy Wing Template
If you have a small person who loves butterflies, you're learning about insects or celebrating Butterfly Education and Awareness Day (BEAD) on June 6th our fairy wing template will be the perfect resource.
Use them to create stencils, patterns for crafts activities, wearable wings or educational activities.  There are a plethora of activities you can use them for.
The goal of this post is to share a few ideas about how you can use our fairy wing templates.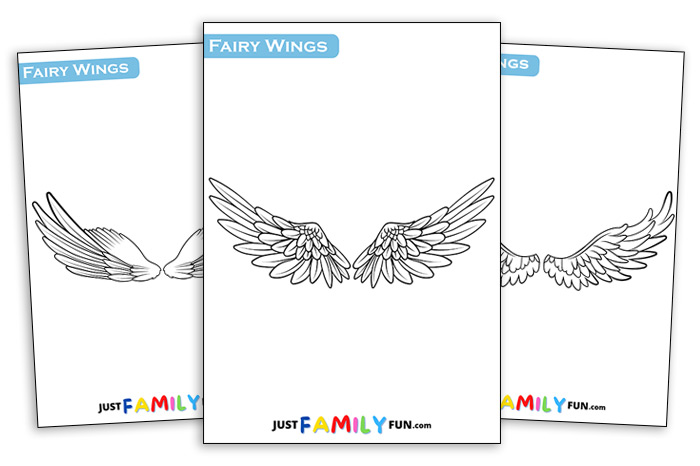 What's Included in our fairy wing template package
We've included three different outlines of butterflies that are printable. The great thing is that the pdf is free to download and you can print as many fairy wings as you like.
What Can Our Fairy Wing Template Be Used For?
Like all of our outlines and templates, these fairy wings can be used for a range of activities such as
Templates to draw around to create fairy wings on pictures, cards and materials
Simple colouring pages
A stencil that is printable so you can add fairy wings to walls, clothes etc
Patterns for fairy wings
Do you need some inspiration? There are a few ideas below.
Print out your wings of choice onto card stock or print on paper and stick them onto cardboard. Colour the fairy wing outline with pretty bright colours and then add sparkles using glitter, sequins, mosaic squares or tin foil. Cut out the amazing fairy wings and fold them in half.
You could attach the sparkly fairy wings from above to elastic and your small person can float around the garden pretending to be a beautiful butterfly.
Butterfly Game / Role Play
Butterflies are exciting creatures. They
taste with their feet
can't move when it's cold
transform from a caterpillar in a process called metamorphosis
and don't have a mouth so they can't eat anything – they only drink nectar and muddy puddles through Proboscis (an elongated sucking mouthpart that's tubular and flexible).
Use these fun facts to play a game…wearing the fancy dress wings from above ask your small person to run around the garden, then shout one of the following cues and they act it out.
| | |
| --- | --- |
| Cue | Action |
| Taste | Use feet to small a flower, grass or the air |
| Drink a muddy puddle | Have a drink or water (from a cup you got them) |
| Drink nectar | Pretend to drink a flower, using their arm as a Proboscis (what the butterfly drinks through) |
| The weather is Cold, Warm or Hot | Stand still, walk slowly, run around |
| Metamorphosis | Curl up in a ball and slowly uncurl to be a butterfly |
We hope you love our fairy wing template. Whether you choose to use them for simple colouring, stencils, patterns or templates we know you will have lots of fun using them in a range of craft or role-play activities.fairy