Printable Paper Doll Templates.It is safe to say that this time around, lockdown is extra tough on everybody. It can be incredibly difficult to juggle looking after your children, making sure they get the home-schooling that they need, and working from home yourself. Not only a parent now but also a teacher, it can be exhausting thinking of different activities to preoccupy your little ones. This is unchartered territory for most of us, and we are blindly trying our best in this challenging time. We at Just Family Fun sympathise with this and have got a really enjoyable activity for you today, that will be able to help you and your children stay on track. The kids will absolutely love it and will be entertained for hours.
How to use the printable paper doll templates
Our free printable cut out paper dolls can be completed with your children indoors while the weather is dark and rainy. Or if we are lucky with some sunshine this spring, this activity would be perfect for the whole family to do outside sat in your garden. Younger children will especially love these designs and will enjoy playing dress-up with their own dolly. Each design has 2 pages – a cute little doll and then a page full of clothes and accessories. Our printable paper dolls templates designs are made so that you can print the page off and then cut around the doll and the different clothing items. The accessories have little tabs attached so you can easily fold them around the dolly so that it looks like they are wearing a fabulous new outfit! Budding fashion designers will be delighted with this activity and will want to spend hours styling their doll.
4 Different Dolls to Choose From
Our printout has 4 different dolls to choose from (all of them are included for free!): Ariel, Arya, Belle and Eloise. Ariel has pretty white and pastel-streaked hair with a blue bow. Her accessories are cute skirts, rollerblades and some funky glasses. Arya has a pink bob and a dainty headband. She has some ear muffs and some gorgeous green boots to match. Belle has cute, blue wavy hair. She is a mermaid themed doll and has a magical tail and shell top, with an alternative western outfit for when she needs to be undetected! Finally, Eloise has a purple topknot with a yellow bow. She has a couple of denim skirts to pick from and her cowboy boots, which are super stylish! Because of the different designs, there is a doll for everyone. Your child will instantly have a favourite.
Each doll has their own pastel colour scheme and has around 10 unique clothing pieces and accessories that match their fun personality. The designs are adorable and the bright colours will keep your children entertained for hours. They can choose which one they would like to dress the most – but once they have dressed one doll, they will want to dress them all. They have choice between different tops, bottoms, shoes and accessories with each doll, or they can even mix and match the combinations between the dolls. Ariel would love to borrow Belle's mermaid tail and rollerblades! And Eloise has been eyeing up Arya's ear muffs!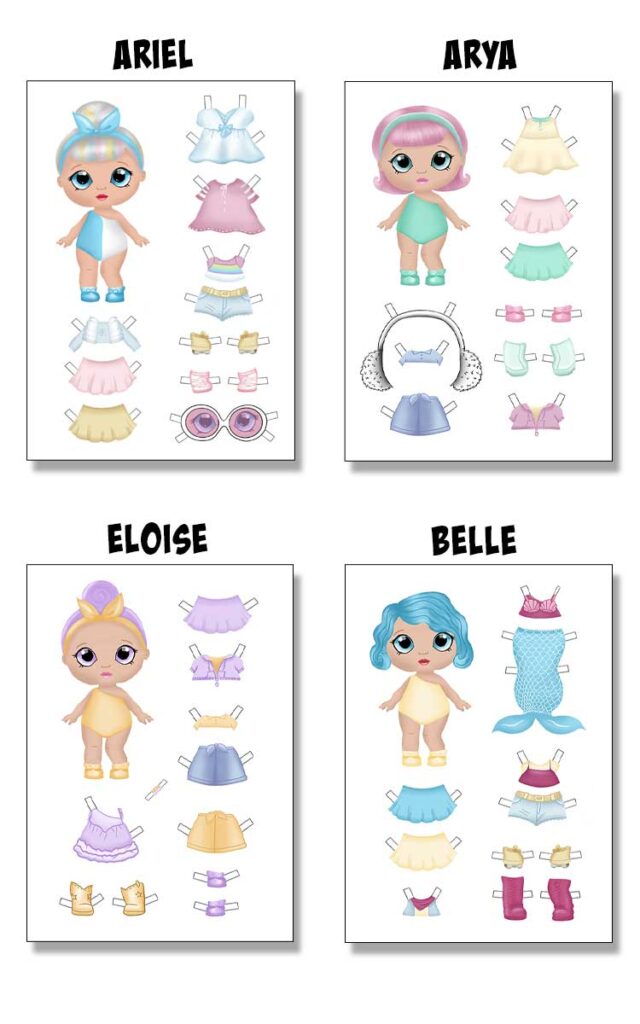 Download & Print Below The Dolls Below
PRINT ARIEL
PRINT ARYA
PRINT ELOISE
PRINT BELLE
Great for afternoon activity time
Our printable paper doll templates can be used within home learning, or as an afternoon activity break that allows your kids to relax. But this task is more educational than watching TV or playing on electronics! This task will keep children interested and the aim is simple but adaptable to different ages and abilities. Depending on your child's age, you can even use these dolls as a starting point in a lesson, allowing discussion of clothing items and colours. Laminating the dolls would be a great idea, making them a reusable resource in your activity box. Below are some ideas for different ages!
If your child is slightly younger and is just learning to talk, a fun idea is to ask them to name the colours used in the outfits – "can you tell me the colour of Eloise's dress?" This lets the task be both fun and educational. The colours are very attractive and will capture your child's attention. Repetition is key here, and repeating the correct answer after your child will help the information to stick. Test their understanding of different words by saying, for example, "can you point to the yellow boots?" This is super fun and your child will love getting the answer correct, especially if you can think of a fun reward, like a little sticker!
These dolls can be just a template, and you could always create a blank outfit for your child to colour in. This could be a fun way to set new tasks for them. An example is, "I want a yellow, spotty dress and blue shoes" – this encourages learning about colour and patterns, and allows your child to practise following simple instructions. Perhaps your child loves a specific hobby? Creating your own accessories, such as a hairbrush or football boots, is a good way to keep your child engaged with the task. They can even make these themselves, it can be as crazy as they want.
If your child is very young, it might be a good idea to cut the dolls out for them to avoid any chance of injury. This lets you work together and can be a good way of practicing team work. Perhaps an older child could cut them out and your children can work together on a doll.
If you have more children, it might be nice to do family games. Give two teams a set of instructions and see who can complete them first/do the best job. It is probably a good idea to do two rounds so that both teams get a chance to win! You could set scenarios, "Belle is going to a ball, Eloise is going shopping" which gives the children a purpose and they can create an outfit based on this. Children love to be challenged and will really enjoy this fun game.
If your child is a little bit older, then it is safe to let them cut out the doll themselves (with supervision) and practice their motor skills. We recommend letting them use kid's safety scissors, just to be extra careful! They will find this really fun and it gives them complete control of the task from start to finish. They will really enjoy feeling like a grown up and will relish in the responsibility of holding the scissors.
This is such a fun little activity that will keep children occupied for hours! These are just an easy starting point to an endless amount of enjoyment. Download our printable cut out paper doll templates for free above, and print out a task that will keep the whole family entertained. Check out our other printable games for more activities. Have fun and stay safe!