Cute Puppy Coloring Pages for Kids - Printable Doggy Fun

Woof! Our puppy coloring pages are perfect for families seeking the excitement that pets bring to the home for zero cost.
Children of all ages can spend hours being creative with our black-and-white puppy coloring pages; from simple coloring exercises to fun games, these cartoon puppies are ideal for developing independence and practicing self-entertainment!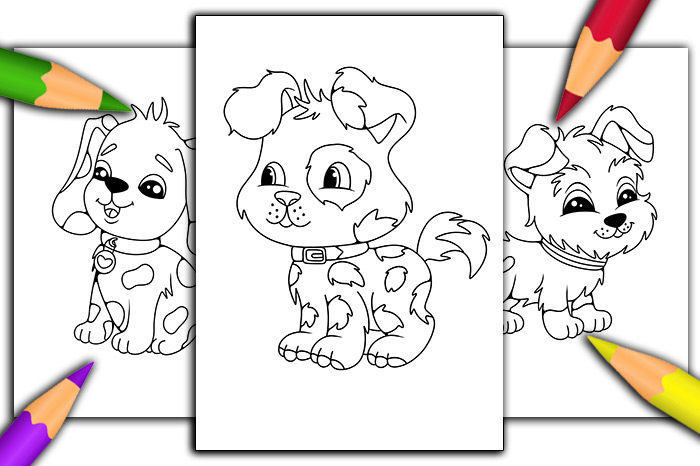 What's Included In Our Puppy Coloring Pages
This set includes six different black-and-white puppies to color and decorate. With a variety of dog breeds and personalities, our set contains a puppy design for everyone. Print out your favorite – or print out all of them! – and begin your day of fun.
We recommend printing on A4 paper for the best results. If you plan on reusing your coloring sheets, laminate them and color over the plastic with dry erase markers! When you're done, all you have to do is wipe the marker away with a wet rag.
Fun Puppy Activities to Try:
Simple coloring sheets
Set your kids free to decorate and color in their black-and-white puppy sheets as they please. This encourages creativity and allows young children to express their thoughts in a fun way!
Use different artistic mediums and tools
If your little ones have mastered crayons and colored pencils, let them try decorating their puppy coloring sheets with other artistic mediums. Safely using glitter, sponges, faux fur, and fabric scraps can improve your childrens' hand-eye coordination and fine motor skills!
Give your puppy a home
Don't leave your new, fluffy companion sitting on a shelf or under a stack of books! Give them a home in your home. Dedicate a space in your bedroom for the puppy with a blanket, pillow, or decorations! Alternatively, you can draw a doghouse around your puppy on the coloring page.
Make puppy puppets
Once your puppies' homes are set up, you can create puppets out of the coloring pages! Cut out each puppy and use it as an outline to cut another piece of paper with exactly the same shape. Line up the edges of your two dog shapes, then carefully glue the edges of the papers together. Remember to leave a gap at the bottom of their paws large enough for your finger or a clean popsicle stick to fit through. Leave the puppets to dry then lay them in their new bed!
These puppy puppets can be used to practice responsibility. Ensure your children keep their companions clean, fed, and walked everyday to test if they can take care of a real dog!
Play puppy trivia
Test your knowledge with tricky trivia questions about dogs, such as…
True or false: dogs can smell cancer. True!
Where do dogs sweat from the most? Their paws!
What does "corgi" mean in Welsh? Dwarf dog!
Who can see better in the dark: cats or dogs? Cats!
If a dog wags their tail, does it mean they are happy, nervous, or excited? Wagging their tail can mean any of these!
Why are dog noses wet? A thin layer of mucus on their nose helps dogs smell far-away objects!
How much stronger is a dog's sense of smell than a human's? At least forty times stronger!
Consider offering prizes to the player with the most correct answers.
Make decorative bunting
After all of your puppy coloring sheets are completed, decorate your room with them! Carefully cut out each puppy from the coloring page. Punch a small hole at the top of the paper cutouts and run one long string through all the holes. Tie each end of the string to ensure your puppy drawings don't fall off, then secure the string to the wall. Your puppies can hang along your bedroom, kitchen, or living room wall to be seen every single day!
There is no shortage of exciting and adorable coloring pages at Just Family Fun. You'll never have a ruff day if you color! Check out our other coloring sets, such as kitten pages for pet lovers, Superheros, and Unicorns. You can also visit  Jump Start for even more family-friendly activities, science experiments, short projects, and fun games!
If you're extra proud of your finished coloring pages or puppy puppets, send Just FamilyFun a photo to share your experience! We'd love to hear from you.