Neigh? These are unicorn coloring pages, not horses! Get your hands dirty with our free, printable unicorn templates perfect for any and all craft projects you have in mind.
Whether your young ones are still learning to grip a marker or want to make their own crayons in the kitchen,
Just Family Fun has you covered. These coloring sheets are ideal for both boys and girls of any ages!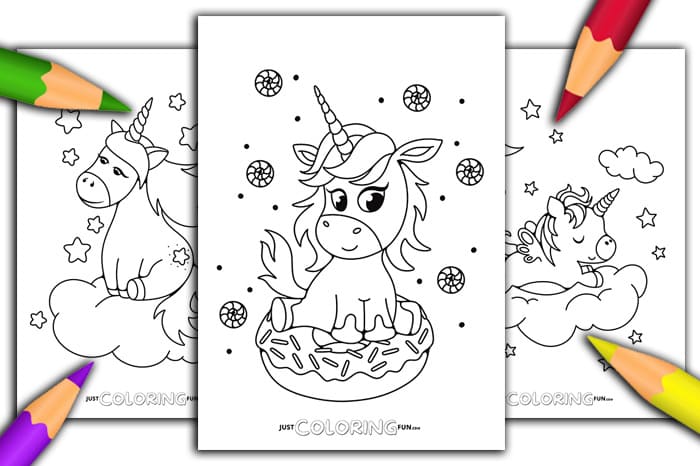 What's Included In Our Unicorn Coloring Pages
This coloring set includes six different, black-and-white cartoon unicorn templates. To begin having fun, just download your favorite unicorn pages and print them out for free!
If you're going to color in your unicorn sheets, we recommend printing on A4 paper. However, other sizes may work even better for different activities! Keep reading to find out what else there is to do with your unicorn coloring pages for kids.
Use them as standard coloring sheets


Set your kids free to decorate and color in their black-and-white unicorn sheets as they please. This encourages creativity and allows young children to express their thoughts and inspiration in a relaxed setting!

Try out various artistic tools and mediums


If your little ones have mastered crayons and colored pencils, let them try decorating their unicorn coloring sheets with other artistic mediums. Safely using glitter, sequins, snippets of paper, and faux fur can improve your childrens' hand-eye coordination and fine motor skills!

Build your own wearable unicorn mask


Do you think you can fool people into thinking you're a real-life unicorn? There's no harm in trying! After your coloring sheets are completely decorated, carefully cut around the unicorn's face. Punch small holes in the edges and attach an elastic string to each side. Put your brand-new unicorn mask over your face and try to figure out what sound they make!

Tip: measure the circumference of your child's head from ear-to-ear before cutting the elastic. This will ensure a snug, pain-free fit!

Make your own rainbow crayons


Don't get rid of old crayons! Recycle them to make your unicorn coloring even more magical.

Collect all of the stubby, worn down, or broken crayons you can find at the bottom of the box and set your favorite mix of colors into small silicone baking or cupcake moulds. Safely heat the crayons in the oven at 120*C for up to 20 minutes. The crayons will melt together and, once removed from the oven, harden into one multi-colored crayon! Pop the new crayons out of their moulds and begin coloring your unicorn in endless rainbow shades and patterns.

Play pretend "hide and seek"


Unicorns are notorious for hiding from humans! To this date, we haven't seen a single unicorn in the wild. Replicate scientists' wild searches by hiding unicorn coloring pages around the house and garden. Encourage your little ones to use their detective skills to seek the pages out. Get creative with your secret spots; under their pillow might not be hidden enough!

Create fake stained-glass windows


To create safe, shatter-proof stained-glass windows out of your unicorn coloring pages, try printing your favorite templates on A5 or A6 paper.
Next, carefully cut a rectangular piece of transparent plastic the exact same size as your colored paper. This may come from a soda bottle, toy packaging, or anywhere else you can source clean plastic. Attach your plastic sheet to the back of the unicorn coloring page with transparent or clear tape. Pin your DIY stained-glass to the inside of a window that receives lots of sun and wait to see the results! On the best days, your unicorn will produce colorful shimmers and vibrant glares on the wall.