Free Printable Umbrella Templates
No matter where you live, no matter the season, no matter the predicted weather forecast, you will always have a use for an umbrella! Whether it's pouring rain or shining warm light on your tanned skin, umbrellas are crucial for protecting yourself from the elements.
Let your little ones in on the fun of umbrellas with our printable umbrella templates! You can download over five designs from the Just Family Fun website for craft time or learning opportunities. Do your kids need to improve their fine motor skills or responsibility? Are you looking for a way to teach them what to bring on trips, errands, and daily outings? These free umbrella print outs will fulfill all your needs and even more.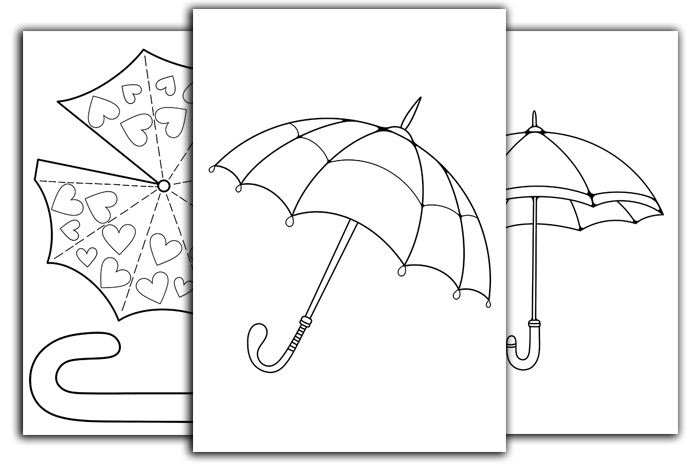 What's Included In Our Printable Umbrella Templates:
This set of printables offers a wide variety of styles and patterned umbrellas. From different shapes to various themes, we have the perfect umbrella just for your child! All you need to do to begin having fun is choose your favorite umbrella template and print it out on white, A4 paper.
Printable Umbrella Templates:
These three umbrella templates are ideal for coloring and other flat arts and crafts. Use your creativity and imagination to embellish these black-and-white designs as you please!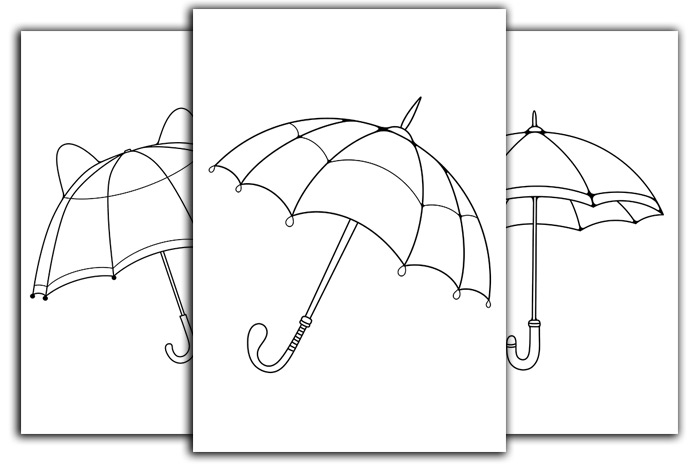 Make And Color Your Own Umbrella
The next three umbrella templates are designed for your children to cut out and build their own 3D umbrella! Although it may not be perfectly rain-proof like real umbrellas, this printable activity can hang from your kid's bedroom ceiling and remain a constant reminder to be responsible and pay attention to the weather! Will you choose the fiery flames, adorable flower, or loving heart print?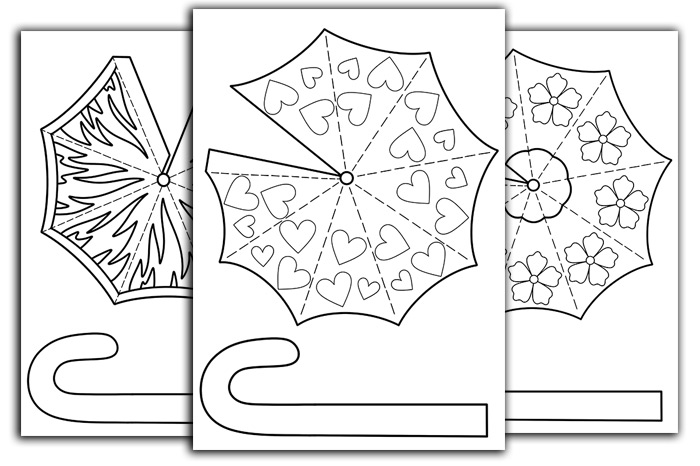 To make your own umbrella, collect your materials follow these very simple steps.
Required materials: Translucent tape or glue, scissors, and string or yarn
Optional materials: Markers, colored pencils, crayons, stamps, stickers, glitter, and other embellishments
Before cutting out your umbrella, decorate it as you please!
Next, carefully cut around the umbrella and handle's bold, solid black borders. Do not cut the dotted lines!
Fold eight straight creases along the dotted lines. Wrap the umbrella into a cone shape and tape or glue the edges together. This will secure the umbrella in its concave shape.
Lay your umbrella handle on its backside and glue the bottom of a piece of string at least 3 inches (or 9 centimeters) long near the top. At least half of your string should be dangling off of your umbrella handle.
Tip: remember that the longer your piece of string, the lower your umbrella will hang in the room.
After the glue on your handle has dried, thread your string through the hole at the tip of your umbrella through the bottom.
Attach the excess string to your ceiling using paint-safe tape or Blu Tack. 
Your umbrella should now hang freely from your ceiling! Now, if bad weather makes its way into your little one's dreams, they'll be all safe and sound.
Fun Activities With Umbrellas:
At first glance, these printable umbrella templates may seem like just that: printable umbrellas. But they are so much more! They are gateways to creativity, imagination, and sincere enjoyment. Try out your favorite of our recommended umbrella activities to make art and craft time even more exciting and engaging.
Conduct a waterproofing competition!
Print out multiple Make Your Own Umbrella Templates and give one to each sibling, friend, or student. Provide an allotted time, such as 15 minutes, for everybody to make and waterproof their umbrella. Do they add glue, plastic, or simply trust the paper to hold up? Next, measure the volume of water you can pour on each umbrella before it succumbs to the wetness and collapses. The umbrella that stands up against the water is the most waterproof and wins the competition!
Draw a weather scene behind your umbrella design
Ask your little ones when they might need to use an umbrella. Encourage them to draw the scene! Are there big, heavy raindrops or bright yellow rays of sun? Help them depict the contrast of their scene between the area protected by the umbrella and the space outside of it.
Laminate the umbrella template and color it with whiteboard markers
If you plan to reuse your paper umbrella coloring sheets, laminate them! This will make the pages sturdier and less prone to rips and stains. You can color over the plastic cover or laminate with whiteboard and dry erase markers, wipe it clean, and color it in all over again! This is a great way to share the same activity between siblings and other groups of multiple children.
Wish away the rain by making rainbow crayons!
Don't get rid of old crayons! Recycle them to make your coloring even more magical.
Collect all of the stubby, worn down, or broken crayons you can find at the bottom of the box and set them in small silicone baking or cupcake moulds. Safely heat the crayons in the oven at 120*C for up to 20 minutes. The crayons will melt together and, once removed from the oven, harden into one multi-colored crayon! Pop the new crayons out of their moulds and begin coloring in your umbrellas.
Make cup coasters
Umbrellas are useful for protecting against more than just rain water! If you find your little ones leaving drink rings all over the tables at home, help them make cup coasters from their beautiful umbrella templates. All you need to do is print your umbrella coloring pages on A6 paper and color them, decorate them, and design them all you want. Lastly, laminate the coloring sheet and trim the edges to ensure your coaster is your desired size.
Place your coasters around the house to act as a barrier between drink cups and furniture. If they get wet, the plastic laminate will keep the umbrella coloring safe. Just wipe your coasters off and reuse them!
Make matching placemats
Do your kids tend to spill, slosh, and dump their food all over the dinner table? Avoid these messes during mealtimes by creating reusable placemats from your printable umbrella sheets. These are made exactly the same as your homemade cup coasters!

After your children have colored in their chosen sheets, laminate the pages and place one at each spot around the table. Now, any food that doesn't make it to their mouth lands on the plastic and can be easily sweeped off into the bin!

Make reusable stencils
You don't have to print new umbrellas every single time you want to do arts and crafts. Simply make your own umbrella-patterned stencils using our printable template!
Carefully cut around the umbrella's outline. To make it sturdier, you could laminate the umbrella or paste it onto cardstock and recut the shape.
Next, trace the umbrella shape onto a fresh piece of paper. Apart from the surface design, you will have an exact replica! How do you want to decorate this one?
Use your umbrella as a parasol
Parasols are a type of umbrella that protects your skin from the sun. They're usually lighter and aren't waterproof. This sounds like your printable umbrella template! Since you can't take your umbrella creation out into the rain, take it for a walk on a sunny day. Hold it above your head to keep that piercing sun out of your eyes!
Make a weather calendar
Especially during spring and fall, weather can be crazy! It may be sunny one minute and rainy the next. To keep track of the changing climate, make a weekly weather calendar and hang it up right next to the paper umbrella you made from our printable templates. Every day of the week, print out which of Just Coloring Fun's weather coloring sheets best matches the day's weather. Try to match the shades and hues of the sky and other elements in your drawings. At the end of the week, line up your seven coloring pages and try to recognize any patterns or trends!
There is so much more to make, experience, and enjoy from Just Family Fun. If your family had a blast coloring and making their own paper umbrellas from our free, printable templates, you should visit our website to see what else there is to do! From addition posters and dozens of bingo games to toothbrushing charts and tulip templates, we have your rainy days at home covered (just like umbrellas).
If your umbrella held up in the waterproofing competition or looks extra spectacular hanging from your bedroom ceiling, let us know! Feel free to send a snapshot of your work to Just Family Fun.