Printable Tulip Templates
Whether it's the rainy season at home or blooming season in the Netherlands, our printable tulip templates are a favorite for families and children of all ages. There are endless ways to enjoy these free printables; from coloring to cutting and pasting, you can have hours of fun from the comfort of your own home. Best of all, you get to take away beautiful paper tulips to brighten up your home in the end!
Coupled with a fun afternoon, studies have shown that crafts like our printable tulip templates increase muscle control and creativity in children. By using safety scissors, gripping markers, and squeezing glue onto papers, your little ones will develop crucial skills they will use for the rest of their life.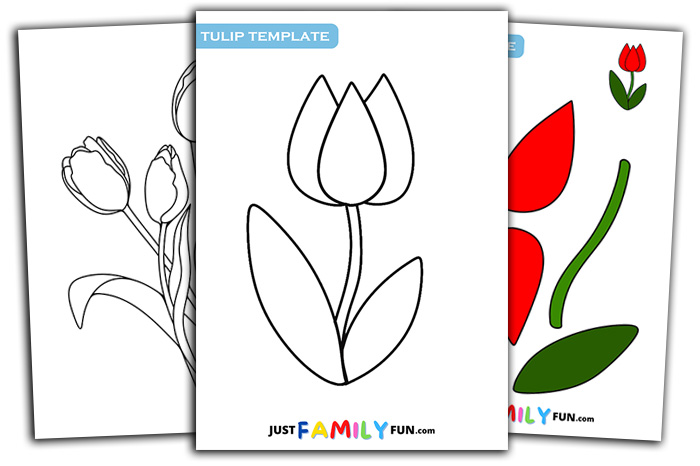 What's Included In Our Printable Tulip Templates
This Just Family Fun craft offers a variety of paper tulip patterns. Keep reading to find out about the different styles and colors you can print and enjoy!
Adult Printable Tulip Templates
These six tulip templates are ideal for older children, teenagers, and adults! With mature and lifelike designs all in black-and-white, these intricate tulips, leaves, and insects can be used in a multitude of beautiful projects.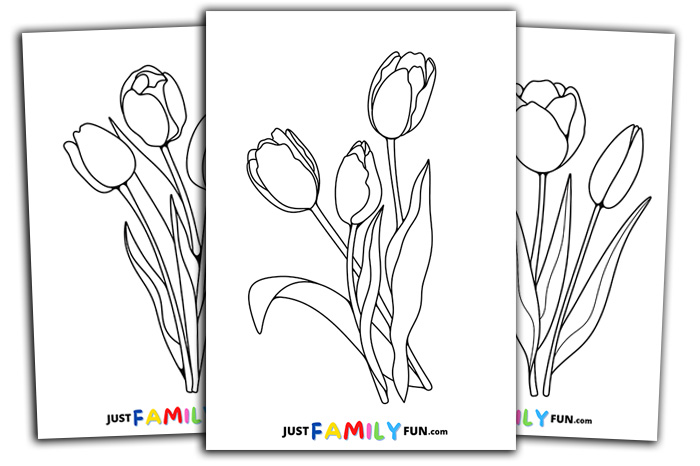 These six tulip templates are ideal for toddlers and young children! With fun flower cartoons and leaves, these tulips are great for arts and crafts at home. Whether it's basic coloring or advanced embellishments, your children will love having fun while they learn.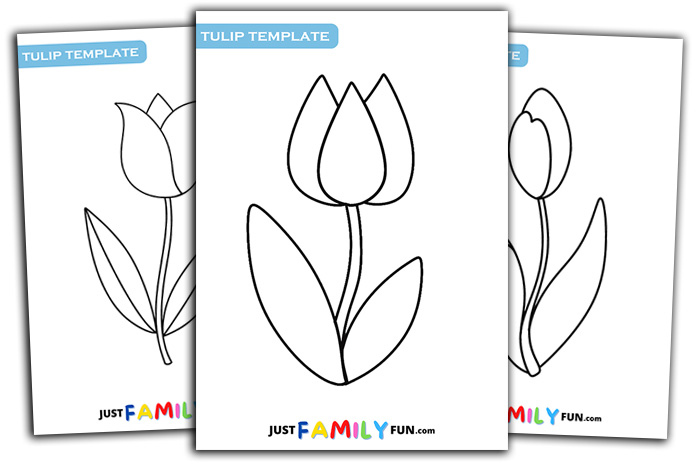 Build your own tulip templates
This special set of tulip flower templates are for you to build your own 3D tulip! There are six different designs for you to choose from. Whether you want a realistic tulip or adorable flower to give to a friend, this colorful activity is right for you. All of the designs come in black-and-white too!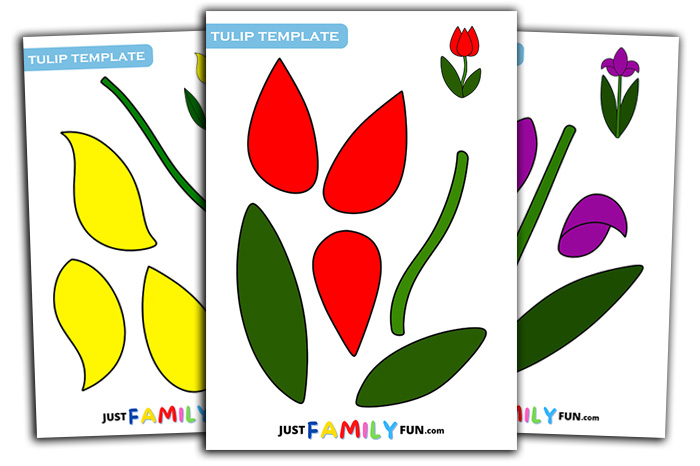 How to make a tulip with our templates
It's very easy to make your 3D tulips! All you need to do is…
Choose and print out your favorite tulip template from our selection!
Carefully, cut around the edges of your tulip's individual leaves, petals, and stem.
Drop a large dab of glue onto the tip of your flower stem. Using the reference image from your printed page, place the first petal on the glue in the correct position.
Add another drop of glue onto the top of the first petal. Add your second and third petals using this method of layering.
Add another large dab of glue near the bottom of your tulip's stem. Place the first and second leaves onto the stem using the same layering method.
Allow all of your pieces to fully dry before picking up your DIY tulip.
Tip: to make your tulip extra sturdy and less prone to rips or tears, glue it onto a brand new piece of paper or cardstock. Cut around the tulip's border so it maintains the shape!
Simple coloring sheets


Our Adult Tulip Templates and Kids Tulip Templates can be used as simple coloring sheets! Set your kids free to decorate and color in their black-and-white tulips as they please. This encourages creativity and allows children of all ages to express their thoughts in a fun way!
Use different artistic mediums and tools
If your little ones have mastered crayons and colored pencils, let them try decorating their tulip template/coloring sheets with other artistic mediums. Safely using glitter, sequins, snippets of paper, and string can improve your childrens' hand-eye coordination and fine motor skills!
Create a garden on your wall or refrigerator
Once you've colored in all of your favorite tulip templates or cut out the pieces from the build-your-own tulip kit, paste them on your wall or fridge with Blu Tack! The more tulips you color and create, the larger your garden will grow. Encourage family, friends, and other people who visit your house to contribute to the garden by coloring and signing their name on a tulip!
Make crepe-paper tulips
To add a bit more flare to your tulips, try making paper flowers and gluing them to your templates. All you need to do is rip small pieces of colorful crepe or tissue paper, fold them in half, and glue them together in alternating directions!
Create fake stained-glass windows
To create safe, shatter-proof stained-glass windows out of your printable tulip templates, try printing your favorite designs on A5 or A6 paper.
Next, carefully cut a rectangular piece of transparent plastic the exact same size as your tulip. If it is a black-and-white design, decorate and color it in first!

This plastic may come from a soda bottle, toy packaging, or anywhere else you can source clean plastic. Attach your plastic sheet to the back of the tulip coloring page with transparent or clear tape. Pin your DIY stained-glass to the inside of a window that receives lots of sun and wait to see the results! On the best days, your multicolored tulips will produce colorful shimmers and vibrant glares on the wall.

Write a letter to the environment
Tulips and other flowers play a crucial role in our environment. They act as homes, food, and materials for thousands of animals! Unfortunately, as our climate changes, certain species of flower are becoming endangered and extinct. To do your part in supporting the environment, write nature a letter! Try answering some of these questions in a letter to the environment on the back of your tulip template with your little ones.
What is your favorite color tulip?
How are you going to take care of your backyard garden?
Where do you want to see more flowers in the world?

Decorate gift bags


Instead of buying expensive, decorative gift bags for every occasion, you can purchase basic brown bags and decorate them yourself! Paste your own decorated tulip cutouts on the bags yourself. We recommend using Mod Podge with a foam brush to seal your decorations to the bag and protect them from tears and spills.

Make rainbow crayons


Don't get rid of your old crayons! Recycle them to make your tulip coloring even more magical.

Collect all of the stubby, worn down, or broken crayons you can find at the bottom of the box and set them in small silicone baking or cupcake moulds. Safely heat the crayons in the oven at 120*C for up to 20 minutes. The crayons will melt together and, once removed from the oven, harden into one multi-colored crayon! Pop the new crayons out of their moulds and begin coloring. Visit childhood101 for instructions. 

Make a puzzle (cut up the completed page and put it back together)


Although it may be hard to say goodbye to your beautiful paper tulip, you'll have a fun and reusable flower puzzle in the end!
Safely cut your completed tulip template into five to ten random pieces. Ensure each piece is big enough to recognize. Mix the pieces up and put it all back together! You'll have to recreate your original tulip coloring page as if it were a jigsaw puzzle. This game encourages children to use context, such as colors and shapes, to consolidate information.
Learn a few fun facts about tulips!
Tulips are incredible flowers! Did you know that…

Tulips are native to Central Asia. However, the tulip is the national flower of the Netherlands! Holland has been the largest producer of tulips in the entire world since the flower was introduced into the country's wildlife.

There are over 150 different species of tulip. You can find the flower in almost every color, including black!

In books and other literature, the color of tulips have meaning. For example, red tulips signify true love, whereas white tulips symbolize sorrow and forgiveness.

At night, the flowers close up tightly to protect their pollen from water and cold temperatures. As soon as the sun rises, the petals reopen to welcome bees and other wildlife into their buds! 

The world "tulip" originates from "tulipan" which means turban in Persian.
Summer and family fun are both only a print away at Just Family Fun. We hope you enjoy creating and designing your colorful and personalized tulip templates! Now, you can visit the Just Family Fun website to discover even more family-friendly activities, science experiments, short projects, and fun games like 31 Printable I Spy Puzzles for Kids and a Printable Interactive Calendar.
If you want to share your indoor garden with us, feel free to send a snapshot of your printed tulips to Just Family Fun!