Printable Interactive Calendar For Kids
Just Family Fun's printable interactive calendar for kids is an enjoyable, beautiful tool to use around the house every single day! Even the most elaborate store-bought calendars can seem boring and basic to children, but our calendars can be organized and personalized any way your little ones please.
Our interactive calendar can be used to mark holidays, count down to weekends, remember important dates, and schedule activities every day of the week. The do-it-yourself style enables toddlers and kids to move pieces around the calendar to do this! For example, you can remove each day's date from the calendar as it passes or relocate the days of the week depending on your preferences.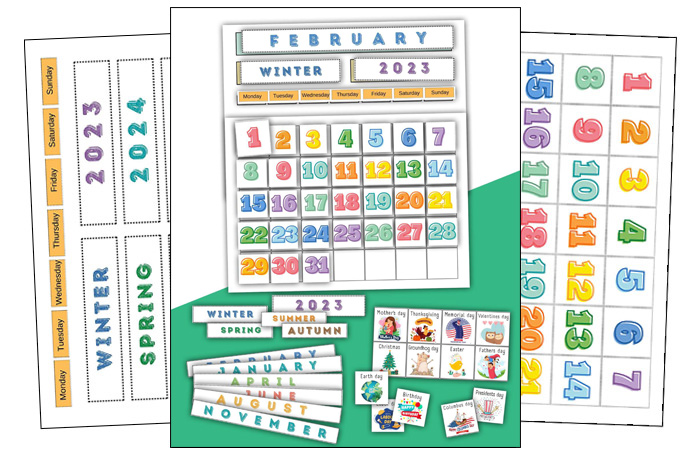 With vivid colors, multiple styles, and lots of crafting involved, our printable interactive calendar is a functional activity that every member of the family will benefit from.
Benefits of Using a Printable Interactive Calendar:
Our printable interactive calendar requires crafting skills like cutting and pasting. Your little ones can improve their grip, hand-eye coordination, fine motor skills, and dexterity just by putting together their calendar!


This calendar is a fun and engaging way to encourage organization and a sense of time in young children. Seeing their own, personalized calendar every single day can help your kids understand the passing of time and begin counting down to holidays, activities, and other important events without relying on you to tell them!


If your little ones want to be a part of the decoration and design of your home, this calendar can act as a risk-free section they can personalize all they want! No need to feng shui the living room every day, just help them build their own interactive calendar.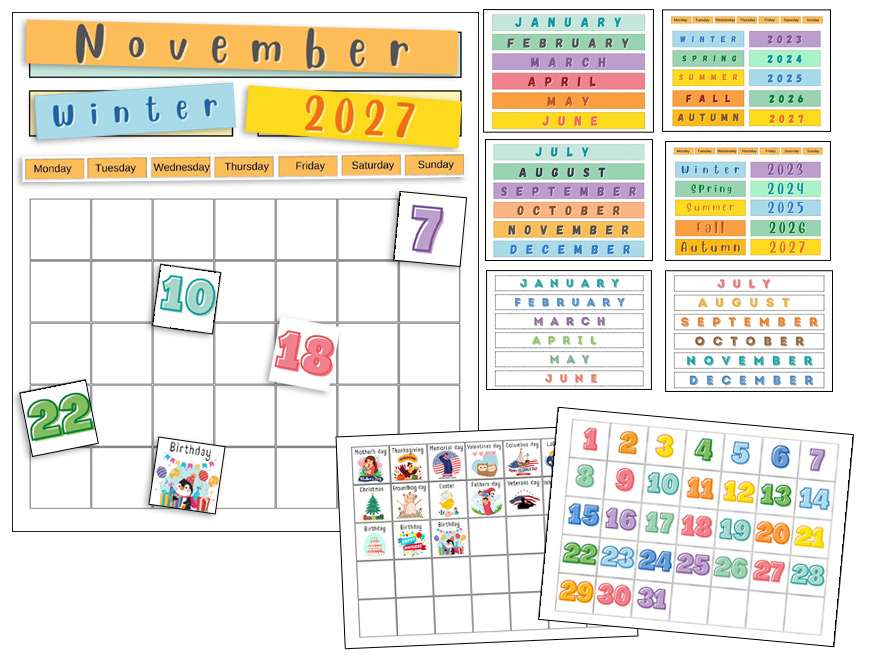 To begin the fun, print out the entire 14-page printable interactive calendar set on white A4 paper. Prepare to use your scissors safely because the calendar requires lots of crafting to create! Refer to this guide to find out how to use each page correctly.
Page 1:
this page acts as a suggested template for your calendar. Use it as inspiration to arrange your pieces later on!
Page 2:
This page is your blank calendar! Leave it as one big piece and do not cut around the boxes.
Page 3:
These boxes and rectangles are placeholders for your month,
season
, and year. You can leave them uncut on the entire page or snip around the edges of each box to arrange them on your calendar yourself.
Page 4:
Cut out each number box from this page. You can place these individually on your blank calendar from page 2!
Page 5:
Cut out each box and rectangle from this page. You can place the days of the week, season, and year on your colored placeholders from page 3.
Page 6 and 7:
Cut out each individual rectangle from these pages. You can place each month on your calendar when it rolls around!
Page 8
: Cut out each individual box from these pages. You can place them on your blank calendar from Page 2 to mark upcoming holidays and activities. The blank boxes are for you to decorate your own events with markers, crayons, or colored pencils!
Page 9 – 14:
These pages have the exact same pieces as pages 4 – 7 but in a different style and font! You can use a mix of the two styles or choose your favorite to personalize your printable interactive calendar.
Methods of attaching pieces to your calendar
If you plan to reuse your interactive calendar for years to come, don't glue the numbers, holidays, and other cut-out pieces onto the blank calendar. Instead, try these non-abrasive materials which won't rip or stain the blank calendar!
Blu Tack

Washi tape

Adhesive dots

You can even laminate each piece of your calendar and glue snippets of velcro to the backs.
How to store your extra pieces
Don't leave your extra calendar pieces scattered around the house for years on end! Keep them secure with one of these recommended methods:
Store your loose pieces in an envelope or plastic sleeve so they don't get bent, stained, or lost
Adhere your pieces to the back of your calendar so you can access them easily and quickly without fear of losing them!


Where to keep your calendar
For your children to get the most out of their interactive calendar, it can't be shoved in the closet after a single day of use! Hang their calendar in one of these suggested locations.
On the front door

This way, your little ones get a glimpse of the calendar every morning when they leave for school and every afternoon when the day is over. It will become part of their daily routine!

Next to your "adult calendar"

Sharing the task of organizing and time-planning with your children can help them fully benefit from their interactive calendar. Placing your adult calendar next to their interactive printable can help them transition to taking on adult responsibilities!

In their bedroom

Hang the calendar above their desk, over their bedside table, or on their wardrobe door to ensure they see it all day, every day to normalize the responsibility and organization it requires.

In the kitchen

The kitchen is another space to hang your child's calendar where the whole family will see it. Use magnets to keep it on the fridge or tape to secure it to the cabinet doors!
Whether your toddler is eager to help with daily errands or your child is scheduling their own play dates, our printable interactive calendar is the perfect way to inspire creativity and responsibility for no cost. After hours of fun crafting, you'll have a complete product to use every single day for years on end!
If you love the idea of child-led organization and activities, visit Just Family Fun to discover other family-friendly projects like 35 free printable chore charts and 100 funny lunch box notes for kids. You're also welcome to send us a photo of your family's calendar creation! Share your story with Just Family Fun.