Our exciting spelling game is the perfect way for your child to practice their spelling, letter recognition and word-building! This Printable Spelling Game lets your child look at fun images and practice spelling both three and four-letter words. This is suitable for pre-schoolers who are just learning to spell, and more advanced children who are more confident with their spelling!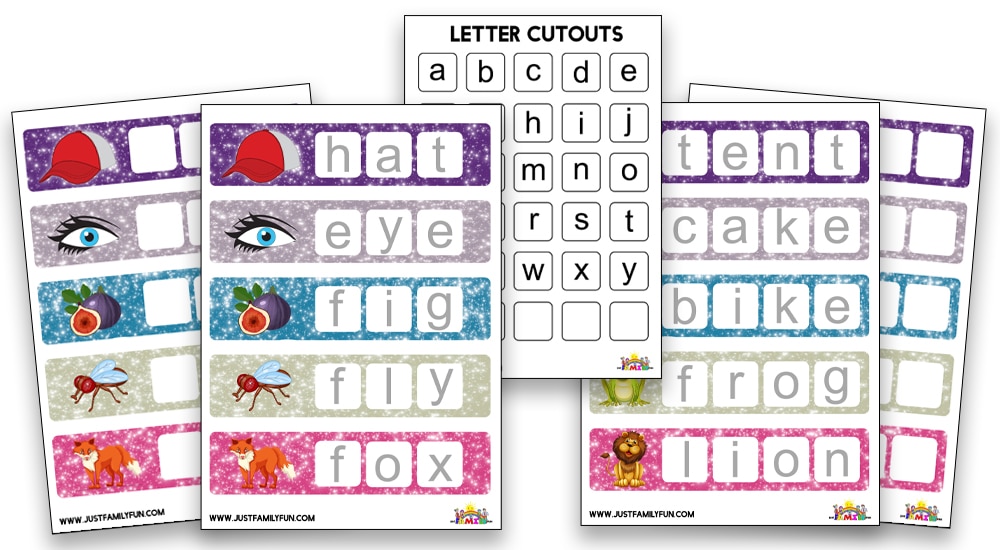 What's Included in Our Letter Spelling Game?
This Printable Spelling Game contains 50 three-letter words, and 50 four-letter words, allowing you to build up your child's confidence and practice as they become more familiar with the words. The pack includes a set of words with blank tiles, a set of words with the spellings filled in, and a series of printable letters. There are many different ways to play the game, each tailored to a different level of ability.
Top Tip: Many of these images can be found in your home; see if your child can find the real-life version!
Ways to Play
There are multiple ways to play this Printable Spelling Game, so you can play with your young children no matter what their spelling is like!
Reading:

Using our set of words with the spelling filled in, your child can read the spelling of the words, and start to familiarise themselves with how they are spelt and become more confident in their spelling.

Letter Matching:

The next level up for this game, is to use our set of words with the spelling filled in for a matching exercise. Your child can take the printable letters and match them up to the letters on the spelling. This lets them see how the words are formed, and they will feel really proud that they have filled out a whole word!

Spelling:

For an advanced game, you can use our blank set of words. The child will only see the image, and then they will take the tiles and spell out the word themselves. This is a really great way to spell out simple words and build their confidence!

Plurals:

If your child can spell all of the words, then it's time for the expert level! Take each word and see if they know how to make the plural version of that word. This is really impressive and will ensure that each child's ability is catered for!
Top Tip: Start with the three-letter words and work up to the four-letter words as another level! You can print out multiple sheets of the letters to keep playing as many times as you would like if you lose some of the tiles.
Fun Rules to Play With
You can adapt this spelling game to however you would like to play, and to suit the interests of the child you are playing with. If you want to increase the excitement, then try out these fun rules to play with:
Time Challenge:

Set a timer for 2, 5, or 10 minutes and see how many words your child can spell in that time. Keep going and see if they can improve their time after each round they play! They will feel really accomplished and motivated to keep going. If you have multiple children then it can become a competition.

Sentence Formation:

After they have made a word, ask your child to use that word in a sentence or a story. The more creative, the better!

Alphabet Game:

Once your child has guessed all the words, see if they can put them in alphabetical order! They can even do this after spelling just two words, just by letting them say which one would come first in the alphabet.
Top Tip: Make sure your child knows exactly what each word means before moving on to the next one. The words are chosen to be recognisable by younger children, but it is always important to check they are comfortable with the spelling and the meaning.
Keep the Fun Going…
Once your child has mastered all of the words, why not see if they can come up with a few of their own? Take your child round the home to find some more three or four-letter words, and see if they can spell them out loud. You could even go on a regular walk and see how many of them your child can spot around the town. This Printable Spelling Game is a really great way of slowly increasing the difficulty to keep your child engaged, while also having lots of fun!
Did You and Your Child Love Our Free Printable Spelling Game?
We have loads of activities for you and your child to get involved with. Take a look at our packs and see what else your child can learn from and practice with! You and your child could have a go at practice puzzles, colouring pages, number recognition, themed packs, all while enjoying learning. Our games are designed to make sure your child has lots of fun and enjoyment, and is able to improve their skills at the same time. They can also be played as part of a bigger group, or on their own with one adult. Enjoy!