2 Free Printable Dinosaur Scavenger Hunt Games
Looking for a fun way to entertain your family? Bring out your inner paleontologist and dig up your love for dinosaurs with these dinosaur scavenger hunts! Dinosaurs first roamed the Earth over 200 million years ago.
Their fossils have been discovered on every continent and in many environmental factors, making these scavenger hunts an easy way to educate your family as they explore different areas of your house and garden at any time of the year.
These dinosaur themed activities were created with the whole family in mind for hands-on fun. Not only are scavenger hunts a fantastic way for your kids to learn quick problem solving skills, but they are also great for keeping them active indoors and outdoors. These cute dinosaurs will guide your family throughout your house and are a unique way to play for all ages. Download our 2 Dinosaur Scavenger Hunt games created by Just Family Fun and get started.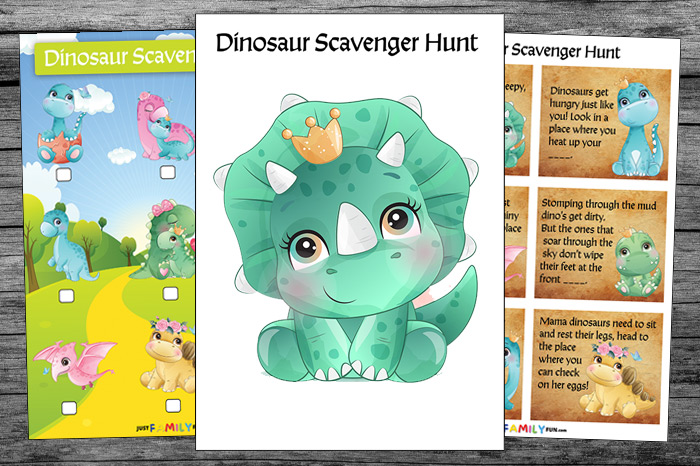 What's Included In Our Dinosaur Scavenger Hunt Package
There are two separate games included within our downloadable Dinosaur Scavenger Hunt package. The first game is Riddle Clue Cards and guides your family throughout your house and garden for a day of fun. This game involves printing out clues for your family to find in order to reach the final clue.This game also comes with a help guide for parents to help your family hide and solve each riddle clue card correctly.
The second scavenger hunt is called Find the Dinosaur Picture Game. This scavenger hunt involves hiding each of the dinosaur cut outs throughout your house or garden and checking each of them off as you gather them one-by-one. Let's dive into both of the Dinosaur Scavenger Hunts and their explanations below.
Dinosaur Scavenger Hunt Riddle Clue Cards Game
The first game included within the downloadable Dinosaur Scavenger Hunt Package is the Riddle Clue Cards. This game includes 12 images of clues to hide within your house and in your yard. Each of the clues can be cut out to place in their locations. This game is a fantastic way to keep your children active and they continue to learn in an exciting and hands-on way.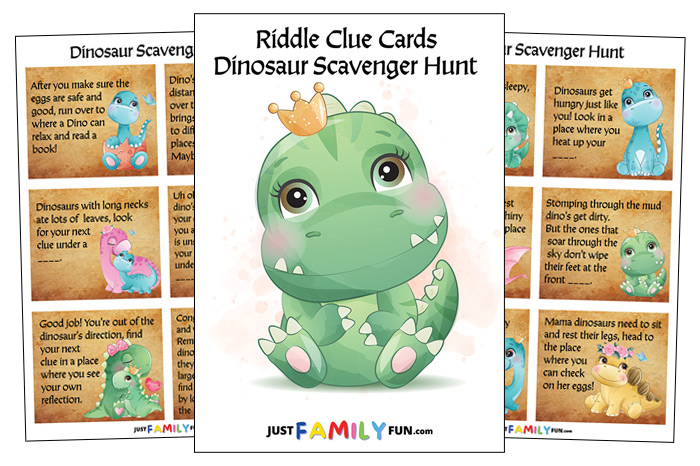 These Riddle Clue Cards are also an amazing way to involve your kids with problem-solving and critical thinking skills. They will be able to interact with the dinosaurs on each card and solve riddles in order to collect the next one, enhancing their knowledge and skills. Your kids will follow each of the dinosaurs around your home and will be so happy once they solve and collect all 12 of the dinosaur riddle cards. Simply cut out these cards and place them in the recommended spots included in the parents clue key, and let the fun begin! 
How to use our dinosaur riddle card clues
To play this game you'll need to cut out the clue cards and hide them in the place of the previous riddle card. We have included a help guide within the downloadable content to assist you on your Dinosaur-hiding journey.
Find the dinosaur scavenger hunt picture game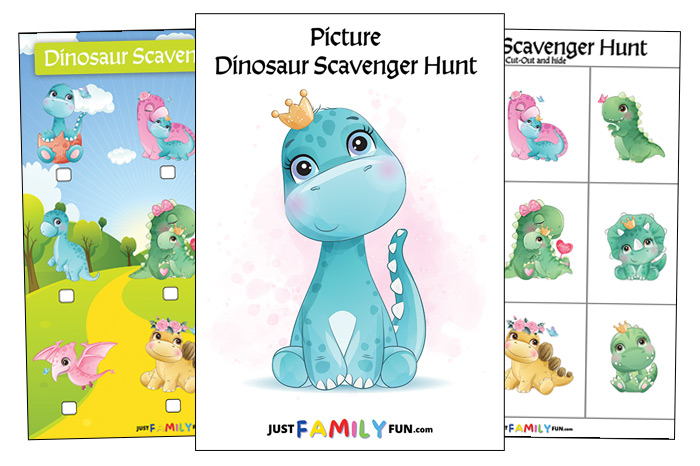 This Dinosaur Picture Game can be played in your house and outside (or wherever you are on the go!). For an easy way to keep your kids on their toes, hide each of the dinosaurs in places of your choosing and send the kids on their way to dig up our prehistoric friends. There are 9 different dinosaur images for them to find and collect. This interactive game will help your kids think of exciting ways to maneuver through your house and yard while searching for each of the cut outs.
How to play find the dinosaur scavenger hunt picture game
The game is simple. Print off both pages and cut out the dinosaurs on the cutout page. Hide them around the house and garden then let the kids find them, once they find one they can tick it off on the sheet. 
Tip: You can laminate the check sheet as well as each of the 9 cards to reuse them in the future!
Bennifits Of Playing Scavenger Hunt Games
Scavenger hunts are not only a family fun activity. There are several benefits for including them in your daily plans which you should consider. 
Scavenger hunts help your kids to further their problem-solving skills using mental, visual, and tangible methods. This improves their thinking and ability to understand these skills at a higher level than if they simply completed the riddles solely on paper. They will solve each of the riddles while physically searching for the downloadable dinosaur clues, bringing an additional level of fun to this educational activity.
While interacting with the scavenger hunts, your children's minds will be active, as well as their feet! Exercise is essential for keeping kids healthy, and scavenger hunts are a unique way to implement physical activity into your kids daily routine. They will walk and run around the house and yard searching for each of the clues, giving them the extra energy boost they need.
Another benefit of scavenger hunts is that your kids will become more aware of their surroundings and their ability to focus on completing tasks one-by-one. Keeping your kids busy without electronics can be difficult these days, and these printable Dinosaur Scavenger Hunts are an incredible way to keep them busy without the help of a screen.
We hope you and your family enjoy Just Family Fun's Downloadable Dinosaur Scavenger Hunts. Good luck on your search for our prehistoric friends.
Love the idea of dinosaur-themed activities? Check out our other content, such as our 3 Dinosaur masks, which you can cut out and wear instantly. For additional fun, you could wear these masks when playing the scavenger hunts to search for your dino friends! 
If you enjoyed this scavenger hunt, another fantastic Dinosaur themed activity from Just Family Fun is our Dinosaur Colouring Pages. These colouring pages are a great way to introduce creativity to your kids. They will keep them calm and collected after searching for their dinosaur friends all day.