Printable Animal Dot To Dot Puzzles
Are you looking for an educational, engaging activity for young nature enthusiasts? Why not try our free printable animal dot-to-dot pages. There are 10 different activities of varying difficulty – and they all come with cute and colourful reference pictures too!
Kids are sure to love uncovering the picture as they join the dots – then they can colour in their masterpieces. It's 2 activities in one! Does this sound like something that'll entertain your child?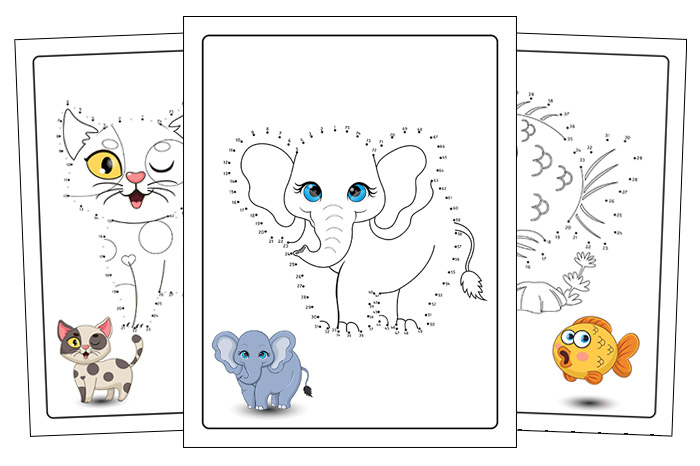 What's Included in our animal dot-to-dot pages?
What kid doesn't love some cute animals? Each dot-to-dot activity is placed on its own A4 page. Each page also shows what the final image can look like. When it comes to decorating and colouring – kids are limited only by their imagination!
The 10 different images included (and the number of dots) are:
Cat (1-74)
Elephant (1-50)
Fish (1-42) 
Panda (1-60)
Duck (1-43) 
Elephant (1-75)
Fish (1-50)
Panda (1-82)
Seahorse (1-65)
Hippo (1-69)
Completing Your Animal Dot-To Dot
A dot-to-dot activity can encourage a child to concentrate on the task. They'll get to practice hand-eye coordination and counting while discovering the image. Younger kids will benefit from the activities with fewer numbers, whilst older kids can tackle the ones with higher numbers.
As the children become more confident, they can increase the difficulty of the task. This will provide a fulfilling sense of achievement when they manage to complete the whole book!
Many younger kids will need some guidance as they complete these dot-to-dots. The amazing thing is that you can print out these free activities as many times as you like! Some kids might benefit from repeating the same animal dot-to-dot a few times to master it.
Make the activity last longer by adding a 'part 2'.  Once the dots have been joined – splash some colour on that page! Explore fine motor skills encouraged by dot-to-dots and introduce some of these additional activities.
Let kids get creative by providing a variety of decorating materials.
Crayons/pencils
Paint/finger paint. Try texture painting with a potato/sponge/stick to emulate the texture of the animal. For example, small fingers can paint some lovely scales on the fish!
Cut out paper shapes and glue – craft paper, card, tissue paper, and cereal boxes destined for recycling.
Buttons – try gathering different arts and crafts materials of one colour to fill in the image.
When To Use The Animal Dot-To-Dot Printables
Once printed, you can give your kid the whole book at once if you like. Or, you can hand out one sheet at a time if you need a few minutes to finish a chore. For example, you could have one ready for first thing in the morning. That'll keep your little one occupied while you prepare breakfast!
Have a long journey planned or heading out to dinner at a restaurant? It might be handy to keep a supply of printables on hand. Kids can get antsy when they're bored – but with ready-made activities on hand, you could easily deescalate a case of the hangries.
Benefits Of Dot-To-Dot Activities For Kids
Though it's a simple activity, dot-to-dots have a range of benefits for kids (and adults too):
Prewriting
Handwriting
Counting
Number recognition
Shape recognition
Hand-eye coordination
Fine motor skills
Concentration
Develop small muscles
Support creativity and imagination
Problem-solving
Kids can practice all these while having fun. Learning how to hold – and control – a pencil is essential for learning to write. They'll build up the right muscles and dexterity, as well as practice coordination.
Tracing out the shape of the animal will help them recognise shapes and learn to count larger numbers. By repeating the activity, kids will notice patterns in how numbers increase. This can help them understand even larger numbers.
Using fun activities to help kids learn keeps them engaged for longer. There's a range of benefits and opportunities to encourage your kid's imagination included. Take a look at the other free printable activities we have available.