Printable Halloween Scavenger Hunt With Clues
The spooky season has arrived, which brings lots of opportunities for some scary
The spooky season has arrived, which brings lots of opportunities for some scary Halloween fun! We have lots of Halloween scavenger hunt ideas for kids to entertain them as the weather turns colder and the leaves start falling. Download our free, printable Halloween themed scavenger hunts and enjoy searching for objects or clues indoors or out!
As the crisp autumn air sets in and the days grow shorter, there's no better time to embrace the spooky spirit of Halloween.
Our Halloween scavenger hunt ideas for kids are designed to keep the little ones engaged and excited throughout this bewitching season. Whether you're exploring the great outdoors amidst the vibrant foliage or opting for a cozy indoor hunt, our free, printable Halloween-themed scavenger hunts promise hours of entertainment.
With each clue and hidden object they discover, children can immerse themselves in the enchanting world of witches, ghosts, and goblins, making cherished memories that will last a lifetime. So, grab your flashlights, put on your costumes, and get ready for a thrilling adventure that's sure to make this Halloween unforgettable!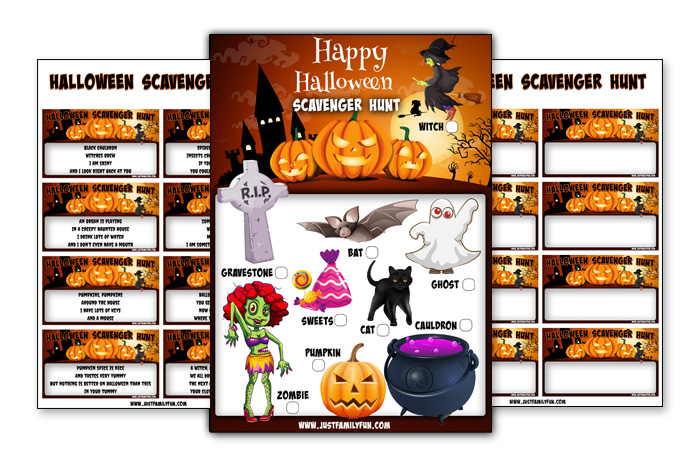 What's Included In Our Halloween Hunt Pack?
We Present 2 Exciting Halloween Scavenger Hunts Just for You!
Prepare for a Halloween extravaganza with not one, but two delightfully spooky scavenger hunts. Our first enchanting adventure is tailored for toddlers, introducing the Picture Scavenger Hunt. Watch your little ones' eyes light up as they seek out the images on the card, making Halloween magic come alive.
The second Halloween scavenger hunt is designed with older children in mind. This challenging quest requires clever thinking and problem-solving skills as participants must decipher clues to unveil the hidden clue cards. It's a Halloween adventure filled with mystery and intrigue, perfect for your older, more adventurous explorers.
Happy Halloween Picture Scavenger Hunt
Ideal for children of various ages, from toddlers to those who are already reading, our Halloween scavenger hunt printable is designed to cater to a wide range of young adventurers. This engaging activity can be enjoyed by all, ensuring hours of entertainment and learning.
To accommodate the different age groups, we have thoughtfully crafted our scavenger hunt with a combination of vivid images for the little ones and carefully chosen keywords for the older kids. This way, children can relish the joy of the hunt while simultaneously enhancing their reading skills, making it an educational and exciting experience for everyone involved.
Within our carefully curated pack, young hunters will embark on an exhilarating quest to locate Halloween-themed treasures, such as a spooky bat, a mischievous zombie, a glowing pumpkin, a cackling witch, and so much more. This Halloween scavenger hunt is bound to spark curiosity, foster teamwork, and create cherished memories for children of all ages.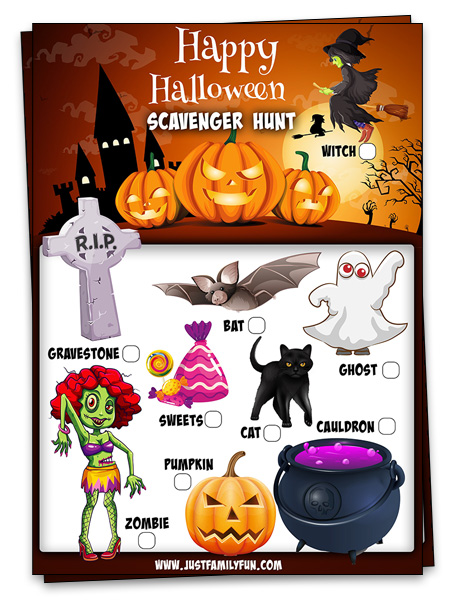 Ways To Play Our Picture Halloween Scavenger Hunt
Picture Scavenger Hunt – Print an extra copy of our Happy Halloween Scavenger Hunt sheet and cut out the pictures. These can then be hidden around your home or garden for your little hunters to find. Make sure they have their own sheet to tick off their discoveries.
Word Scavenger Hunt – Print an extra copy and cut out the words, or write the words on blank pieces of paper. Hide them around your hunt area and equip your child with their own sheet and pen. They will develop their word recognition as they find the spooky vocabulary and tick them off.
Object Scavenger Hunt – During October, lots of these frightful objects might be appearing around your home as decorations. If so, let your child have a Halloween hunt for those instead, of the printed images. It will provide more challenge as your decorations won't look exactly like our pictures.
Out and About – Do your neighbours go all out decorating their homes for Halloween? If so, our scary scavenger hunt is the perfect way to add excitement to a familiar walk. Take a sheet and pen with you and have your child cross off any of the characters or objects they see. Count up how many they found when you get home. This is their score. Can they beat you? Score higher on a different route? Or, will their score increase as we get closer to Halloween night and more decorations come out?
Top Tip – Every child loves dressing up and this is the season for it! Help them get into the Halloween mood by having them dress up in their scariest outfit! A perfect way to get more use out of this year's costume! Consider playing some monster music to create a really creepy atmosphere.
Halloween Scavenger Hunt Clues
Halloween, with its eerie ambiance and mysterious charm, provides an ideal backdrop for the enchantment of spooky rhymes and riddles. In the spirit of this bewitching season, we've crafted an exciting and engaging set of clues for a spine-tingling scavenger hunt that can be enjoyed right in the comfort of your own home.
This scavenger hunt is a delightful journey through eight carefully chosen locations within your house, each clue leading to the next, creating an immersive and suspenseful experience that will captivate young minds and ignite their imagination. It's a thrilling adventure that keeps kids on their toes as they unravel the secrets hidden in each clue.
For our youngest participants, toddlers and pre-readers, the excitement of the hunt is even more special as they team up with an older sibling or an adult to decipher the clues. This collaboration fosters a sense of togetherness and shared accomplishment, making it an unforgettable bonding experience.
For the older children, our scavenger hunt presents a challenging twist. They'll need to put on their thinking caps and engage their problem-solving skills to decode the clever riddles that guide them from one clue to the next. This added layer of complexity ensures that every member of the family, regardless of age, can revel in the thrill of the hunt.
So, as the moon rises and shadows lengthen on Halloween night, our scary scavenger hunt clues promise an adventure filled with excitement, teamwork, and the joy of deciphering riddles in pursuit of spooky treasures. It's a Halloween activity that's sure to become a cherished tradition in your household.
Top Tip – Make it even more exciting by hiding a spooky prize in the last location!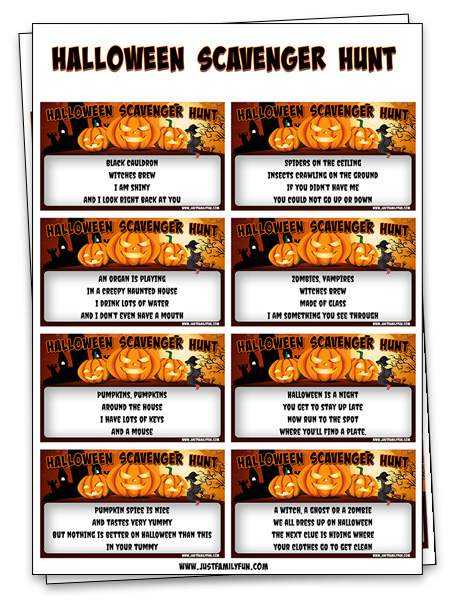 Blank Halloween Treasure Hunt
Using our Halloween Scavenger hunt riddles for inspiration, come up with your own clues for a fun hunt! Our blank scavenger hunt template will allow you to personalise the hunt for your own home or garden or make an even longer hunt for really keen seekers! These blanks could also be used to extend our clue scavenger hunt or swap out any clues that can't be found in your home.
Top Tip – Let your child use the blank clue sheet to write their own Halloween hunt clues for you, siblings or friends to solve.
Clue ideas for every age;
A picture of the next location.
The name of the next hiding spot e.g. sink.
An anagram of the next location e.g. ksni.
A simple clue e.g. somewhere to wash your hands.
A spooky Halloween riddle – just like ours!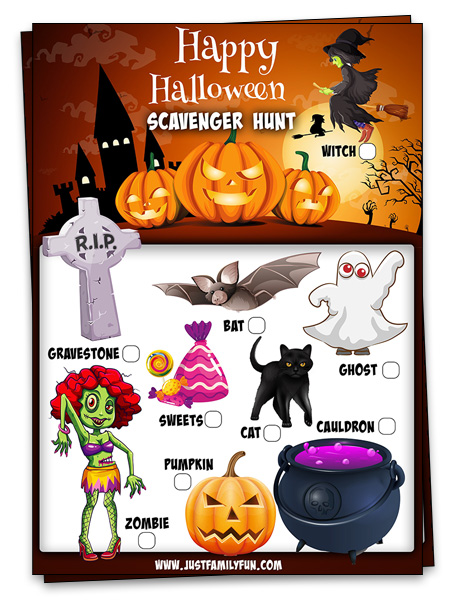 Fun New Scavenger Hunt Rules
Make these activities even more fun with some exciting new rules;
Hunt in the Dark – Turn off the lights and equip your child with a torch. This will make finding hidden pictures or objects much more challenging and spooky!
Wicked Werewolves – Pretend to be werewolves and have your child do their best wolf howl when they find a picture, word or clue.
Trick or Treat – Hide a sweet treat or frightful trick, like a toy spider, with each picture or clue. This makes a great alternative to trick or treating if you don't fancy going door to door.
Time Challenge – Set a timer for 5, 10 or even 20 minutes, depending on how well hidden your pictures or clues are. Can your child find everything before the time runs out? Can they beat your score? Repeat the challenge by hiding your pictures in different locations. Can they top their previous score?
Keep the Fun Going…
After the hunt is over, use our sheets for inspiration for more fun activities. Your child might enjoy writing a creepy poem, taking ideas from our fantastic riddles. Another great challenge is to try to write a poem or story that includes all of the objects and characters on our Happy Halloween Scavenger Hunt Sheet.
Did You And Your Child Love Our Free Printable Halloween Scavenger Hunts?
Then we have more spooky fun for you! Why not choose some creepy scenes to colour, in our Free Printable Halloween Colouring Pages Pack. Pick a scary skull or cute scarecrow. A wicked witch or adorable mummy. There is something for all tastes. We also have a pack of Free Printable Halloween Activity Sheets. Practice puzzle-solving, scissor control and number and letter recognition, the fun way! Finally, if you can't get enough of scavenger hunts we have lots more to choose from. Check out our Free Printable Farm Scavenger Hunt, Free Pirate Scavenger Hunt and our Free Printable Indoor and Outdoor Scavenger Hunt.