Autumn is rolling in and we have been thinking about Halloween crafts for kids. Something to entertain little ones inside, if the weather turns. These free, printable, Halloween paper mask are perfect to liven up a chilly afternoon, entertain Halloween party guests and get everyone in the mood for the spooky season.
What's included in our Halloween Paper mask pack?
Five fantastic, spooky designs! Your child can choose to be a clown, witch, pumpkin, ghost or zombie.
Every design comes in full colour for some ready-made fun. Or, black and white so your child can have fun colouring it in to create something unique.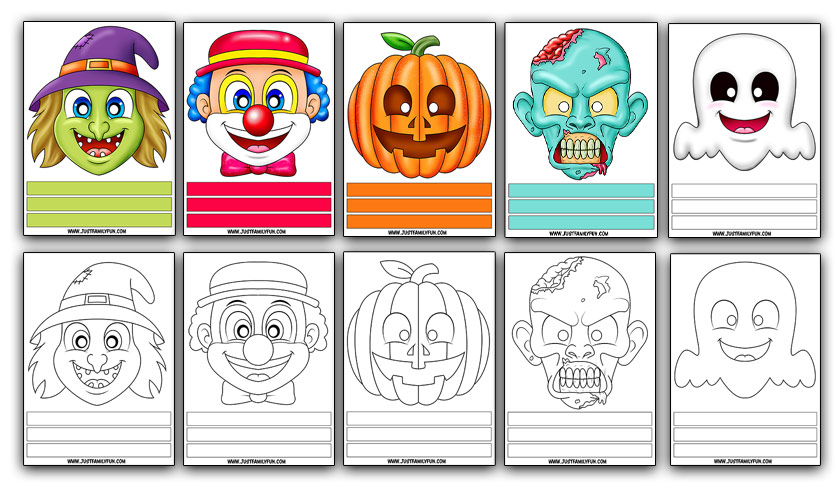 The templates also include a paper strip, which can be used as the strap to hold the mask onto little faces.
How to Make Our Paper Halloween Mask
Character choice – Have your child select their favourite design and print it out. Our designs can be printed onto paper or card – depending on your printer.
Top Tip – If your printer can't handle card, print onto paper and then glue onto card before cutting out. This will make the mask strong and able to last for lots of fun play sessions.
Cut it Out – Your child may need help to cut out the mask template or they may be able to handle this by themselves.
Top Tip – Don't forget to cut holes for the eyes! It may help to pierce a starter hole with a pencil before using scissors.
Bring it to life – If using a black and white image it's time to have fun colouring it in. Your child might enjoy copying the colours that we've chosen or they might prefer to unleash their creativity and select their own colour scheme.
Top Tip – If you have any exciting embellishments lying around the house, they can really bring a mask to life. You may have some shop-bought decorations like mini pompoms for witches' warts, ribbons for clown bow ties or pipe cleaners for zombie brains! If your craft box is looking a little sparse, don't despair! There are many decorations that can be found in the garden or even heading for the bin. How about leaves for the pumpkin, string for the witches' hair or toilet paper for some ghostly arms?
Attach the Strap – Cut out the strips from the template page and hold them up to your child's head to work out how many you will need. If using more than one strip, join them together with staples, sellotape or glue. Attach the strap to one side of the mask and have your child hold it up to their face. Pass the strap around the back of their head to find a length that is comfortable and mark with a pen or pencil. Remove the mask and secure the strap on the other side, using your pen mark for length.
Top Tip – If you have any elastic your child might prefer it. Pierce a hole in both sides of the mask with a pencil. Thread the elastic through and tie a knot large enough to stop it slipping back through the hole.
Congratulations – your mask is complete!
Play Time!
Now that you have your masks ready it's time for your child to have fun and give everyone a fright! Kids love masks and your child is sure to come up with lots of fun play ideas for themselves. However, if they need a little inspiration they might like to try one of these great activities;
Spooky Play – Get together with friends or siblings and put on a Halloween show!
Boo! – A Halloween twist on hide and seek. Have your hiders wear masks and hide around your home or garden. Unlike hide and seek, they are not waiting to be found. They are waiting until the seeker is close enough to jump out and shout BOO!If they successfully make the seeker jump, they win. If the seeker is unfazed, the seeker wins.
Halloween Parties
Our printable mask templates are perfect for children's Halloween events.
Provide a set of templates and let your guests enjoy colouring and decorating. They can then dance to their favourite Halloween tunes as their new character. Consider providing a box of dressing up clothes to help them create a matching outfit. These could be ready-made costumes or bits and bobs from charity shops.
Don't cut out the eyes and use the masks for blindfold games.

Brilliant Blindfold Game Ideas –

Pin the Nose on the Witch – Hang a large picture or drawing of a witch or other creepy character on the wall. Print or draw a witch's nose for each player. The players must wear their blindfolds and try to stick the nose on the large picture, as close to the real position as possible. Closest wins. The noses can be stuck with pins, blutack or double-sided sticky tape. They can even be drawn on if you have none of these things to hand.
Blindfold Taste Test – Provide 5 to 10 cups with different foods (check for allergies first). Have your blindfolded players taste each one and try to guess what they are.
Mystery Object – Lay out a tray of objects and have your blindfolded guests try to guess what they are. Or, for a Halloween twist, create a tray of cold spaghetti, pickled onions and jelly. Try to convince them that they are feeling worms, eyeballs and brains!
Trust Me – A great game for building teamwork skills. Create a route filled with obstacles. The person without the mask must guide the blindfolded player along the route by talking them through it.
Did you and your child love our paper mask craft for Halloween?
Carry on the theme with more frightful fun! Try our FREE printable spooky Halloween activities to practice puzzle solving with numbers and letters. Or enjoy more colouring with our Free Printable Halloween Colouring Pages. If more craft ideas is what you're after, have a look at our Fun Crafts Page and create Flying Superheroes, Pinwheels and Paper Rockets.
By Laura Davies