Just Family Fun's gnome coloring pages are the best way to feel a connection with the magic we share our world with! These small, mischievous mythological creatures called gnomes are close friends to fairies, goblins, and leprechauns.
They are fun additions to the home that children of any age can easily make with our black and white gnome templates.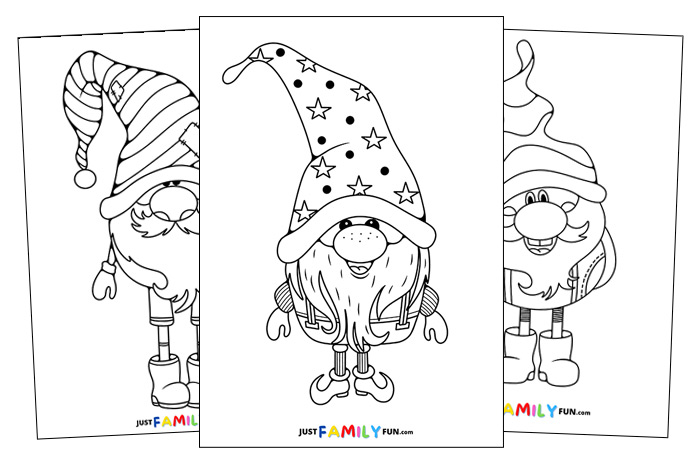 What's Included In Our Gnome Coloring Pages
This set includes six printable coloring pages with different cartoon gnomes. Every gnome has a different personality, with each wearing a silly hat, having large and hairy beards, and making various facial expressions!
Choose your favorite gnome templates from our collection of coloring pages and print them out on A4 paper to begin having fun!
To have the most fun with our gnome coloring pages, we recommend these activities. Have a go at your favorites!
Learn some fun facts about gnomes, such as…

Gnome folklore originates from the 18th century. They're believed to be household spirits in charge of caring for the family's health and wealth!

Gnomes can live inside or outside. They are vegetarians and eat nuts, mushrooms, fruits, and honey.

Gnomes are gentle spirits that try to do good. However, they can be sneaky and clever at times!

If you find a gnome in your garden or basement, there's a chance it's older than you, your parents, and even your grandparents combined! Gnomes can live up to 500-years-old.

Name your gnome
Every gnome deserves a name! Be creative and think of a unique, silly, or realistic name for your new friend. Traditional gnomes are called Babblecheek, Bellygem, Cheeky, Dinky, Flimp, Acorn, Toadstool, Frumple, Enkergic, Dhing Dhong, and Nackle.
Simple coloring sheets!
Set your kids free to decorate and color in their black-and-white gnome sheets as they please. This encourages creativity and allows young children to express their thoughts in a fun way!
Use different artistic mediums and tools
If your little ones have mastered crayons and colored pencils, let them try decorating their gnome coloring sheets with other artistic mediums. Safely using glitter, sequins, snippets of paper, and string can improve your childrens' hand-eye coordination and fine motor skills!
Play pretend "hide and seek"
Gnomes are known for their sneakiness…
Hide your children's gnome friends somewhere around the house for them to find! They'll have to run around just to find it hiding in the dirty laundry, behind the cereal box, or even under their pillow. Get creative with your hiding spots!
Create puppets
Once your gnomes are named, you can create puppets out of them! Cut out each gnome and use it as an outline to cut another piece of paper with exactly the same shape. Line up the edges of your two gnome shapes, then carefully glue the edges of the papers together. Remember to leave a gap at the bottom of their shoes large enough for your finger or a clean popsicle stick to fit through. Leave the puppets to dry then try them out!
Draw their homes
Gnomes typically live in underground burrows and stone tunnels. To give your friend a comfortable place to snuggle up and fall asleep every night, design a home in the woods in the background of your gnome coloring sheet!
Make your own rainbow crayons
Don't get rid of old crayons! Recycle them to make your coloring even more magical.

Collect all of the stubby, worn down, or broken crayons you can find at the bottom of the box and set them in small silicone baking or cupcake moulds. Safely heat the crayons in the oven at 120*C for up to 20 minutes. The crayons will melt together and, once removed from the oven, harden into one multi-colored crayon! Pop the new crayons out of their moulds and begin coloring.
Even More Fun With Just Family Fun