Printable Blank World Map Template
There's no better way to spend your holidays and vacations than traveling the world. With thousands of miles to experience rich cultures, taste international foods, and get a glimpse of natural beauties, our Earth will never fall short of excitement to offer.
But what do you do when you yearn for adventure during the school year? How can you introduce your family to the wonders of the world without visiting them?
Just Family Fun's blank world map is the perfect way to learn about our home countries, continents, and regions alike.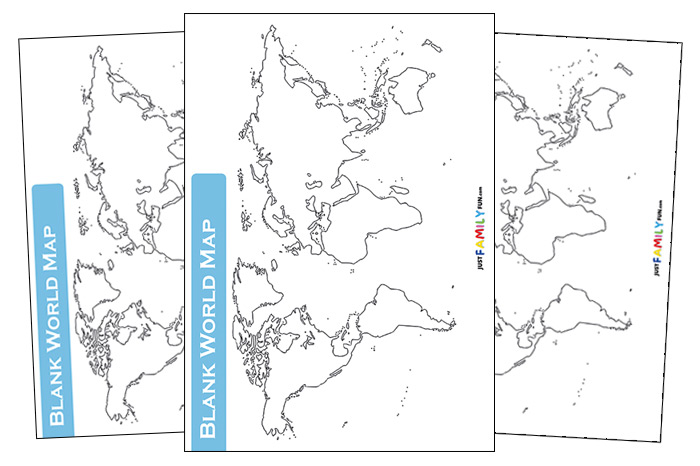 What's Included In Our Blank World MapTemplate
Our file contains one blank map template that has a black-and-white outline of the entire world's continents. You can download and print out our blank world map for free!
What Else Can Our Blank Map Be Used For?
There are endless ways to enjoy our blank world map. Whether you're in the mood for crafts or for learning, the map is your tool to use.
Land vs Sea: Especially if you live inland and have never visited the beach, your little ones may need help grasping the difference between land and sea! Help them recognize the major continents and bodies of water by coloring or labeling our map.
Country Recognition: with or without a labeled world map as a guide, draw the borders of each country on your blank world map. This will help kids learn about the different countries and nations that border each other.
Spelling: Next, label your map with each continent and country's name. This is an excellent way for children to practice sounding out words and apply a unique combination of letters to new words.
Trivia: ask your children trivia questions about specific countries. They must respond by pointing to the region you are referring to on their map!
Sample questions:
What country is the Louvre in? France
What country has the largest population? China
What is the largest country in the world? Russia
What country is Bangkok the capital of? Thailand
Where are the Spanish Steps located? Italy
What is the driest continent? Antarctica
Accent This: toss a coin in the air and try your best to mimic the accent spoken in the region it lands on! The winning speaker can have the best or silliest accent. You decide!
Random: there's always the option to hand your kids a map, some crayons, and let their imaginations run wild. Let them design and decorate their own world map!
Country Flag: with the help of our free country flag flashcards, try to color each country by its national flag. Your finished map will be an extensive and colorful representation of our world's nations!
National Animal, Plant, or Dish: Doodle national animals, plants, foods, and other traits within each country's borders. You'll be able to compare cultures and natural environments across the globe.
You can also use our blank world map for other crafts and activities! Cut around the edges to trace as a stencil, use it for cut and paste projects, or decorate it with glitter, washi tape, and ribbons!
Learning about the world's riches is not out of your reach. Just Family Fun's free, printable, blank world map can be used in a variety of ways to encourage learning, acceptance of international cultures, and creativity in children of all ages.
If you have printed and loved our blank world map, take a look at our other blank templates and activities here to pursue geography and international cultures. Enjoy your learning and share your story or send us a photo of your beautiful world map. We'd love to hear from you!