6 Free Rainbow Printable Coloring Pages
Can't we all use a little more color in our lives? Whether you haven't seen the sun in months or love gazing at the sky after spring showers, our free rainbow printable coloring pages are the perfect activity to brighten up your afternoon. These templates can fulfill your wishes for a beautiful day no matter the weather outside!
Our rainbow coloring pages can also spark a passion for science and STEM in children. While they're decorating and designing their rainbows, take the opportunity to introduce light reflection and refraction! If you need a catch up on your science too, learn more in our activities section below.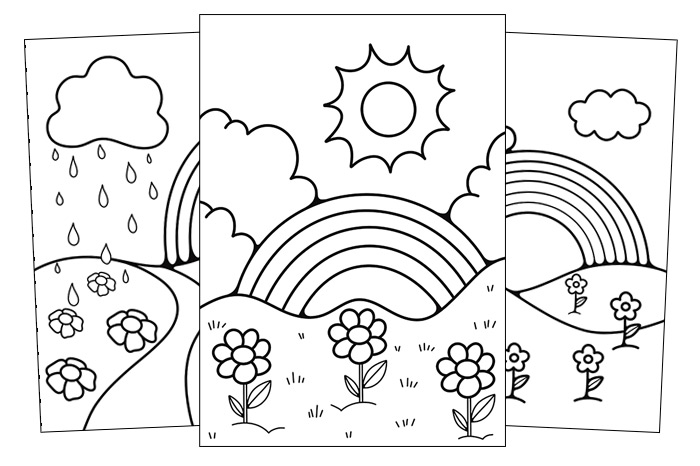 What's Included With Our Rainbow Printable Coloring Pages
Just Family Fun's set of coloring pages includes six black-and-white templates to print out. Our designs include rainbows, flowers, sun, plants, butterflies, and even more gorgeous nature to color, paint, or decorate!
There are an endless number of ways to enjoy your rainbow coloring sheets. We recommend you try out these activities to best enjoy your rainbow printables!
Simple coloring sheets!


Set your kids free to decorate and color in their black-and-white rainbow pages as they please. This encourages creativity and allows young children to express their thoughts in a fun way!

Learn all about of the science!


Take this opportunity to teach your little one about the science behind rainbows.

Rainbows are a beautiful, meteorological phenomenon! You can find them in the sky after it rains because water droplets trapped in the atmosphere act like prisms. They cause light to reflect, refract, and disperse in unique ways. This means light waves travel at different frequencies and produce a variety of visible colors! Rainbows typically consist of red, orange, yellow, green, blue, indigo, and violet.

You can learn more about the weather and rainbows from National Geographic Kids!

Use different artistic mediums and tools


If your little ones have mastered crayons and colored pencils, let them try decorating their rainbow templates with other artistic mediums. Safely using glitter, sequins, snippets of paper, and string to create textured grass or shining sun rays can improve your childrens' hand-eye coordination and fine motor skills!

You can also try painting with various tools, like sponges, disposable coffee lids, or just your fingers. Tools with different shapes and textures can help young children learn to focus and contextualize different colors.

Tell a story


Create, write, or tell a story set in your newly decorated rainbow scene. Who are the characters? What are they doing to have fun on this sunny day?

Create a colorful collage


If your child's bedroom feels a little down for wear, you can brighten it up with one of their rainbows! Help your young one cut out their rainbow and paste it to the wall with Blu Tack.

Make your own rainbow crayons


Don't get rid of old crayons! Recycle them to make your coloring even more magical.

Collect all of the stubby, worn down, or broken crayons you can find at the bottom of the box and set them in small silicone baking or cupcake moulds. Safely heat the crayons in the oven at 120*C for up to 20 minutes. The crayons will melt together and, once removed from the oven, harden into one multi-colored crayon! Pop the new crayons out of their moulds and begin coloring.
Old folklore and fairytales say that a leprechaun's pot of gold and coins can be found at the end of a rainbow. If you can tease the leprechaun's name out of him, you deserve all of his earnings!
However, there are no true endings to rainbows. Even if it appears so, they never actually touch the ground!
If you see a double rainbow in the sky, it means each raindrop is reflecting light in two different directions.