Printable Connect 4 In A Row PDF Game
Connect 4 in a Row: This free downloadable and printable pdf from Just Family Fun can be used to play the classic board game, 4 in a row or it can be used in a plethora of educational ways. The resource is more versatile than most would imagine.
Play the ageless game and develop strategic thinking to win the battle or use it as a way to quiz your child on any subject. For example, challenge your child or children to spell, read, or write a word in exchange for colouring in a circle. You could review any subject including history, math, science, or foreign language.
.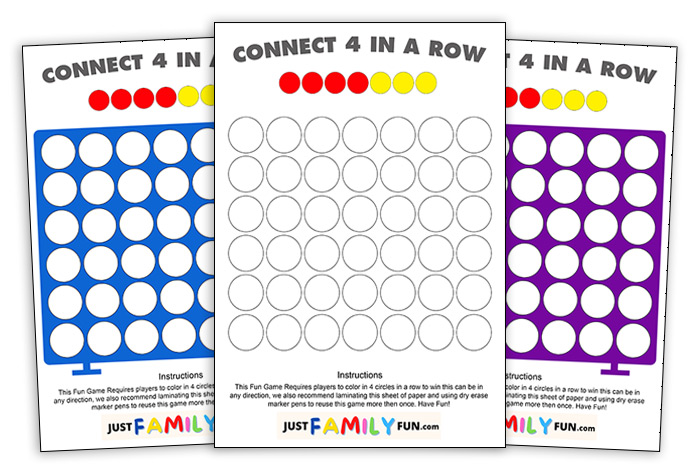 What's Included In Our Connect 4 Game Templates?
We've included two designs for you to download and print. One has a grid of 42 circles arranged in a 7*6 matrix. The other design has been created to look like the frame of the classic game board.
Simply print the A4 sheets and they're ready to use. To make the grid reusable, laminate the sheet and use dry erase board markers.
What Can Our Connect 4 in a Row Template Be Used For?
This, connect 4 in a row template, is more versatile than most would ever imagine.
As interactive games such as connect 4 in a row make learning fun, enjoyable and exciting, children are more likely to retain the information.
With this in mind, we've listed a few fun ways you can use connect 4 in a row to help your preschoolers, kindergarten, or older children learn or prepare for a test.
Print out the template of your choice and start playing today.
Keep it simple and have a good old game of, Connect 4, just like it says in the instructions under the printed template………
Way back in 1974, Milton Bradley published the board game version of this game "Connect Four". It's a great game that encourages turn-taking and your child can practice their counting skills.
Traditionally this is a two-player game, but you could split the class or your children into two teams.
Each team picks a color, we suggest red and blue, but any two colours will work.
Take turns colouring in a circle. The aim is to get four in a row. Connect 4 pieces vertically, horizontally, or diagonally to win the game.
Connect 4 in a row, is more than just a game, it teaches your child how to think strategically. They have to think thoughtfully before every move if they want to win. However, if you're playing with small children, they may just like to colour in the circles and make patterns.
If you want to learn some connect 4 strategies to teach your child, there are some great tips on this site.
Practice Spelling, Reading or Writing Words
Write 21 words, sight words, digraphs, trigraphs, or similar on small pieces of paper or cards. The words should be words that your child is learning to read, spell or write.
Put the cards in a pile. Ask your child to pick a card and read what is written. If they get it correct they can colour one circle in. Then you get to colour in a circle.
If they happen to get the word wrong they don't get to colour in a circle.
Keep going until one team has got 4 in a row or all of the circles have been coloured in.
Variation
If they are learning to spell and/or write the word after they have read the word, ask them to write the word or spell it out loud.
Prepare for a Test - Practice Your Maths - Learn a Language
If your child is a little older, you might want to use the idea above but have a quiz and practice for a test.
Simply write a series of questions on up to 42 cards. Whether there are two people or two teams playing, one person/group reads out the question, the other team/person has to answer the question. If the team/person get the question correct they can colour a circle in. The first person with 4 in a row, wins!
You could use this idea to learn any subject such as French, Spanish, german. Create some sums or science facts and you can help your child learn whilst having lots of fun playing the game of 4 in a row.
Kids of all ages love playing Connect 4 In A Row and this free printable resource makes the perfect template. Use it just for fun and play the classic version of the game or utilise the game board as a fun, interactive way to help your child learn, revise and practice a plethora of subjects.