12 Free Printable Reward Charts For Children
Just Family Fun have created several free printable reward chart templates, featuring beloved children's characters that you can print off and use to encourage your kids to do plenty of stuff throughout the day, with the promise of a reward if they achieve their goal. Kids will love the bright colors and exciting designs – you can pick from a whole selection of characters, themes, and animals, so there's something to suit everyone's taste!
Printable sticker chart templates are the perfect parenting tool because they are fun and exciting for children, while also helping to teach kids the important skills of responsibility and motivation. You can also set a goal for each week, which is perfect because it gives kids something concrete to work towards and establishes a sense of routine! I find reward sheets super helpful with my kids because they love the chance to earn points and be rewarded at the end of the week.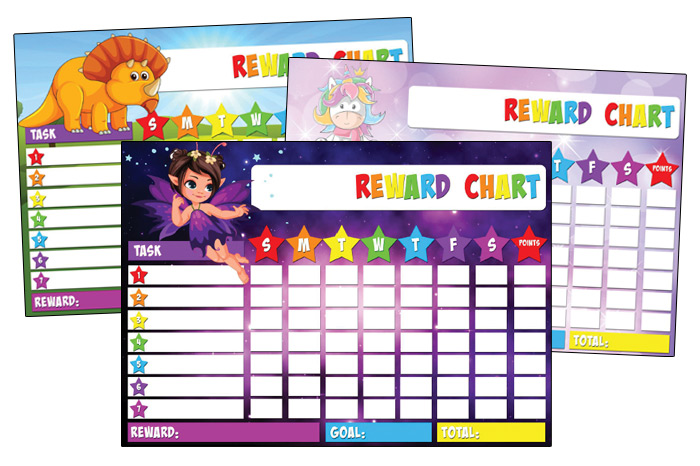 Easy to use Reward Chart Templates
Free Printable reward charts are so easy and fun to use. They have space for seven tasks, and room for every day of the week, so you and your kids can track their progress! Try using stickers instead of ticks to make the sheets even more bright and colorful. Older children can even put their own stickers onto the chart, although younger kids might need a hand from mum and dad. You can also try laminating our reward charts and using a whiteboard pen, so you can complete them over and over again! At the end of each week, you can add up their points together, and see if they have met the goal you have written at the bottom of the sheet.
These reward sheets are great because not only do they motivate kids to complete activities, but they can also help with counting, reading and memory for younger children! See if you and your child can count the stickers together, or if they can remember the days of the week written at the top of the chart. If your child is a bit older, see if they can read the words on the chart with your help. It's a great way to help your kids learn outside of school, and you can spend time helping them too.
There is lots of room for different tasks, meaning you can work out some easy, and more challenging activities, for your kids to complete. For example, why not encourage your kids to eat a piece of fruit every day? If you're having trouble getting kids to eat their fruit, then check out our Healthy Me Fun Learning Activities Book [Hyperlink to a blog post about the book], for lots of fun activities that kids will love! If kids are potty training, why not give them a sticker every time they use the bathroom correctly? We all know kids love to see their rewards add up, and they will be so excited to complete their tasks with the help of these Free Printable Reward Charts!
12 Free Printable Reward Charts To Choose From
Does your child love dinosaurs? Maybe they're really into football at the moment or want to be a princess when they grow up! Whatever your child is interested in, we have a reward sheet for you! There are so many available. Let's take a look at some of the designs we have:
Dinosaurs – this design features a super cute little orange dinosaur with a green background, perfect for fans of Jurassic Park or T Rex from Toy Story!
Fairy – ideal for little girls who like Tinker Bell, this design has a pretty fairy in a purple dress flying through a glittery purple background
Football – if your child loves football, look no further than this design, which shows a little boy having fun playing against the lights of a huge football stadium!
Mermaid – maybe your child loves the ocean or is a big fan of Ariel, in which case this design, showing a beautiful mermaid with all her fish friends, is just right for them!
Pirates – for mischievous younger children or older kids who love Pirates of the Caribbean, this chart features three pirates, one with a super colourful parrot, against an ocean backdrop!
Princess – this chart is just perfect for girly girls. It shows a princess in a beautiful pink ballgown dress, against a pink glittery background. Even better, the princess is not a grown-up, but looks like a little girl herself!
Astronaut – for older kids who love science or younger ones who dream of going to space when they're older, this design features a little boy in a spacesuit, with a backdrop of planets and stars!
Unicorn – the ideal design for kids who love animals (and my personal favourite!) this pastel chart shows a super cute baby unicorn with a brightly coloured mane, against a lilac glittery background
And more…
We all know kids love everything bright and colourful, and that lots of them will have seen princess movies or want to be astronauts when they grow up. These creative, exciting designs, featuring familiar figures that kids love, are a bit of extra encouragement to help kids get really involved with completing their tasks.
Charting the Progress of Your Little Stars!
Looking for some brightly coloured progress markers for your reward chart? We have star sticker sheets ready-made right here. Each sheet has a whopping 150 stars that come in red, blue, green, yellow and pink. Your child will love the interactivity of choosing the best colour to put on the chart.
To use them, you can print them onto sticker paper and use a guillotine or scissors to cut them out. For simplicity, you can cut squares rather than trim right to the edge of the stars. You could also print onto regular A4 paper or card. If you choose this option – you'll need something sticky to attach them to the reward chart. This might be blu-tack, sellotape, glue dots, or Pritt stick glue.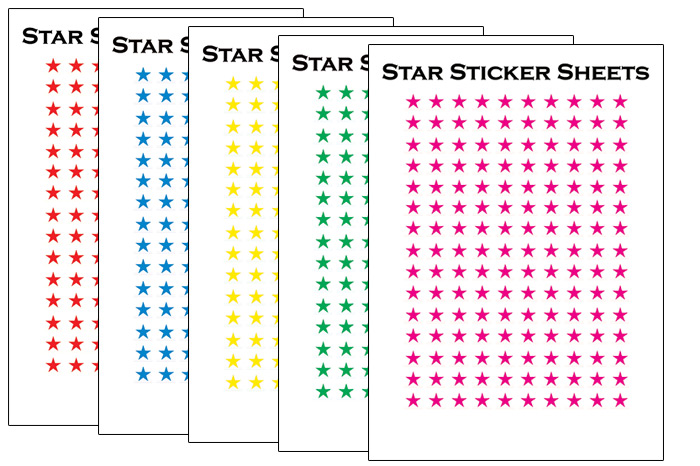 Our Reward Templates Are Good For All Age Groups
Of course, reward charts are primarily useful for younger children, who need a little more motivation to complete tasks. However, they can also be very effective if you have slightly older kids, especially in lockdown. Maybe you have an older child who is spending too much time watching TV, and you want to encourage them to go outside more. Why not make one of their tasks 'Daily outdoor playtime'? You can even secretly use these charts for yourself! I know I sometimes need to be reminded to eat an apple every day… Or, if you want, you can tell your kids that mummy and daddy will be using their own charts as well and encourage them to make sure you complete your tasks! Kids will find this role reversal fun, and it will make them even more likely to complete their activities.
If you are looking for ideas of daily activities you can encourage your child to complete during lockdown, here are a few for younger kids:
Brush your teeth
Eat a piece of fruit after lunch
Get some outdoor time
Remember to say please and thank you
Practice your counting and alphabet with mum or dad
For slightly older children, here are some ideas!
Read a chapter of your reading book
Make your bed
Do a bit of homework every day
Help mummy or daddy sort the laundry
Kids of all ages will love the opportunity to see you fill out their reward charts and feel proud of themselves. Kids are super encouraged by praise and will feel very happy when they hear you tell them 'Well done!' for completing their tasks. If you have an older child, maybe try chatting to them about a bigger reward they might like for consistently completing their tasks. For example, you could suggest that if they make their bed every day for a month, at the end, you will take them on a trip to the zoo. The possibilities are endless!
Reward sticker charts are fantastic on their own, but there are some extra ways to make them super effective. Below are a few top tips to help you get started using our reward sheets and get the most out of them!
Put your reward sheets somewhere visible! I stick my kids' reward sheets on the kitchen wall where they can all see them: too high for them to touch without my help, but easily available so they can see their progress. Kids love seeing their points go up and knowing how close they are to a reward, and it also helps to make the process more engaging, as they can see their points being added to the chart!
Use stickers! I have mentioned this before in the article, but it's worth reiterating. I use little silver stars with my kids, but maybe your children love cats or flowers, and want something special for their chart! Whatever you use, make sure the kids will enjoy it.
Get kids involved! I think is the most important tip. Let the kids pick their reward chart design, pick the stickers, and even put the stickers on the chart themselves (with your help, of course!). This makes kids so much more motivated, as they love to feel they're doing stuff independently and are involved with your decision-making.
As you can see, reward sheets are the ideal tool to make sure your kids stay on track, and they can be so much fun too! We hope you get lots of enjoyment – and good results! – from our template. Download Free Printable Reward Charts.