This week myself and my little girl got all creative and took some family photos in front of a green screen.  We had great fun replacing the backgrounds with studio free digital backgrounds.   In fact, we both had such a great time I thought it would be a good idea to write a sort of blog post on how we did it using only the following tools:- Mummy's smartphone, a green screen we purchased from amazon for under $10 ( Check it out here ) and Daddies collection of 300 digital backdrops (which you can download for free at the bottom of the page) and free software.
What Are Free Digital Backgrounds?
Well, basically they are large image files that come in different themes like Studio, Wedding, Christmas and so on. You use them to replace the existing background of a photo by using photoshop or in this case a free photo editing program called Photopad. (trust me it's easier than it sounds).
We started off by setting up our green screen. I decided outside was best because the light was better plus my little girl had her toys all over the floor inside and it would have taken me all year to pack them up, only for her to get them straight back out again 10 minutes later lol. We simply draped it over the fence and clamped it down with two clamps, as you can see in the image below.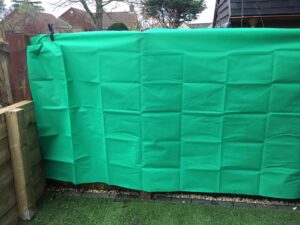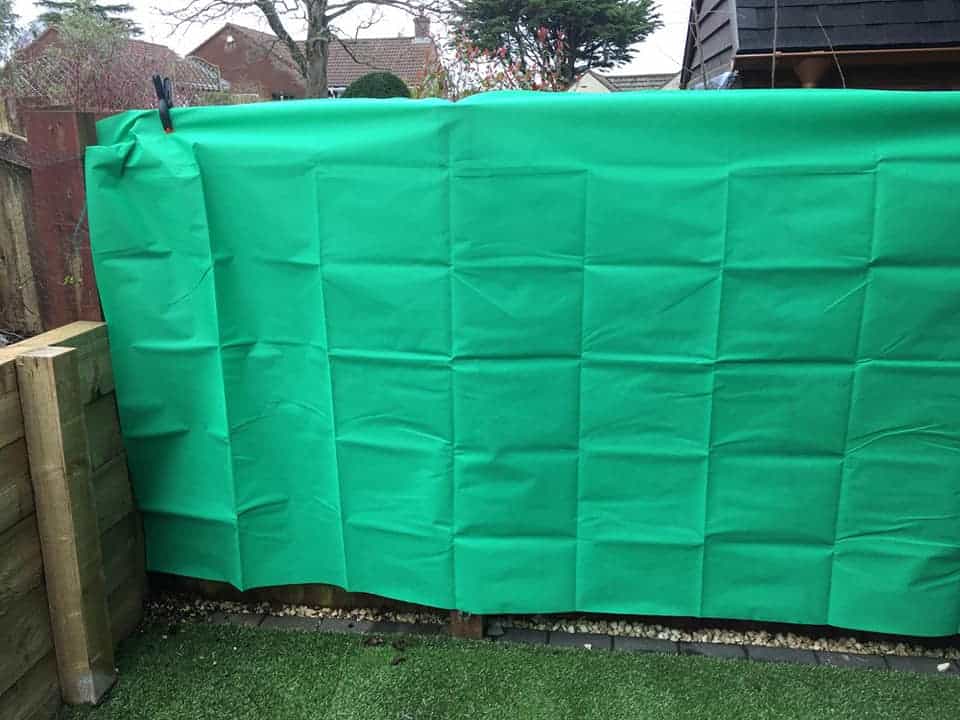 The next step was to borrow, mummies iPhone, as her phone has a much better camera than my old Samsung.  Now it was time to take some DIY family photos.  Well, it would have been, but that went out the window when the misses decided she didn't want to be in any of the shots!  Undeterred I decided to just take pictures of my little princess instead and as you can see in the images, she was the perfect little model.
If you would like more details on how to take better photos using your smartphone, I highly recommend reading these tips which you can find at www.WEBINSERT.  I however, just wanted a fun family activity and just left my phone on auto mode and snapped away, it seemed to do the job. You could always add lights and play around with the phone camera settings if you like.  
Further down the page, you will see that I have added over 200 high-resolution digital backdrops for you to use with your photos. Each backdrop is 4600 x 4333 in size with 300dpi making them great quality for printing. The themes I have included for you are as follows:
Elegant Flower Series
Landscape Series
Christmas Series
Halloween Series
Music Series
Easter Series
Birthday Series
Wedding Series
Romance Series
Abstract Series
Magic Lights Series
Old Favourites Series 1
Old Favourites Series 2
Master Studio Series
Classic Portrait Series
Old Master Series 1
If for any reason you don't fancy using my backdrops for this sort of project feel free to use them for other craft activities, they're just as useful for: scrapbooks, calendars, cards, posters and much, much more. The only thing I ask you not to do is to sell or give away the original file. Any questions just send me a message via our contact page. Click here.
Step 1. Downlod Free Photo Editing Sofware
Right, let's start creating our photos on the computer. The first thing we need to do is to download the software. For this, we will be using photo pad image editor which can be downloaded from HERE.
On the next screen, it asks you to agree to the terms & conditions fill free to read them and click next, this will install the software for you.
Now if you see the screen below, this means the software is installed.
Step 2. Transfer Photos
Transfer the photos from your phone to your computer. Please read this guide on how to do that. Click Here .
Step 3. Selecting a free Digital Background To Use
In this step, we will be scrolling down and selecting a digital background to use on our photos. There are hundreds to choose from so I'm sure you will find something you like. Once you find a perfect background right click it and choose to save the image as.
Step 4. Select Your Image You Wish To Use
Now It's time to open up the Photo pad software and select the photo we wish to edit. To do this click open and then find the photo. Once you've done that it should look something like the image below.
Step 5. Select The Tools Option
Step 6. Selecting an image background
Once you select the file this will open the backdrop behind are original image.
Step 7. removing the green background
In this step, we will be removing the green background of our image. To do this we need to select the color removal option you will find it next to the background option. This will open a color pallet, select the color selector tool then move it over and click on the green background of the photo. This will remove the green background and show the digital backdrop instead.
Once you click the green background, You will see the background image like below.
Step 8. Tidying up the image
The next step is just to tidy up the photo and remove the green edges on the photos. To do this we use the fuzziness slider. Move it right until all the green has gone and that's it! Feel free to test out the other tools too and see what effects you can come up with.
Step 9. Save your image
Other Samples you can create using free digital backdrops
Below you will find the digital backdrops. To save an image, simply click the number of the backdrop and it should open in a full window, Once it has opened right click and choose save as.
Halloween Digital Backdrops
Who doesn't love Halloween? When you want to take some of your pictures from this holiday and make them even more fun, using these Halloween digital backdrops is a perfect choice. There are plenty of spooky choices or options that are more kid-friendly if you choose. All are full of Jack-o-Lanterns, bats, full moons, haunted houses, and even a graveyard or two. If you look close you might even see some witches! Choose from many brightly colored backdrops, darker-themed ones, and even a black and white option. You might even see one with the Grim Reaper peering out at you! Whether you want to go along the lines of spooky or cute, these backdrops are the perfect addition to any of your Halloween memories.
Master Studio Free Digital Backgrounds
If you love the look you get when you go to a portrait studio for your photos because of the backdrops they use, you'll love this Master Studio Series of digital photo backdrops. From the comfort of your own home, you can choose from a large selection of backdrops to go with all of your favourite memories and portrait pictures. As many others do, you probably love to take your own pictures of your family, so this is a great solution to make your photos look great and professional so you can be even more proud to show them off to family and friends. You can choose from more traditional colors, or you can choose backdrops with pinks, purples and pastels.
Landscape Digital Backdrops
If you are looking for bright and cheery outdoor backgrounds, you'll find something you like in the landscape series. These digital backdrops contain a bright, sunlit setting amongst mountains, lakes, and streams, the beach, country roads, and fields. Enhance your summer vacation pictures with these vibrant backgrounds full of green grass, blue skies and plenty of trees and flowers. You can even choose from a peaceful evening backdrop with a starry sky. Many of these backdrops are even set with a beautiful sunrise to put as a background for your photos. You are sure to have a lot of fun using these particular backdrops to bring new light to your special photographs.
Magical Digital Backdrops
The Magic Lights Series of digital photo backdrops could be just the thing you are looking for to make your favourite photographs stand out. These unique backdrops contain lots of bright colors, much like a kaleidoscope, with a haze of black around them. It will appear that you are looking through the kaleidoscope yourself when you see these backdrops. Your friends and family will likely never have seen any other photo backgrounds like this before, so they will make your photos become great conversation pieces. Everyone will just love them! You can choose from many different light and color patterns so you can find just the right free digital backgrounds to compliment your photos and really make them stand out.
Abstract Free Digital Backgrounds
When you are looking for something a bit different to put in the background of your photos, you might want to take a look at this Abstract Series of digital photo backgrounds. These backgrounds have bright colors and psychedelic patterns that will certainly mess a bit with your eyes but can attract a lot of attention to some of your favourite photographs. These are great backdrops that your teens will love pictures of them and their friends, as they will really accentuate their pictures and bring a lot of attention to the photos. These are great backgrounds that everyone who sees them will love for highlighting fun moments that you wish to remember for many years to come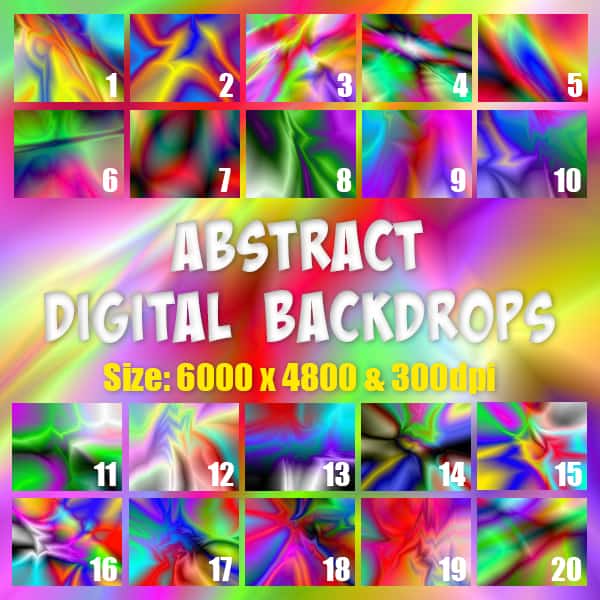 Fireworks Digital Backdrops
Summertime fun and fireworks go hand in hand. Everyone loves the beauty and excitement of a fireworks display, and taking photos of these beautiful displays has become a fun pastime for many. What better way to display your best fireworks photos than with this Fireworks Series of digital backdrops? These backdrops are full of bright fireworks over cityscapes and bodies of water. You will see them bursting in the night sky or trailing upwards. See the fireworks shooting up into the air before they burst and all kinds of colors, stars, and designs. These are really fun backdrops that will go great with your summertime party photos as well and are sure to highlight all of your special memories in a brilliant way.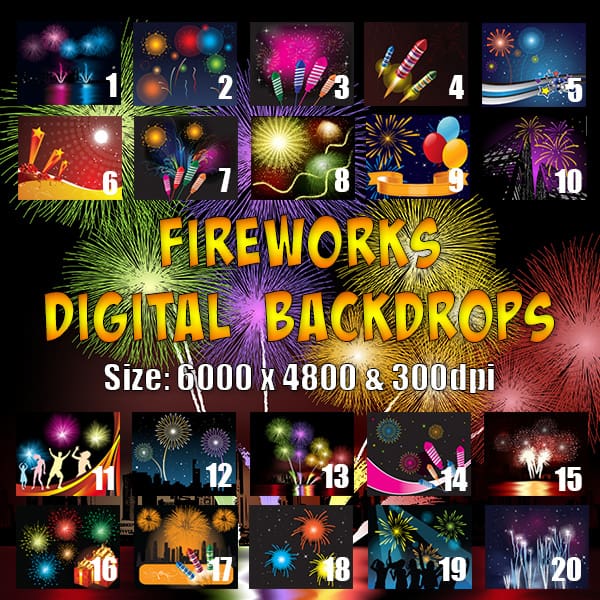 Music Free Digital Backgrounds
Always a very popular medium, music speaks to just about anyone. When music is an important aspect of your life or your loved ones, you want to express that with the digital backdrops in this Music Series. From classical music notes to DJs and dancing, these backdrops have just want you are looking for in the music genre. You'll find speakers, a dance party, music notes in a classical background or in a more modern setting, plus guitars and keyboards. You might even find a musical rainbow or two! Brightly colored backgrounds or more subdued tones can both be found here. For music lovers, no matter what genre and feel, these backdrops have something for everyone.
Old Favorites Series 1 Digital Backdrops
When you want backdrops like the ones you are used to seeing in many portrait photographs, you very well could find something that fits just right in this Old Favorites Series 1 of digital backdrops. There are many different colors and combinations to choose from, such as bright purples, reds, greens, and blues, plus more subdued colors like grey and lighter versions of some of the colored backdrops. These backdrops will work great with your portrait pictures, and you can pick a color that will bring out a color in your photograph, such as a piece of clothing or the coloring of your subject's eyes. They give the feel of a photography studio with their light effects and simple color combinations.
Old Favorites Series 2 Digital Backdrops

If you want even more options than Series 1 had, then the Old Favorites Series 2 digital backdrops will certainly have something for you. You will find the same type of light patterns and diagonal lines in these backdrops that you found in Series 1, but you can find other color options and combinations. Find bright oranges and yellows, magentas, and also some subdued versions of these colors. There are great options here such as a lightened version of purple and another one of magenta if you love the colors but don't want blaring colors. You can find a subdued version of purple and yellow as well for maybe a springtime picture and a wonderful deeply colored backdrop of blues.
Old Masters Series 1 Digital Backgrounds

The Old Masters Series 1 digital photo backdrops are a great selection of backdrops for your digital photos if you love the simple backgrounds that first come to mind when you think of a photography studio. These backdrops come in many different variations of colors with a slight haze of black in the very corners. They come with colors that are more saturated, or if you choose you can use one with more subdued color choices. It all depends on what you need to compliment your photographs. You can find traditional colors and bright purples and pinks as well, even one that is mostly yellow. With all of the options you can find here you will be sure to find the perfect match for your photographs.
Christmas Digital Backgrounds
Your Christmas photographs are your kids and family are extremely important, and many people love to send photos this time of year to the family of their children. In the Christmas series of digital backdrops, you'll find all kinds of choices that help decorate your precious photos with the Christmas spirit. You can choose from traditional colors like predominately red, or go with blue and snowflakes if you are looking for a different kind of feel to your photos. You'll even find a gold backdrop in this series to really put that holiday feel behind your photos. Christmas trees, Christmas ornaments, bells, and snowflakes are all options in this series. No matter your photograph, you can find something here to make it extra-special.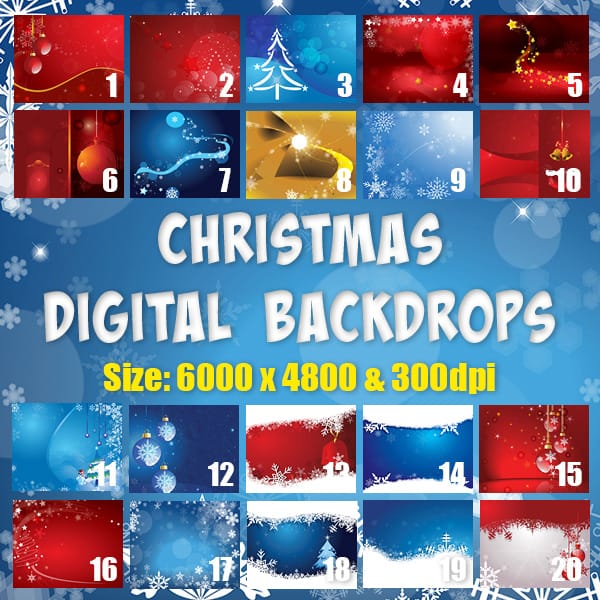 Dark Winter Free Digital Backgrounds
Winters can be long and dreary, so why not spice it up a bit with the Dark Winter Series digital backdrops for your photographs? You can use these unique backdrops for your holiday pictures, or for any occasion. These backgrounds have many darker hues of gold, blues, and purples that you can choose from, adorned with things like holiday ornaments, ribbons, snowflakes, and bubbles. You'll find striping, grids, circles, and a sunburst design. Plus some even have a glittery design to really help give your photographs some flare. No matter the occasion, these dark winter backdrops are something that can really make your photos pop in a way your friends and family have never seen before.
Birthday Free Digital Backgrounds
What could be more special than a birthday celebration? You most certainly want to have plenty of photographic memories of your child's birthdays throughout the years. That is why these special Birthday Series digital backdrops are so important. They can really dress up your special memories with fun scenes of balloons, presents and birthday cake. These are all full of bright and fun colors, and you can choose from several different options. You can even find a birthday celebration with all the balloons, presents, and cake surrounded by soft white snowflakes for those winter birthdays. However you want to express this special day, you will find it here. Find other backgrounds adorned with hearts, stars, or even the presents floating up into the sky with the balloons attached.
Wedding Free Digital Backgrounds
Elegant Flower Digital Backgrounds

Flowers are generally thought to be romantic and beautiful. If you want something for a soft and gentle touch in your image background, you can choose from this series of digital backdrops. Flowers can create that elegance you sometimes need as well for those photographs of a special occasion or memory. You can find choices that are more traditional or choose one of the more contemporary flower designs with a darker look overall. No matter what type of photo you are looking for a flower digital background for, you'll be able to find something that will fit just right with your photo and the feel and tone you are looking to accomplish.
Classic Free Digital Backgrounds
Do you need a classic portrait that is professional looking but you can't afford the photography studio prices? If you have your own camera and enjoy taking your own photos, this Classic Portrait Series of free digital backgrounds is the perfect solution to your problem. These backdrops give you many different choices of bright color combinations, with black faded edges so you can really put the focus on the portrait. These backdrops also offer some choices of more subdued colors if that is what you are looking for to complement your main subject. You can also choose from ones that have multiple colors in them, or just a couple of colors if that is what you like.
Easter Digital Backdrops

Another perfect photo opportunity to show off your little ones comes along on Easter. Holidays are always a perfect time to share pictures with your family to show how your children are growing and how proud you are. This Easter Series of free digital backgrounds can help you to do just that at this special time of year. Bright, sunny colors and lots of Easter eggs adorn these backdrops. You can find them outside in a cheery setting with bright sunshine, grass, flowers, and butterflies, or find them beautifully arranged in a basket with green grass. You might even find some eggs setting by themselves or in a bird's nest. Whatever your fancy for your Easter backdrops, you will find it here.