The Euro 2020 championships have finally begun with the first couple of games being played, and we have created the perfect keepsake that can be treasured for all those young football fans and aspiring football players. We all have posters and pictures of our favourite footballers from their teams that we covered our bedroom walls in. We all love to collect those Match of the Day football player stickers and try to collect as many as our parents will allow us to buy in hopes that we would get the elite players that are so hard to come by.
But what if we could tell you that we can create your own personalised football poster for you? Is that excitement we hear? Of course it is!
That's right we are offering all our readers the chance to get their own personalised football poster with their own specially-designed badge, statistics and background all of which have been chosen by you. It is a very simple free activity that only requires you to make a few decisions and take one decent photo that we can use to make your poster.
How to create your personalised football poster
First of all, we need you to take an appropriate picture to go on your poster. It is always best to get the help of an adult to do this.
We recommend that when you take your photo you should:
Be facing forwards and looking straight at the camera
Have the image clear and in focus
Have your eyes open and visible
Not have anything covering your face e.g hair or sunglasses
Ideally have the photo taken in front of a plain coloured background
We encourage you to wear your favourite team's or your local football team's top too!
Once you have your photo ready – it is time to pick a badge. We have four different options to choose from which include blue swirls, purple night skies, a moon background and orange lightening in a sunset sky. They are all amazing designs so please take your time as we want to help make your poster as perfect as possible.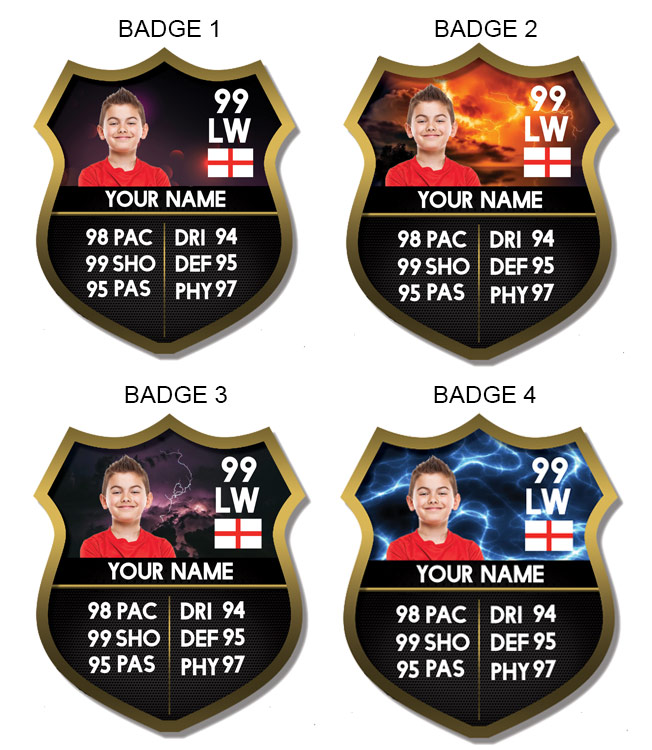 Now comes the hard part… the badge also features six statistics which can be rated out of 99. You pick which number you are for each statistic or to make it more of a surprise you can get someone else to choose the numbers they think you should get.
Suggestion: You can make the activity more fun by writing the statistics down on a piece of paper and getting each of your friends to score you out of 99. Add all the numbers up for each one and divide it by how many people scored you. This will help you get an average and it is a great way to get your close friends and family involved too!
Remember no football player ever gets 99 for every statistic because of their training and position they play for in each team, so we advise that you be as truthful as possible. If you have only started out playing football for your local team, don't worry you can put the number you hope to achieve!
These are:
PAC – Pace (The speed of the player on the pitch)
SHO – Shooting (The player's shooting ability)
PAS – Passing (A player's passing ability)
DRI – Dribbling (A player's ability to dribble the ball)
DEF – Defending ( A player's all-round defensive abilities, including tackling, heading and positioning)
PHY – Physical (The player's overall physical attributes including their strength and preferred football position)
Each badge will have your chosen name, year of birth and a flag to represent the country they are from or support.
Once you have chosen what your badge will look like it is time to make one more decision and pick your preferred background.
We have six options available to choose from that have been designed to each match the badge design. We have the classic football pitch (which is going to be a top favourite), black wood, blue with white circles and stars, green neon diagonal stripes, brown wood or silhouette of grass with the blue circles and stars.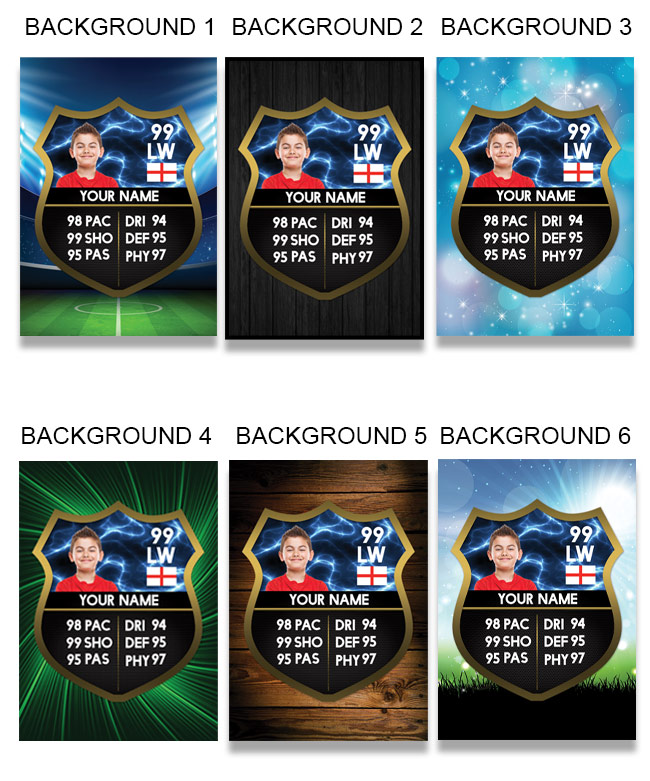 And ta-dah! You are done. You have made all of your decisions to for your own personalised football poster. Congratulations. I bet you can't wait to see and we can't wait to create it.
How to send your details for your poster
Please submit your photo in ideally a jpeg or png format, your badge and background choice along with your preferred statistics to the form below. Each football poster takes up 7 days and we can guarantee that you will love it.

Disclaimer: All posters will be emailed as a digital copy (A4 SIZE). Paper copies of the poster are not available.
If you have any other questions, feel free to give us an email and we can try our best to help out in whatever way we can.
This is a perfect family gift for any football lover. This activity is a great way to bring the family together and bring out your football knowledge to share with others. You don't have to get just one poster. The options are limitless so why not mix and match? The more posters you want the better!
This could make the perfect Father's Day present, but if you are unsure on what else to do for Father's Day then why not read our Create a Father's Day card or Customizable and Unique Father's Day gift. They are very easy, free and would make a great gift for any dad.
Check out www.justfamilyfun.com for more activities like this one. We guarantee we have everything covered with endless amounts of fun for you and the whole family. We would love to hear what you think about the activity or if you have an idea that you think we should do in the comments below.
In the meantime stay safe and hope to hear from you soon,
Gavin