When it's raining, one of my favourite things to do is to destroy the kitchen with my little sidekick. I mean bake! Today we decided to try out my Easy Chocolate Chip Shortbread Recipe. It only needs 4 ingredients and is a great recipe for little hands to get stuck in to.
Easy Chocolate Chip Shortbread Recipe Ingredients
250g butter
110g caster sugar
360g plain flour
100g chocolate chips
Let's get started!
Step 1
Gather the ingredients. This easy shortbread only needs 4 ingredients so we should be able to whip them up without venturing out to the shop. Top tip – don't open the chocolate chips until you need them, if your little person is anything like mine you might end up with a few missing.
Step 2
Put the butter into a bowl and cut into small cubes, definitely a job for Daddy. Pour in the caster sugar and mix together with a wooden spoon. Keep mixing until smooth and creamy – bonus workout for my little chef's muscles.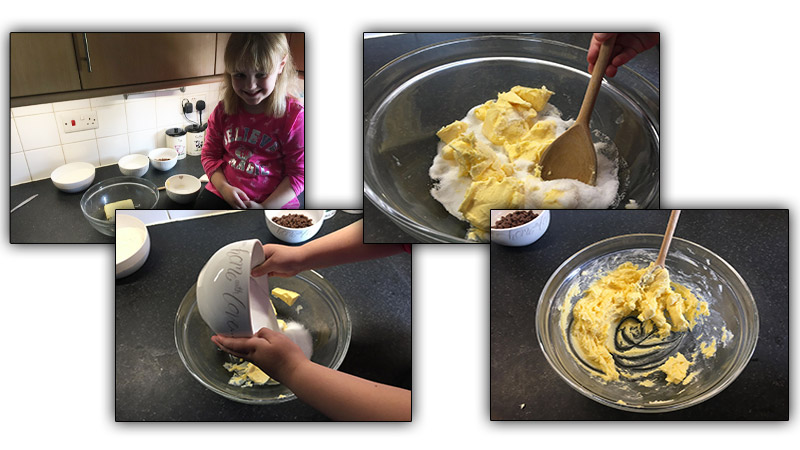 Step 3
Pour in all of the flour and mix together using your hands. Make sure they are squeaky clean first!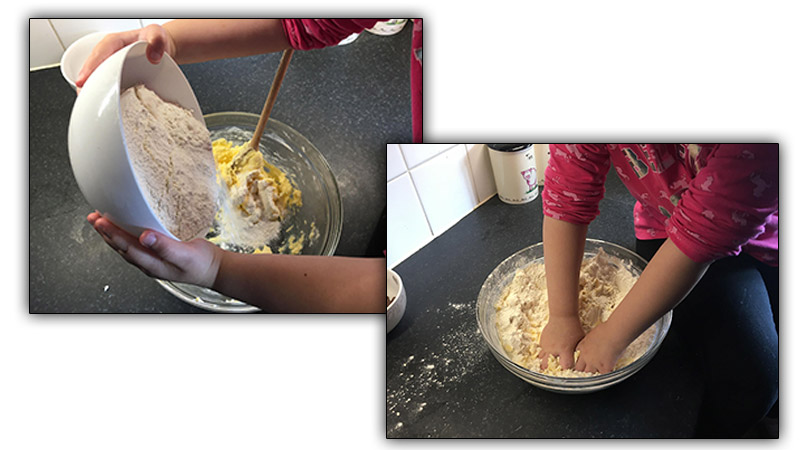 Step 4
When the mixture is starting to come together add the chocolate chips if you have any left!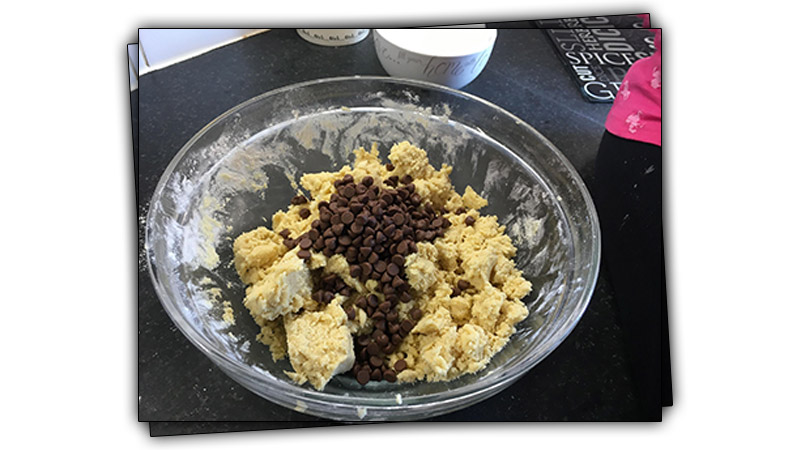 Keep mixing until it forms a ball of delicious shortbread dough. Don't eat it yet, I know it's tempting!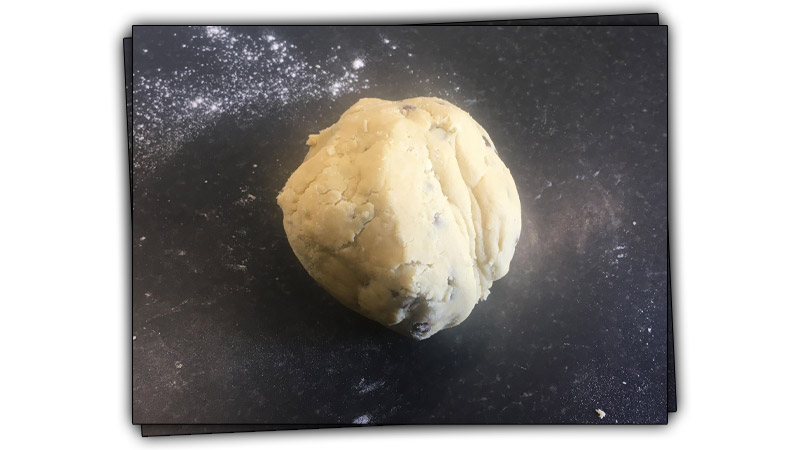 Step 5
Wrap the ball in cling film and put it in the fridge for a couple of hours. This was the hardest bit but 100% necessary as we want our shortbread to bake into fun shapes and not a melted puddle. We passed the time by making these 'Printable Paper Dolls', which my little girl loved!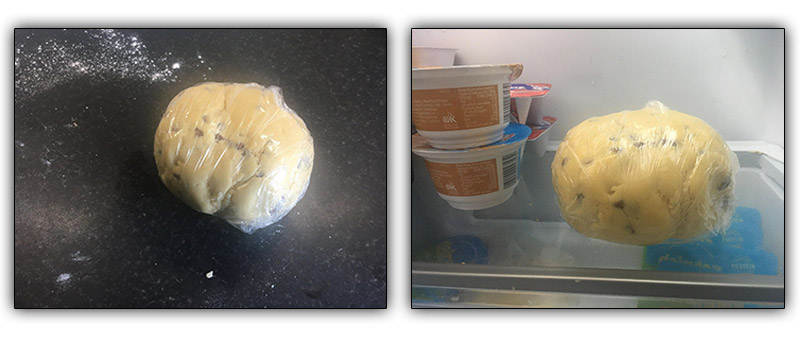 Step 6
Take your shortbread ball out of the fridge. It should be cool and firm. Split it into 2 halves to make it easier to work with. Preheat your oven to 150oC, another job for Daddy.
Step 7
Sprinkle some flour onto your work surface and roll your dough until it is about 7mm thick.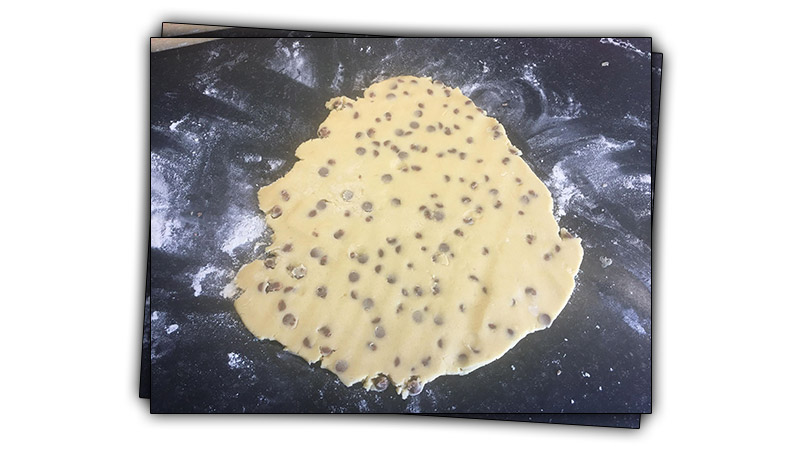 Step 8
Dig out some cookie cutters in your favourite shapes. We managed to find some Christmas tree cutters in the cupboard which was lucky. I was about to dive into the playdough box! A drinking glass, for circles, or a knife, for rectangles, would also work well.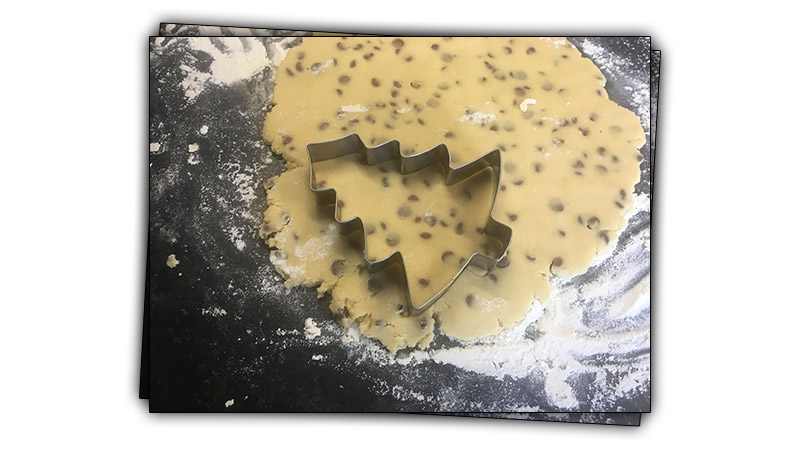 Step 9
Line your baking tray with greaseproof paper, to stop them sticking, and spread out your yummy shortbread shapes.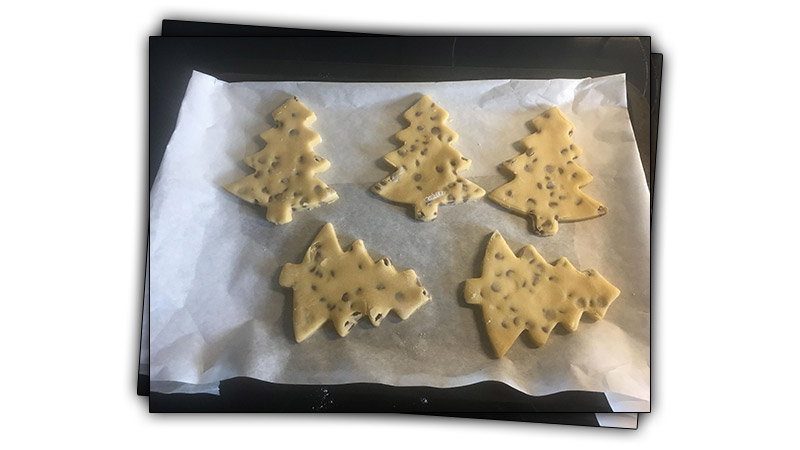 Step 10
Sprinkle on some caster sugar, this will add a little bit of extra sweetness and my girl loves this job.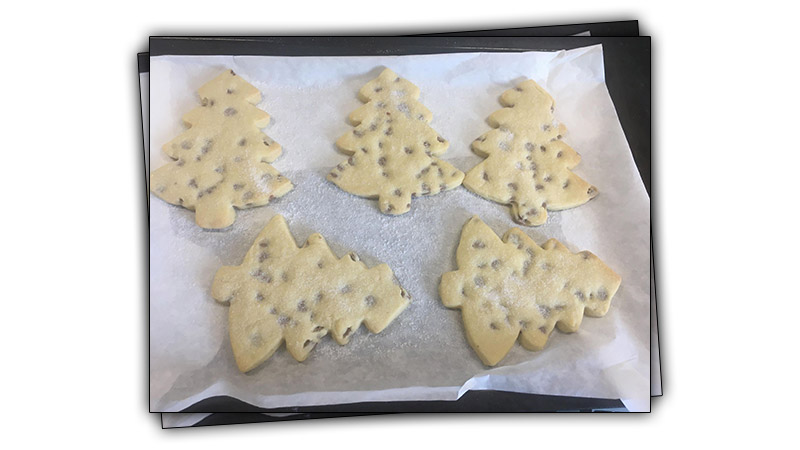 Step 11
Time to put them in the oven, make sure it is definitely set to 150oC, burnt shortbread is no fun! Not that we have ever made that mistake… Bake for 10 minutes, until the edges have started to turn golden.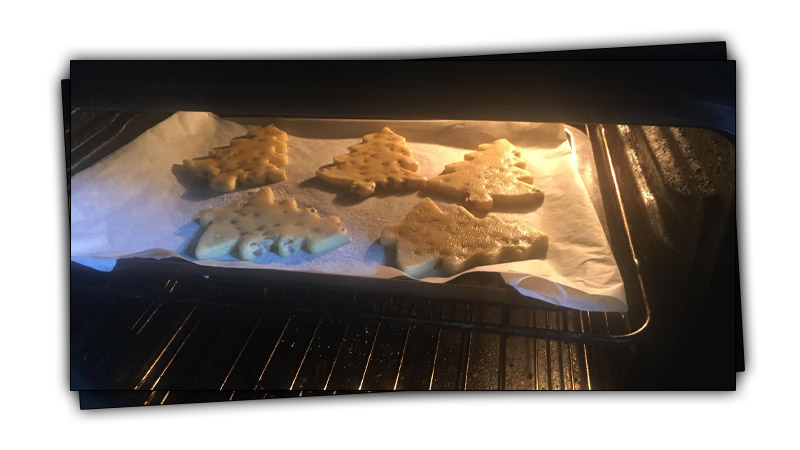 Step 12

Remove from the oven and, if you are feeling cheeky, sprinkle a little more sugar over the top. This is my little chef's secret to the best shortbread.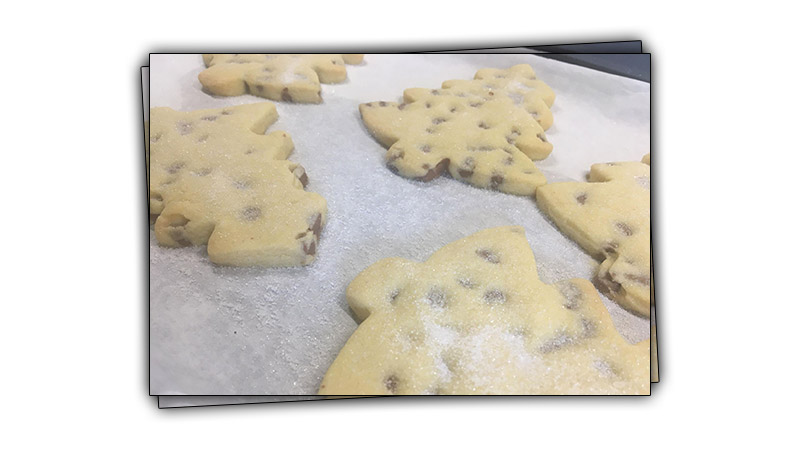 Let them cool and then it's time to eat and enjoy!
Check out how many we managed to make below. Probably enough to keep us going for a few hours.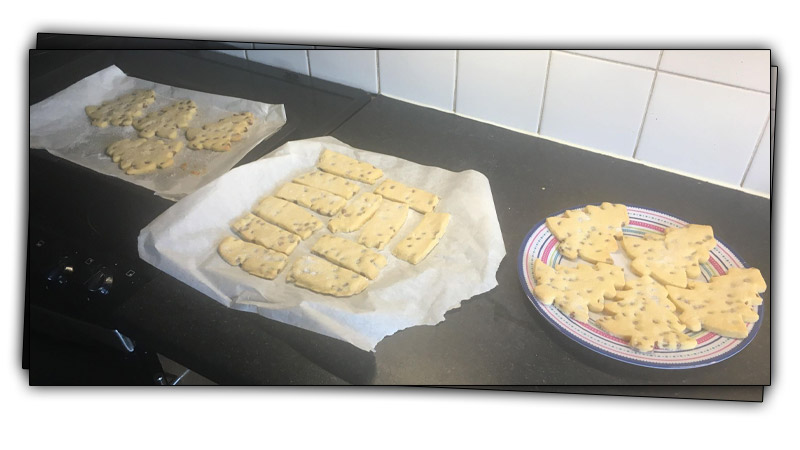 Now that you know all of our tips and tricks, roll up your sleeves and get baking! Check out our official instructions below, which are easier to follow when your hands are covered with butter and flour!
The Official Instructions
Place the butter into a bowl and cut into small cubes.
Add the caster sugar and mix, with a wooden spoon, until smooth and creamy.
Add the flour and mix by hand.
Add the chocolate chips when the mixture has started to come together.
Keep mixing until it forms a ball, wrap in cling film and chill for 2 hours.
After 2 hours, remove from fridge and preheat oven to 150oC.
On a floured surface, roll dough to 7mm thick.
Cut shapes out of dough.
Line a baking tray with greaseproof paper and spread out shortbread shapes.
Sprinkle with caster sugar.
Bake for 10 mins.
Remove from the oven and sprinkle with a little more caster sugar.
If you and your little one loved this delicious Chocolate Chip Shortbread try our Easy Chocolate Brownie Recipe for Kids next. So yummy, we can't decide which we like best!