20 Christmas Wreath Coloring Pages
Want to get into the Christmas spirit? Our free printable Christmas wreath coloring pages are just the thing to do the trick.
Grab your coloring pens, kick back with a nice cup of cocoa, and have a great time coloring one of our 20 printable wreaths.
To add some extra fun, why not print one for each family member and have a little coloring competition?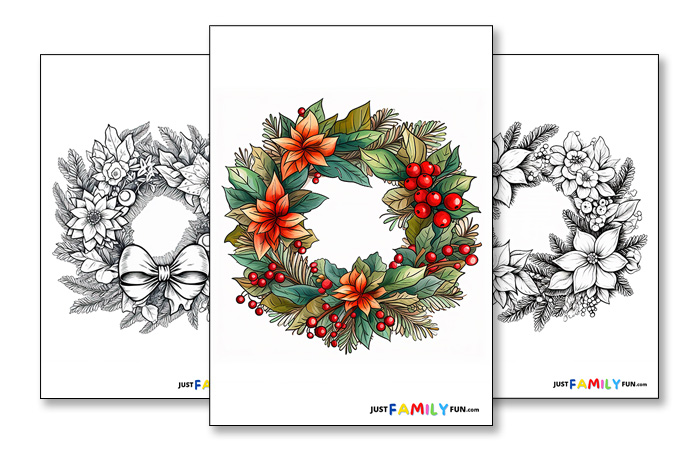 20 Printable Christmas Wreath Coloring Pages To Choose From
Our group of skilled designers has come up with a collection of 20 Christmas wreath coloring pages for you to print and enjoy coloring.
We've got wreaths with bows and ones adorned with Christmas foliage. You'll also discover simpler ones that are perfect for preschool or kindergarten-age kids, as well as more intricate designs meant for adults.
To get your hands on these coloring pages, simply click the button below your chosen Christmas wreath coloring page.
Create Your Own Christmas Wreath
How about crafting your own unique Christmas wreath? If you're interested in trying it out, I strongly suggest visiting gardenersworld.com, where you can find various helpful guides to assist you in crafting the perfect Christmas wreath. Or see our step-by-step instructions below. 
Materials you'll need:
1. Wreath base (wire or straw)
2. Greenery (pine branches, cedar, holly, etc.)
3. Floral wire or twine
4. Decorative elements (ribbons, ornaments, pinecones, berries)
5. Pruning shears or scissors
6. Optional: Hot glue gun and glue sticks
Instructions:
1. Prepare your workspace: Lay out all your materials and tools on a clean, flat surface.
2. Shape the wreath base: If your wreath base is a wire frame, it's ready to use. If it's a straw base, check for any loose or protruding straw and secure it with floral wire or twine.
3. Gather your greenery: Collect your greenery, making sure it's clean and free from any debris or pests. Trim the branches into manageable lengths.
4. Attach the greenery: Start by attaching small bundles of greenery to the wreath base. Layer the branches and secure them with floral wire or twine, wrapping it around the base. Continue adding bundles of greenery until the entire wreath base is covered.
5. Add decorative elements: Once the greenery is in place, you can decorate your wreath. Attach ornaments, pinecones, berries, or any other decorative items using floral wire or a hot glue gun.
6. Create a bow (optional): To make a bow for your wreath, you can use a wide ribbon. Form a bow and attach it near the top of the wreath for a finishing touch.
7. Inspect and adjust: Step back and look at your wreath to ensure it's balanced and visually appealing. Make any necessary adjustments to the greenery and decorations.
8. Hang your wreath: Attach a loop of ribbon or wire to the back of the wreath for hanging. You can use a wreath hanger or hang it on a nail or hook.
9. Display and enjoy: Hang your homemade Christmas wreath on your front door, above your fireplace, or anywhere else you like to spread holiday cheer.
These simple instructions should help you create a beautiful Christmas wreath. You can customize it with your choice of greenery and decorations to match your holiday decor. Happy crafting!
Discover More Magical Christmas Fun
If you had a good time coloring our Christmas wreaths, you might also want to explore some of our other delightful Christmas activities. Take a look below for some more festive fun!
Christmas Printable Crafts-Free Character Templates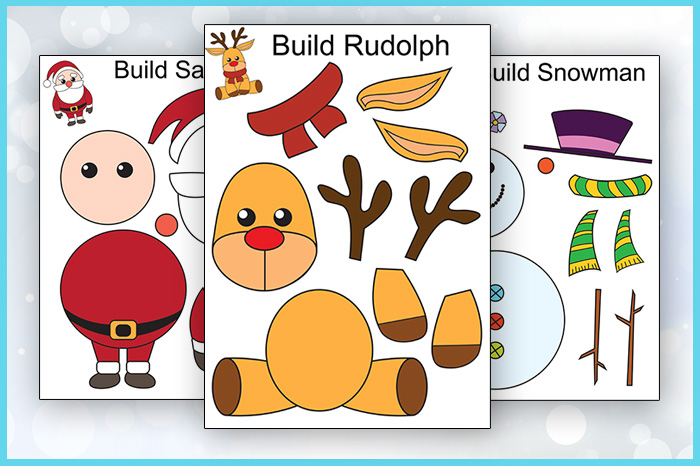 We've got just the right Christmas activity to keep your little ones busy during the holiday season.
Allow us to introduce our "Build Your Own Christmas Characters." You can download three characters: a snowman, Santa, and a reindeer.
The kids will need to cut out all the body parts and then glue them together to create their character. It's a fantastic and fun activity!
Printable Gingerbread Person Outline Templates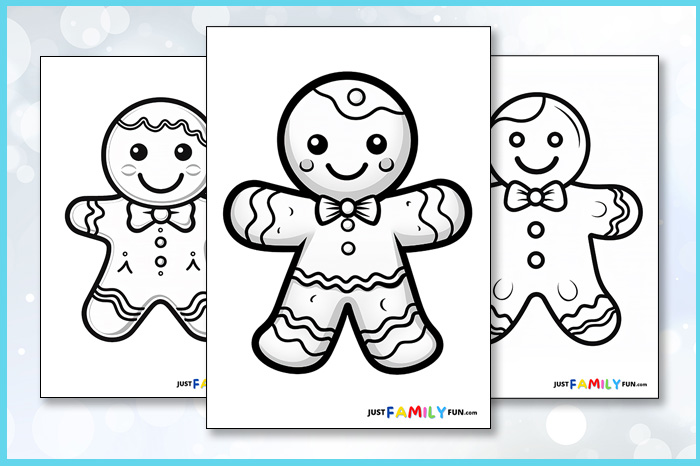 Looking for more coloring fun? Why not give our charming gingerbread person coloring pages a try? We've got 9 delightful coloring pages for you to pick from.
As an added bonus, we've included a gingerbread person cookie recipe, just in case you find yourself a bit peckish after coloring your gingerbread person.