9 Printable Gingerbread Person Outline Templates
Christmas is quickly approaching, and that means you're probably on the lookout for some enjoyable Christmas craft ideas. We're excited to share our latest addition: nine printable gingerbread person outline templates.
These templates are versatile and can be used for various craft projects. Plus, they can even assist you in crafting the perfect gingerbread man for your oven-baked creations.
To get a closer look at all nine designs, simply scroll down the page.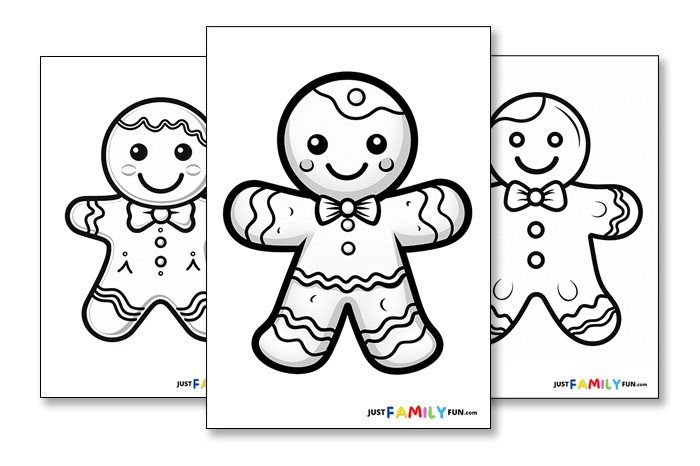 Check Out The 9 Gingerbread Person Outline Templates
Here, you'll find a collection of nine gingerbread person outline templates. You'll notice that there's a wide variety to choose from, including both boys and girls with bow ties, as well as some with fun patterns. To access these templates, simply click the download button, which will open a PDF file. From there, you can choose to save the outline to your computer or print the template as you wish.
We hope you've had a great time exploring our free printable gingerbread person outline templates. If you're feeling inspired to bake some delicious gingerbread, you'll discover the perfect step-by-step guide and recipe below. This is the recipe I personally use to make the most mouthwatering gingerbread. Enjoy your baking!
Let's Make Gingerbread Person Cookies
Gingerbread cookies are a delightful holiday treat, with their warm and spicy flavor, and they're perfect for festive occasions or just to enjoy with a cup of hot cocoa. Making these classic cookies from scratch is a fun and rewarding experience. This simple gingerbread cookie recipe provides step-by-step instructions to help you create delicious gingerbread cookies that are perfect for decorating and sharing with friends and family. So, let's get started and bring the magic of gingerbread to your kitchen!
Ingredients:
– 3 cups all-purpose flour
– 1 1/2 teaspoons ground ginger
– 1 1/2 teaspoons ground cinnamon
– 1/4 teaspoon ground cloves
– 1/4 teaspoon salt
– 3/4 teaspoon baking soda
– 1/2 cup unsalted butter, softened
– 1/2 cup brown sugar, packed
– 1 large egg
– 1/2 cup molasses
– 1 teaspoon pure vanilla extract
Instructions:
1. In a medium-sized bowl, whisk together the flour, ginger, cinnamon, cloves, salt, and baking soda. Set this dry mixture aside.
2. In a large mixing bowl, cream together the softened butter and brown sugar until the mixture is light and fluffy.
3. Add the egg, molasses, and vanilla extract to the butter and sugar mixture. Mix well until everything is combined.
4. Gradually add the dry mixture to the wet mixture, mixing until you have a smooth dough. You can use a wooden spoon or an electric mixer with a paddle attachment.
5. Once the dough is well-mixed, divide it in half and shape each half into a disk. Wrap each disk in plastic wrap and refrigerate for at least 2 hours, or until the dough is firm.
6. Preheat your oven to 350°F (175°C) and line baking sheets with parchment paper or silicone baking mats.
7. On a lightly floured surface, roll out one of the dough disks to a thickness of about 1/4 inch. You can sprinkle a little extra flour on the rolling pin if needed to prevent sticking.
8. Use gingerbread cookie cutters to cut out your desired shapes and transfer them to the prepared baking sheets, leaving some space between each cookie.
9. Bake in the preheated oven for 8-10 minutes, or until the edges of the cookies are just starting to brown.
10. Remove the cookies from the oven and let them cool on the baking sheets for a few minutes before transferring them to a wire rack to cool completely.
11. Once the cookies are completely cooled, you can decorate them with royal icing, sprinkles, or any other decorations of your choice.
12. Repeat the rolling and cutting process with the remaining dough.
Your gingerbread cookies are now ready to be enjoyed! This recipe makes about 2-3 dozen cookies, depending on the size of your cookie cutters.