12 Printable Sea Coral Coloring Pages
Coral reefs are the most diverse ecosystems in our world. Reef colonies are built of living animals called coral polyps which provide a home and food sources to thousands of species of fish and plants in our vast oceans. Coral polyps come in a variety of shapes, sizes, and colors, making coral reefs a piece of natural art.
However, very few people have the chance to see these vivid colors in person!
If tropical scuba diving in Viet Nam isn't on your agenda for this summer, you can plan an exciting "staycation" instead. Just Family Fun has a dozen sea coral coloring pages that are the perfect, quiet activity to transport you around the world from the comfort of your own home!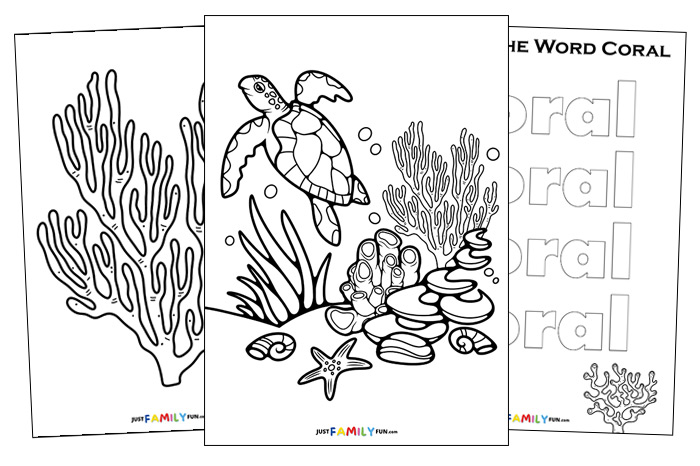 Our detailed and educational sea coral coloring pages offer artists of all ages the opportunity to decorate their own polyps and create a coral reef wall mural! Continue reading to download our coloring sets for free and learn about the different ways to use them.
What's Included In Our Sea Coral Coloring Pages Package
Each of our four sea coral coloring page sets contains three printable activity sheets with different black-and-white outlines to color in.
Unlike coloring books from shops and stores, our coral reef coloring pages are completely free to download and print!
We recommend printing your favorite sea coral coloring pages on A4 paper for the best graphics.
3 coral reef coloring page
Our Coral Reef Coloring Page set includes three large, dynamic stills. You can find a variety of different sea animals, including seahorses, turtles, and jellyfish, swimming above a coral reef.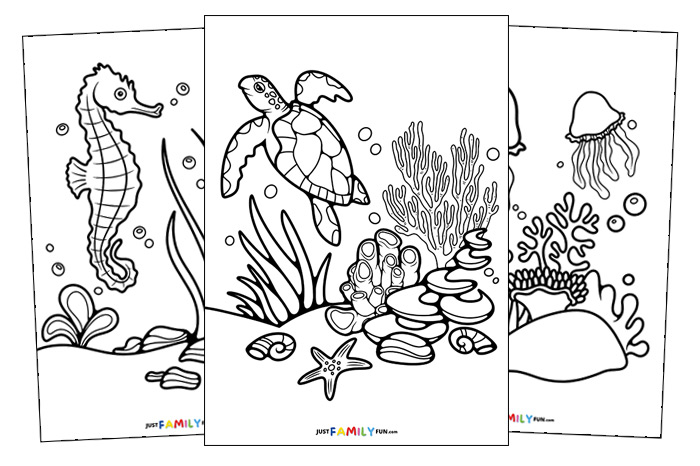 3 coral reef coloring page
Our Sea Coral Coloring Page set includes three different species of coral polyp (individual coral animals)! The detailed outlines illustrate the different textures and patterns related to each species.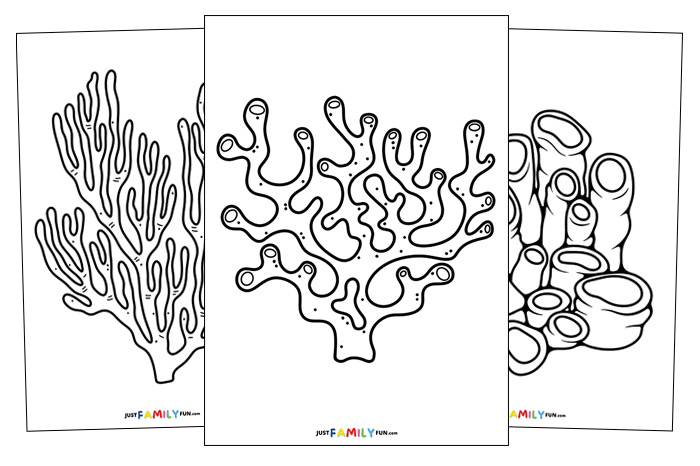 coral reef pictures to draw
If coloring isn't your forte, you can try out your drawing skills with our Coral Reef Pictures to Draw set. Each of these three pages shows an individual coral polyp and provides a space for you to draw a copy.
How closely can you recreate these animals? Try going above and beyond by adding sand, water, and other animals to complete your underwater scene!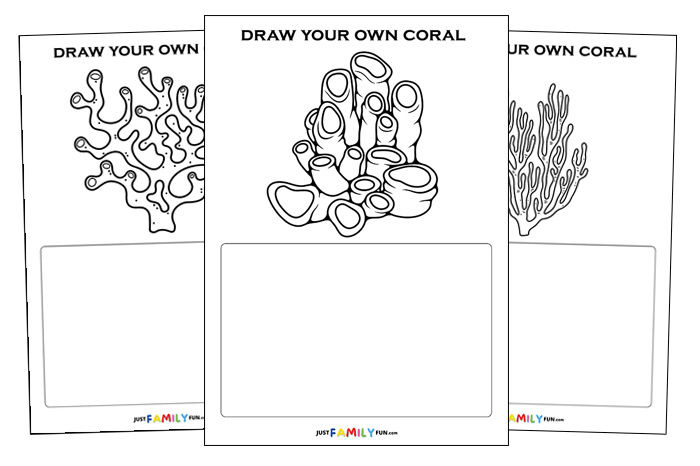 Coral Reef Text Coloring Pages
Our Coral Reef Text Coloring Page set includes three coloring pages with large, bold words and other animals to color in. These pages can guide your little artist in learning how to spell coral and reef through repetition!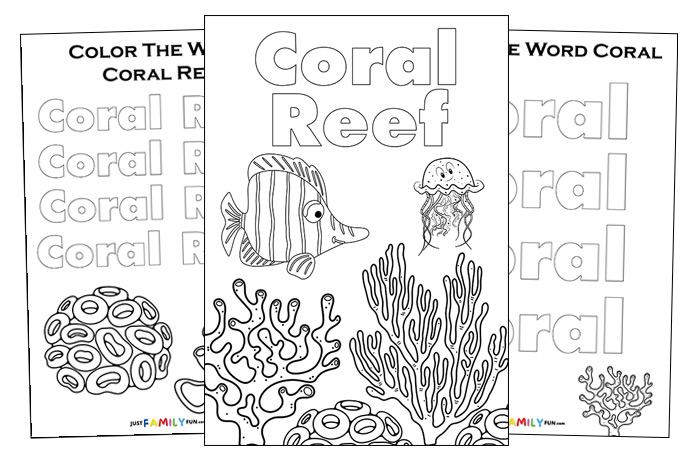 Activities to Try With Our Coloring Pages
Let's face it: coloring for hours on end can become boring, especially to children with endless energy and short attention spans. Our list of recommended activities can make coloring more engaging and fun. There's more to coloring pages than just coloring!
Draw your own coral reef
Once you've mastered the art of drawing coral polyps using our Coral Reef Pictures to Draw set, design your own coral reef. Draw an extensive, vast ocean of coral varieties to showcase your skills and remember your magnificent work!

Create a mural on the wall or fridge


After decorating each and every sea coral coloring page from Just Family Fun's collection, carefully cut out each animal and paste them on your bedroom wall or family refrigerator with Blu Tack. This will give a whole new meaning to "bringing the vacation to you"!
Research coral reefs and color accurately
If you're interested in learning more about coral polyps and reef environments, you can incorporate research from National Geographic and NASA into your coloring!

Using the internet or books from your local library, look up different species and varieties of coral. Assess your coloring sheets and match the colors, designs, patterns, and textures to real-life coral colonies around the world! How realistic can your DIY coral reef become?

Use different artistic mediums and tools


If your little ones have mastered crayons and colored pencils, let them try decorating their sea coral coloring pages with other artistic mediums. Layer different colors of glitter to give your coral polyps some depth, fill up the ocean with blue watercolor, or paste snippets of colorful magazine clippings to make an abstract piece of art.

To improve your childrens' hand-eye coordination and fine motor skills, put your own creativity to the test and find unique objects around the house to use as tools. Cut up small pieces of sponge as paint brush alternatives, find sequins or beads to give the coral surfaces texture, or sprinkle salt over wet watercolor paint to create unique patterns in the ocean water.

Laminate the coloring pages and use whiteboard markers


If you plan to reuse your coloring sheets, laminate them! This will make the pages sturdier and less prone to rips and stains. You can color over the plastic laminate with whiteboard or dry erase markers, wipe it clean, and color it in all over again!
Give silly names to your animals
Coral polyps are animals, not plants. And what animal doesn't deserve a name?
Have your young ones give silly names to their coral, seahorses, and turtles to personalize their drawings!

Create puppets


Once your polyps and animals are named, you can create puppets out of them! Cut out your coral and use it as an outline to cut another piece of paper with exactly the same shape. Line up the edges of your two coral shapes, then carefully glue the edges of the papers together. Remember to leave a gap at the bottom of the coral large enough for your finger or a clean popsicle stick to fit through. Leave the puppets to dry then try them out!
Decorate gift bags
Instead of buying expensive, decorative gift bags for every occasion, you can purchase basic brown bags and decorate them yourself! Paste your coral polyps or paint reef colonies on the bags yourself. We recommend using Mod Podge with a foam brush to seal your decorations to the bag and protect them from spills.
Post your coral reef coloring pages on social media
Climate change and global warming pose severe dangers to coral reefs. Without getting involved and solving the problems, the entire environment will suffer. You can spread awareness and teach your friends and family about coral reefs by posting photos of your beautiful coral coloring pages on social media! Caption it with one of our fun facts about coral
Fun Facts About Coral Polyps and Reefs
Some coral species are fluorescent. This means certain proteins embedded in their tissue can emit light. In other words, they glow in the dark!
Coral polyps can move and relocate just like animals because they are animals! Coral polyps are not plants.
Coral polyps catch their food by stinging fish and plankton.
Changes in ocean temperatures and salt levels can turn coral polyps white. This is called coral bleaching and is a sign of ill health in the animals.
Healthy coral reefs support over 25% of marine life. From plants to animals and from massive to microscopic, coral reefs provide safe shelters and maintain the food chain.
Coral polyps have a symbiotic relationship with algae. This means each organism needs the other to acquire food and survive.
Coral polyps have been used medicinally. They are involved in special cancer treatments!
The oldest living coral reefs are nearly 10,000 years old. Ancient coral species lived over 500 million years ago.
The size and colors of the Great Barrier Reef off the coast of Australia are so vivid, you can see it all the way from space!