20 Free Printable Mazes For Kids
If you're looking for something fun to keep your little ones busy – why not try our free printable mazes for kids . They're great to keep kids occupied on rainy days or long trips in the car. Just print this colourful bundle of mazes out, grab some coloured pens and pencils and let the kids solve these a-maze-ing problems!
Sometimes you need something challenging for kids to do. Something that'll give them a sense of achievement, and help them learn while they're having a great time. In fact, your little adventurers will become completely absorbed by these printable kids mazes.
A quick look on Google will show you just how many mazes there are out there. But they're often black and white with no engagement – and no story. Most importantly, there's a lack of solutions to the mazes. ARGH! But kids love colourful visuals. It helps draw their focus and make it relevant to them. Adults love solutions because sometimes there just aren't enough hours in the day.
That's why Just Family Fun has created this bumper pack of maze activities to keep your little ones entertained whilst they build up that brain power!
Download your free pdf pack of 20 printable mazes for kids today!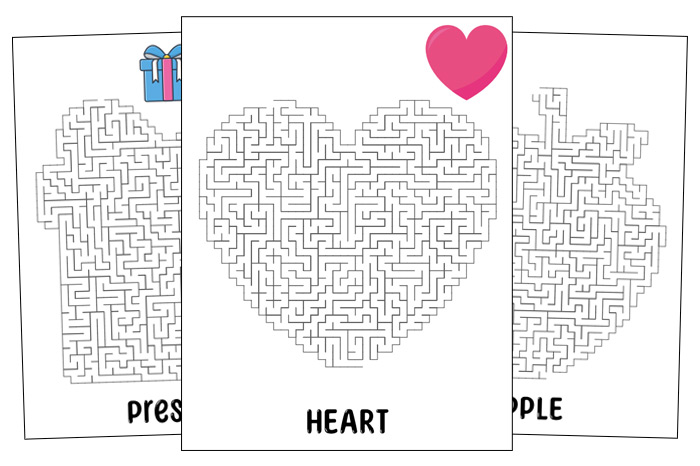 About Our Free Printable Maze Puzzles For Kids
Our maze puzzles can be used at home or in the classroom. If you know you'll reuse the mazes you might consider laminating the printout so they can be cleaned and reused.
Wherever there are children, mazes are a great entertainment choice. The perfectionist child will think ahead every step of the way. The competitive child will try to speed their way through, practising quick thinking. The creative child may use as many colours as they have access to so they can create a masterpiece pathway through the maze. The imaginative child will craft a story while they journey from start to finish. Children will enjoy finding their own style, their own method, of completing the printable maze games for kids.
Each maze activity has a theme with a vibrant and colourful image, the name of the image and a maze with the same outline as the image. For example, the car maze shows a picture of a car, the word 'car' and a maze in the shape of a car.
This pack of kids printable mazes contains 20 different themes. You can print them all off as a book of mazes, or you can print one off at a time as you need them. You might also like to create individual workbooks using our other themed resources, depending on your child's interests.
The full list of themes available in this download are:
Dinosaur
Teddy Bear
Car
Unicorn
Flower
Duck
Fairy
Heart
Present
Balloon
Rocket
Dog
Butterfly
Apple
Cat
Plane
Frog
Soccer Player
Leaf
House
At the end of the pdf – you'll be delighted to hear – there is a list of solutions for each of the mazes. Never mind sitting staging at a maze trying your best to find the answer…no need! Teachers and parents alike are going to benefit hugely from this addition. It's such a time saver!
So What Are The Benefits Of Using A Printable Mazes For Kids?
Mazes give kids the chance to practice so many skills. They're not just passive ways to pass time. Printable kids mazes encourage reasoning, memory, concentration and focus. Keeping your eye on the right path, without crossing over the lines is a mentally active activity. It takes fine motor skills to keep control of the pen, to follow the eye without detouring across the black 'walls'.
Mazes encourage kids to slow down, to think about their next move and to plan ahead. The consequences of a wrong move in these activities may be small in the grand scheme of things – but learning to consider potential consequences is a life skill that can't be over-estimated. Similarly, kids can learn to anticipate outcomes and strategically solve problems. Practising these skills using activities that have no real-world impact better prepares kids for when they do encounter problems.
Activities like our printable maze games for kids also help build confidence. Whether the maze is easy or hard – kids feel a sense of accomplishment that they found the right answer. And that feeling will encourage them to try again, perhaps they'll even be encouraged to try more difficult mazes or branch out into different puzzles. Mazes are like mental gymnastics. They'll give developing brains an intense workout and help create new problem-solving skills that last a lifetime.
Activities Similar To The Kids Printable Mazes
These free printable mazes for kids can be used as a standalone activity or combined with a range of our other educational – but totally awesome – activities. You can create your own bespoke workbook that'll appeal to your child's interests right here!
Our Animal Dot-To-Dot Puzzles contain 10 different animal puzzles full of cute and colourful images. They range in difficulty from easy to hard and are great for helping your little one progress as they grow in confidence.
If your child is a little older, perhaps they're ready to be introduced to the world of Sudoku. We have an astronomical number of soduku puzzles available (easy/medium/hard). They'll help your child develop their critical thinking and cognitive skills. As well as giving them the confidence to work with numbers.
And who remembers Battleships? If you want to introduce your child to co-ordinates, grids and competitive, critical thinking – take a look at this free printable. It's a test of mental agility that gives the victor a feeling of great joy and accomplishment – because it sure is hard earned with this game. But if your kid is ready for this workout, download your free copy today.
There is a whole heap of classic games that often barely get a mention in today's digital world. But digital isn't always better. Activities such as the printable mazes for kids provide lasting real-world value and skills for kids. Skills that they need to know and need a pressure-free opportunity to practice. Take advantage of these free printable maze games and give your child activities that'll help them flourish!