3 Free Printable Colour Scavenger Hunt Games
Kids love scavenger hunts, they're fun and keep the mind and body busy. Children learn whilst playing a game. A colour scavenger hunt is a great way for them to explore and identify coloured objects around the house or outside in an enjoyable way. They're a great way for toddlers and preschoolers to recognize colours and joyfully learn colour names. Older children will love to take part in them as well.
The great thing about our colour scavenger hunts is their versatility. They can be used inside the house on a wet day, in the garden, on a walk around the block, at the park, on a trip away or anywhere really. Teachers will find them a great resource as a school or home learning activity.
Just Family Fun has created 3 different colour printables which are free to download and print. The sheets can be used over and over again – especially if you laminate them.
Simply print the sheets. Then send the children on an adventure to find as many  coloured items as possible. Return any collected items they found back to nature or their correct place in the home when your finished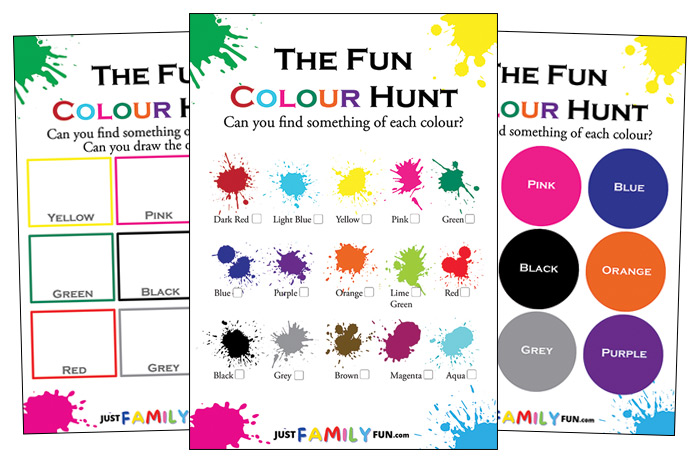 What's Included In Our Printable Colour Scavenger Hunt
If you scroll down you will see that we've included 3 different hunts in our printable downloads. Each is a different level of difficulty. This enables the activity to be used with children of different abilities and ages.  You can start with the easiest level and progressively work through all three.
Each sheet has a splash of each colour from the rainbow to be found – this is there as a visual reference.
The colour scavenger hunt is quick and simple to download.
What you need for a colour recognition scavenger hunt
All you need to do our colour scavenger hunt is one of the downloadable sheets and a willing child or two. 
Hunt 1 requires a pencil.
Hunt 3 needs a pen, and pencil – some children may need a whole pencil case of crayons.  You can introduce any colour pen to a colour scavenger hunt. You could choose a seasonal-based colour or choose a colour that is new to or your child likes.
If you choose to complete the colour hunt in the garden or around the house you don't need anything else. However, if you choose to do the hunt on a walk some children may which to collect the objects and carry them with them. For those instances, a bag, tray or basket may come in handy
The first colour hunt features 15 different colours. Each of the colours is written in black lower case writing next to a tick box. There is a colour splodge above each colour's written name.  
When the children have found an object of the corresponding colour they can put a tick in the box to say they found or spotted something of that colour.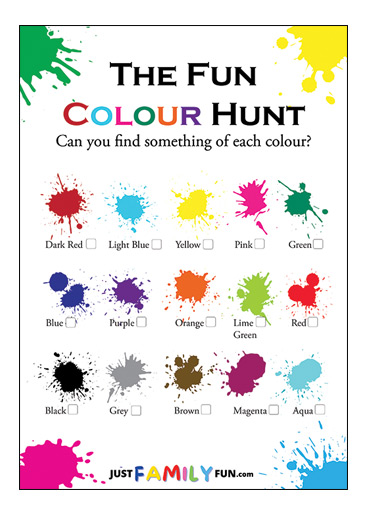 The second hunt is perfect for toddlers and preschoolers. It concentrates on 9 colours. There is a circle to represent each colour. Each circle is filled with one colour and the colour's name is printed in black within the centre.
The children can search for something of each colour. When they have found it they can place it on the circle of the corresponding colour.
This colour hunt is perfect for the youngest children. It's perfect to do in the park, garden or house. Set the sheet down in one place and set the children off searching for objects. They can return to the sheet and pop the object on the coloured circle.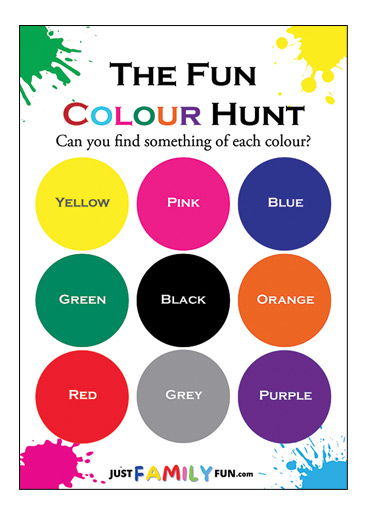 The third sheet features 9 colours, each written in black capital letters inside a rectangular box. The box is printed in the corresponding shade as a sample for the children. It is a reminder of each colour. 
There is space inside each of the boxes for the children to draw the object they found inside the box. This challenges older children and develops further skills.
As well as reinforcing colour recognition, this drawing activity has the following benefits.
Develops Fine Motor Skills
Encourages Visual Analysis
Helps Establish Concentration
Improves Hand-Eye Coordination
Increases Individual Confidence
Teaches Creative Problem Solving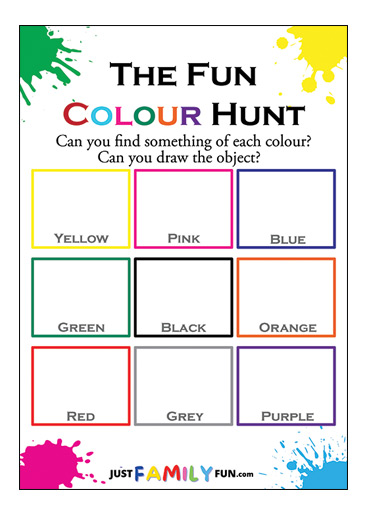 Children will develop crucial knowledge about each colour, and learn to recognise the letters that spell the word all whilst having lots of fun completing the scavenger hunt.
Younger children may need a hand when completing the hunt for objects, but older children may be able to complete the challenge without much supervision.
How To Complete the Colour Scavengers Hunts
These hunts can be done indoors, outdoors or a combination of both. They can be completed in the spring, summer, autumn or winter. Our hunts are a flexible, customisable and easy-to-complete activity to give your children.
Here's how to get started
Choose your location
Decide where you are going to do the activity and plan the children's footwear and clothing accordingly.
Which Hunt
Decide which of the sheets above are suitable for your children and print them out.
Give Each Child or Team a Colour Sheet
Your child or team can search the selected location for objects for each colour.
Time to Search
Set the children off on their search for objects. If they are small you may like to guide them around the search area to find things. The sheet provides a visual reference.
Challenge Completed / Winner
When objects have been found for each colour listed on the sheet. The child or team has finished the challenge or won.
Show and Tell / Discuss
When finished why not sit and have a chat about the objects you have found? It's a great time to teach about nature or have a fun game with toys collected.
How To Customise These Colour Scavenger Hunts
You can tailor this activity to your child's interests in many different ways.
Customise the Location
Here are just a few places you can complete the hunts
In the house
In the park
On a walk
On a bike ride
On a scooter ride
In the supermarket
In the shopping centre
If you only have a small location, you may want to customise the activity with trays or containers of small objects in a variety of colours. Ideas for small objects include toy cars, pom poms, lego bricks, pegs or magnetic letters.
You can also complete these hunts
On a car journey
Watching a video
Reading a book
Playing a video game
Add in a bit of Variation
If you want to introduce some number and counting skills you could set a certain number of coloured objects that the children need to find.
For example, 6 red things and 3 blue things.
Add a Theme
Instead of any object, they come across how about setting a theme? For example, they have to find a certain type of object that corresponds with each colour on the sheets.
For example
Flowers
Shoes
Cars
Coat
Toys
Teddy bears
Craft Supplies
A scavenger hunt is a game where someone, either on their own or in a team, competes to find objects on their list. In our colour scavenger hunt, children on their own or in teams search for objects of a certain colour.
How To You Win or Complete the Scavenger Hunt?
The hunt is complete when an object of every colour has been found. If you're playing in teams, the first team to find objects of every colour in the team wins. To make it a bit more challenging you could set a time limit to find all the objects.
You could award a small prize when the sheet is complete. 
What Are The Benefits of a Scavenger Hunt
In addition to colour recognition, there are other benefits of this fun game. These include
Communication and teamwork –

If you have a group of children

Fitness

– these activities excite children making them run around collecting objects. If you do this in the park or whilst on a hike you can have children running up hills, crawling in bushes or even climbing a tree. The possibilities are almost endless.

Makes a walk

, ride or scooter journey more exciting

Sensory experience –

if collecting crisp leaves, squishy bean bags, sand, a book or a plastic shovel. help your child learn and develop a greater understanding of the world by using their five senses
The Importance Of Colour Recognition
The colour scavenger hunt helps children recognise colours. This is a key cognitive development step. It's a vital part of developing
objective recognition
descriptive language which encourages communication and understanding
Along with shape recognition, colour recognition
helps us navigate the world around us.
forms the foundations of learning to read as well as maths and science.
Who Created the Scavenger Hunt?
It's thought that the scavenger hunt game was created as a fun party event in the 1930s by Elsa Maxwell, a gossip columnist. Since the 1930's many people have enjoyed the crazy game.
Cognitive and language development is encouraged by learning to recognize colours and learn their names. Our hands of colour recognition scavenger hunt offer the opportunity to learn colours with a fun, popular game.
Please check out our other fun scavenger hunts here.