The Tooth Fairy Letter And Certificate
The tooth fairy letter below is one of our favourite free printable tooth fairy letter for girls in our collection.  It's pretty, sweet and so very precious.
The tooth fairy's letter is written in black writing on a white background. The white background is in the shape of a tooth surrounded by bright pink, with lots of light pink teeth. It really is adorable. There are four little fairies at either corner of the tooth.
Thetooth fairy letter says she chose the gift for your little girl because she has a pink bedroom – so this  free printable tooth fairy letter is perfect for girls who have a bedroom that is pink. 
The letter asks if your little girl has seen the fairy dust near the window. See the craft activity at the bottom of the page to find out a fun way to leave the fairy dust.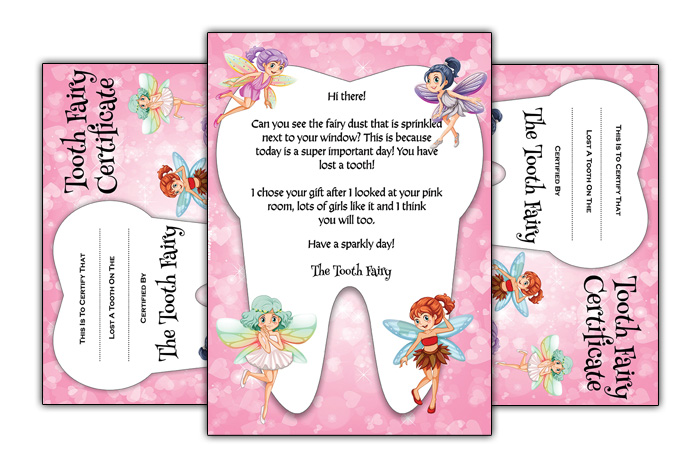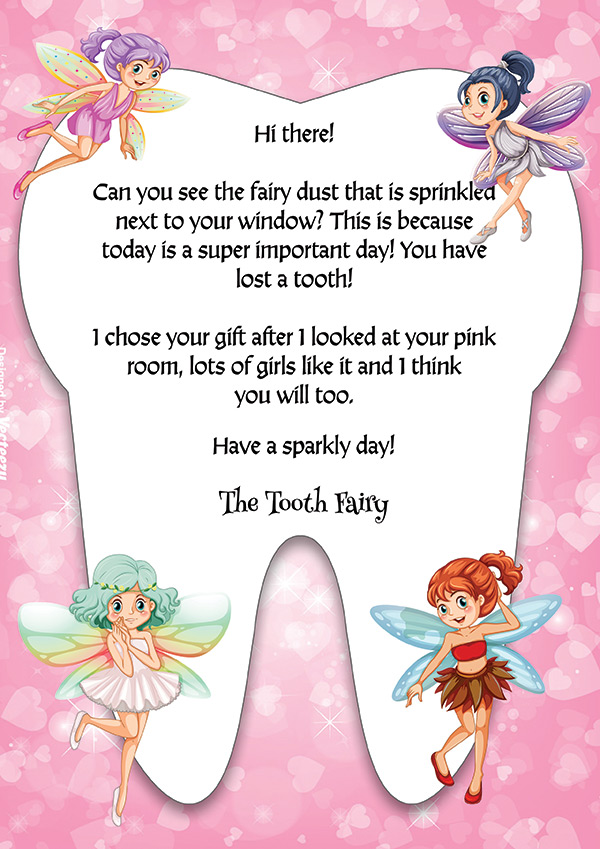 Words On The Tooth Fairy Letter
The tooth letter has the following wording.
"Hi, there!
Can you see the fairy dust that is sprinkled next to your window? This is because today is a super important day! You have lost a tooth!
I chose your gift after I looked at your pink room, lots of girls like it and I think you will too.
Have a sparkly day!
The Tooth Fairy"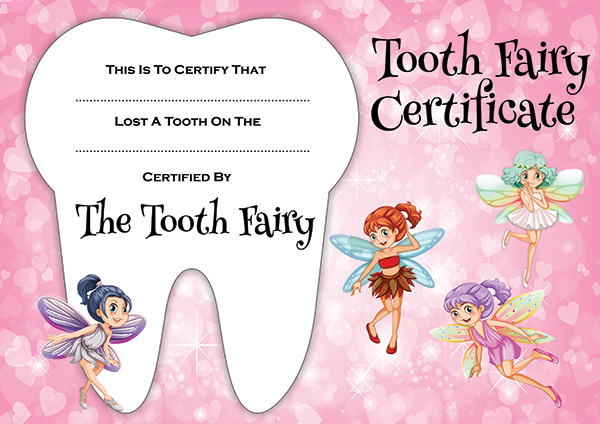 Matching Tooth Fairy Certificate
Why not print out this matching tooth fairy certificate to lave alongside the magical letter.
Fun Tooth Fairy Question: What Is The Tooth Fairy's Name?
The tooth fairy is an extraordinary and enchanting figure who visits children all around the world when they lose their baby teeth. While her name is a delightful secret within the magical realm, kids everywhere lovingly call her the Tooth Fairy. The mystery surrounding her name adds an extra sprinkle of magic to her already wondrous presence!
Just imagine, as you drift off to sleep with a wiggly tooth under your pillow, the Tooth Fairy quietly arrives, spreading her fairy dust and bringing a sense of excitement and anticipation. She carefully collects your little tooth and leaves behind a special surprise—a shiny coin, a tiny trinket, or even a handwritten note to celebrate this milestone in your life.
But have you ever wondered why the tooth fairy's name is a secret? Well, it's because she holds a unique name that resonates with the purest form of magic. Only the other magical beings in her realm, like fairies, elves, and woodland creatures, know her true name. It's a name whispered amongst the enchanted forests, known only by those who are part of the fairy realm.
So, as you eagerly await the tooth fairy's visit, remember that her name may forever remain a mystery to us, but her enchanting presence and the joy she brings will always be felt. Embrace the wonder and magic of the Tooth Fairy as she continues her timeless mission, spreading smiles and creating cherished memories with each lost tooth she collects.
Tooth Fairy Toilet Paper Roll Craft Idea:
If you're feeling crafty and would like to create your very own tooth fairy using a toilet roll, head over to www.dltk-teach.com for all the instructions you need. This fantastic website is a treasure trove of crafting ideas, including a step-by-step guide to help you bring your tooth fairy creation to life. Discover the joy of transforming a simple toilet roll into a magical tooth fairy with the help of DLTK-Teach's detailed instructions.
Need More Tooth Fairy Goodies?
If you're searching for more delightful tooth fairy goodies, we highly recommend checking out our collection of 33 tooth fairy printables. Here, you'll discover everything you could ever need, from tooth fairy letters and charts to captivating tooth fairy coloring pages. These printables are designed to add an extra sprinkle of magic to your child's tooth fairy experience. Simply visit our tooth fairy package and explore the wonderful assortment of tooth fairy-themed printables that will surely make losing a tooth an enchanting adventure.