100 Printable Word Scramble Puzzles With Answers
Our printable word scramble puzzles worksheets provide an interactive and enjoyable experience that encourages children to unravel jumbled letters and discover the hidden words within! Just like we exercise our bodies, we have to exercise our brains, too. Learning new things at school is how most children exercise their minds, but that's not the only way!
With 100 free, printable puzzles across 7 different subjects to choose from, everybody at home can have a blast exercising their brain and using the English alphabet like never before.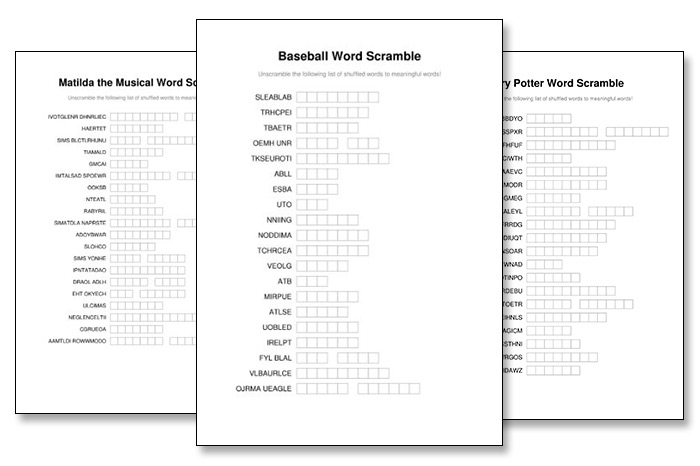 What Are Word Scrambles ?
Word scrambles are fun literacy games that involve sets of English letters mixed in a completely random order. The goal of each puzzle is to rearrange the letters into a meaningful word using your knowledge of vocabulary, spelling, and problem-solving skills.
For example, fuelatbiu can be rearranged into beautiful.
Anybody can play and enjoy word scramble puzzles. Just Family Fun's collection includes easy puzzles with Disney themes, and harder puzzles about events like weddings showers. Just print them out for your kids, students, friends, or whole family and have fun together!
You can access our free word scrambles by downloading your favorite puzzle worksheet below and printing it on white, A4 paper. Each of our themed pages contains 20 words to unscramble.
Just Family Fun's word scramble puzzles vary in difficulty, so it's helpful to have a strategy for figuring them out. We recommend these tactics:
Assess the scrambled letters


Scrambled words, especially long ones, can be daunting! Spend some time assessing the letters before beginning to untangle them. Do you notice any double-vowels or uncommon letters like X or Z? These can be a tell-tale hint of the word you're trying to create.

Say the letters out loud


It's often helpful to hear the letters aloud because your brain might recognize familiar sounds and string them together naturally! Make sure you try all the different pronunciations of each letter, like the hard and soft "c", so you aren't missing out on anything.

Cross letters out as you go


As you create your word, cross out any letters you have already used in pencil. This way, you don't accidentally reuse letters and get even more fumbled!

Write one letter in each box


Like we said earlier: it's easy to accidentally reuse letters. In addition to crossing your used letters out, create your words in the provided box to ensure you don't skip letters either! Write one letter in each box so you know how long your word should be.

Make lists of sounds or words you've tried


Especially for longer words, making a list of all the sounds or groups of letters you've tried will help you keep track of your progress. There's no need to try the same sequence of letters over, and over, and over if you already know it won't work! Just jot it down to remember what progress you've already made.

Pull out the dictionary


We believe it isn't actually cheating to pull out the dictionary – it's just a chance to practice a different skill you'll also need later in life! If you're truly stuck on a word and you can't seem to unscramble it, pick up that dusty, old dictionary from the shelf and sweep through the pages. You never know what you might find, whether it's the exact word you're looking for or a bit of inspiration to finally figure it out yourself.

Re-scramble the letters


The longer you stare at an illegible mixture of letters, the harder it may seem to put them in the correct order. Try re-scrambling the letters yourself by jotting them down in a new order on a blank piece of paper. This technique might help you recognize patterns and sounds with a fresh perspective or even begin building the word!
Make smaller words using some of the letters
Another tactic is building smaller words using some, but not necessarily all, of the letters in the scramble. This will get your creative juices flowing and help you build off of a root word rather than starting from square one!
Bennifits Of Word Scrambles For Children
Alongside quiet, safe fun, word scramble puzzles offer a host of benefits for children, making them an excellent educational tool that combines entertainment and learning. Engaging with these literacy puzzles can have a positive impact on children of any age! The most adept benefits include…
Vocabulary enhancement:

word scramble puzzles expose little ones to a wide range of vocabulary and vernacular. As they unscramble letters to form complete words, their vocabulary expands. This exposure to diverse vocabulary improves their language skills and enhances their ability to communicate effectively.

Spelling improvement:

similarly, by rearranging jumbled letters into complete words, children develop and reinforce their spelling skills. The process of deciphering scrambled words requires them to hone in one English-language patterns and phonics, which in turn helps them recognize and remember the correct spelling of common words.

Cognitive development:

our selection of puzzles will also promote critical thinking and problem-solving skills. Especially when working on these word scrambles by themselves, children are given the opportunity to analyze and manipulate the letters to find patterns. The repeated practice of skills like logic, reasoning, and mental flexibility will improve their cognitive development in no time.

Concentration and focus:

solving word scramble puzzles requires concentration and focus. If your kids struggle to sit through a meal or pay attention in class, help them practice focusing on an activity with our fun and stimulating worksheets. By the time they have completed all the challenges, they will have forgotten about any distractions and be well-versed in giving one activity the entirety of their attention.
Kids Learning Topics Printable Word Scramble Puzzles
Introducing our wonderful selection of word scramblers designed especially for kids learning! This incredible set includes a whopping eight different word scrambles that are sure to captivate and assist your children with various subjects. From body parts to verbs, shapes, numbers, and so much more, these engaging puzzles provide an enjoyable and effective way for your kids to improve their understanding. Get ready to embark on a fun-filled journey of learning and exploration as your little ones unravel the mystery of words, enhance their cognitive skills, and develop a deeper appreciation for the world around them.
Sport Printable Word Scramble Puzzles
Introducing our second collection of word scrambles centered around the thrilling world of sports! Get ready to dive into the action with our incredible set of eight engaging sports-themed word scrambles.
From popular sports like football, tennis, golf, and soccer to a host of other exciting options, this collection is guaranteed to keep you entertained. Can you rise to the challenge and unscramble these sports-related words? Test your skills, unlock the answers, and become a master of sports vocabulary. Get ready for an adventure filled with fun, competition, and a whole lot of word-solving excitement!
Holiday Printable Word Scramble Puzzles
Get into the holiday spirit with our magnificent assortment of word scrambles designed exclusively for the festive season! Embrace the magic as we present our delightful holiday-themed collection, featuring not just eight, but a staggering twelve captivating word scrambles.
Immerse yourself in the enchantment of Halloween, Christmas, Thanksgiving, and an array of other beloved holidays. Can you unravel these delightful word puzzles and discover the hidden holiday words? Challenge your skills, unlock the answers, and immerse yourself in the joyous atmosphere of the holiday season. Get ready for a delightful adventure filled with merriment, laughter, and plenty of word-solving excitement!
Gaming Printable Word Scramble Puzzles
Dive into the world of gaming with our remarkable assortment of word scrambles designed exclusively for gaming enthusiasts! Get ready to be captivated as we present an exciting collection of word scrambles inspired by popular games. Immerse yourself in the virtual realms of Minecraft, Roblox, Super Mario, and many more thrilling titles.
Brace yourself for an adventure as you unravel these challenging word puzzles and unveil the hidden gaming-related words. Put your gaming knowledge to the test, unlock the answers, and demonstrate your mastery of virtual vocabulary. Get ready for an exhilarating gaming journey filled with excitement, competition, and endless word-solving fun!
Kids Movie Printable Word Scramble Puzzles
Immerse yourself in the enchanting world of kids' movies with our delightful collection of word scrambles tailored exclusively for young film enthusiasts! Prepare for a magical experience as we unveil a captivating assortment of eight word scrambles inspired by beloved movies. Journey into the wintry realm of Frozen, delve into the captivating adventures of https://www.wizardingworld.com/Harry Potter, and discover even more cherished favorites among our carefully selected titles.
Can you decipher these exciting word puzzles and uncover the hidden movie-related words? Put your knowledge to the test, unlock the answers, and showcase your prowess in children's cinema. With a diverse range of delightful scrambles, this collection guarantees endless entertainment and plenty of brain-teasing fun. Get ready for a cinematic adventure filled with laughter, imagination, and unforgettable word-solving challenges!
Music Artists Printable Word Scramble Puzzles
Our next collection is here to take you on an unforgettable journey through the captivating world of music artists! Prepare to be enthralled as we unveil a remarkable assortment of word scrambles designed exclusively for music enthusiasts like yourself. Within this sensational selection, you'll discover eight challenging puzzles inspired by acclaimed musicians and beloved music artists.
Immerse yourself in the enchanting melodies of Ed Sheeran, get swept away by the timeless hits of Coldplay, and unlock the names of many other talented artists we've included just for you. Can you conquer these musical brain teasers and unravel the hidden names of these iconic performers? Test your knowledge, unlock the answers, and showcase your expertise in the realm of music. With a diverse range of captivating scrambles, this collection guarantees hours of entertainment and endless word-solving fun. Get ready to embark on a harmonious adventure filled with rhythm, passion, and the joy of deciphering musical puzzles!
Miscellaneous Word Scrambles
Get ready for a fantastic assortment of word scrambles in our Miscellaneous collection! With a whopping 32 puzzles to solve, there's something for everyone. Explore a variety of topics like weddings, cartoons, board games, Disney characters, and much more. Challenge yourself to unscramble the words and uncover hidden surprises in each category. This collection guarantees hours of fun and a chance to test your knowledge in different areas. Get ready to dive into the exciting world of Miscellaneous and enjoy the thrill of solving word puzzles!
There is so much to gain from our long list of word scramble puzzles. Whether you're helping your child with their vocabulary, need time to focus on your own household chores, or want to provide a fun and cost-friendly afternoon activity for your little ones, our list of 100 word scrambles will satisfy all of your needs and then some!
If your family had a blast with our word scrambles, feel free to share the fun with us! Send a picture to Just Family Fun or comment below.