96 Printable Large Print Sudoku Puzzles
Love playing Sudoku in the newspapers but find the grids too small? No worries anymore because we've crafted 96 printable large print Sudoku puzzles just for you.
We're committed to expanding our collection, ensuring you'll never run out of Sudoku challenges. Our large-print Sudoku puzzles are set to a medium difficulty, but if you prefer easier or harder ones, just shoot us an email, and we'll tailor some specifically for you.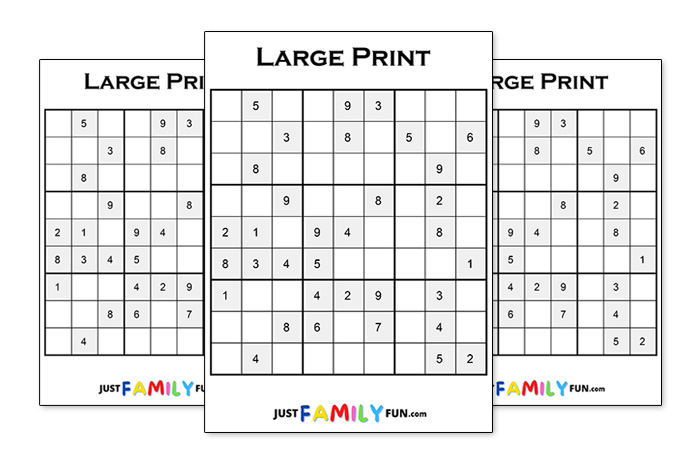 Download Our Large Print Sudoku Puzzles
Our large-print Sudoku puzzles come in sets of 8 puzzles per PDF file, each accompanied by a solution page for easy answer checking. To download, simply click the blue button below the selection of Sudoku puzzles you want. This will open a PDF file, giving you the option to print the puzzles at your convenience.
Hey, don't forget that here at Just Family Fun, we've got a huge collection of fun printables and awesome puzzles for you to dive into. Why not check out our printable puzzle section to see what exciting puzzles you can enjoy next?
If you're looking to play Sudoku puzzles online, I'd recommend giving Sudoku.com a visit. It's a great platform where you can enjoy endless games online for free. Check it out!