Magical Printable Tooth Fairy Letter & Certificate
This is the most enchanting letter from the tooth fairy for boys and girls who have lost two or more teeth. This printable tooth fairy letter is specially crafted for your little ones, highlighting the strength and healthiness of their teeth, which make excellent building blocks for the tooth fairy castle.
The fairy invites your child, regardless of gender, to share their hobbies by leaving a letter for the tooth fairy, answering a fun question during her next visit.
The letter concludes by motivating your child to continue taking good care of their teeth, reminding them of the importance of regular brushing and cleaning.
The magical printable tooth  fairy letter is designed with a vibrant color scheme, suitable for both boys and girls. It features a delightful border in various colors, and it includes two teeth—one adorned with a crown—alongside a cheerful fairy holding a coin, adding to the whimsical atmosphere.
You can easily download and print this letter from the tooth fairy, and it comes with a matching tooth fairy certificate to celebrate this special occasion with joy and magic.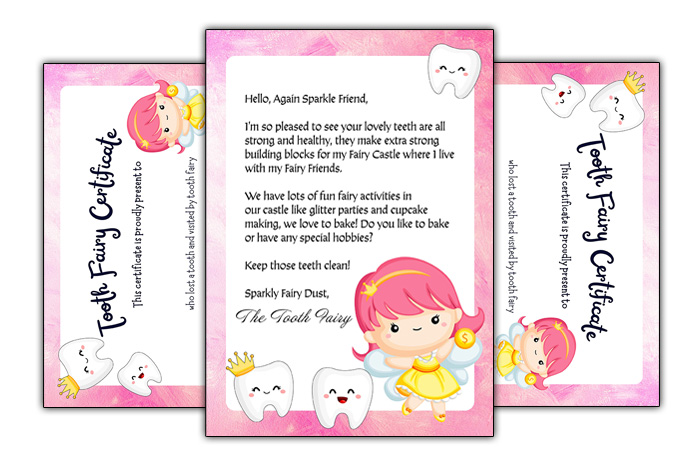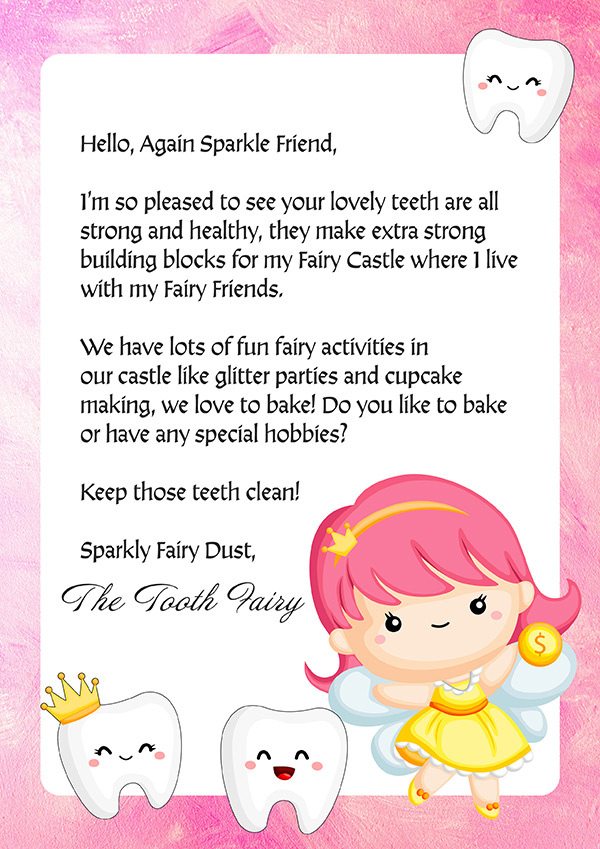 Words on The Magical Printable Tooth Fairy Letter
This letter from the tooth fairy has the following wording.
"Hello again, Sparkle Friend,
I'm so pleased to see your lovely teeth are all strong and healthy, they make extra strong building blocks for my Fairy castle where I live with my Fairy Friends.
We have lots of fun fairy activities in our castle like glitter parties and cupcake making, we love to bake! Do you like to bake or have any special hobbies?
Keep those teeth clean!
Sparkly Fairy Dust,
The Tooth Fairy"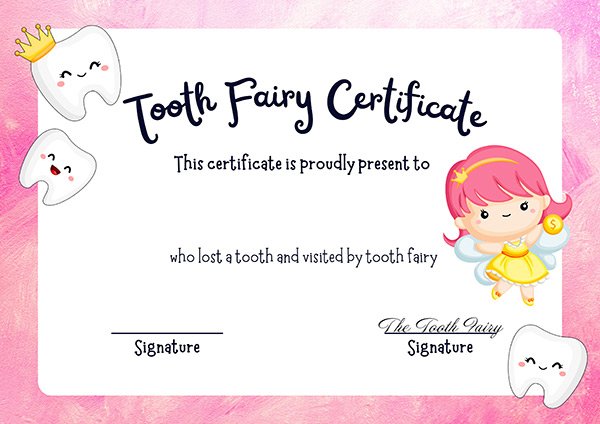 Matching Tooth Fairy Certificate
What child doesn't love a certificate? This matching tooth fairy certificate will go down a treat with your little girl. There's space for the tooth fairy to record your child's name and the date the tooth fell out. The tooth fairy has even signed the certificate as well.
Fun Tooth Fairy Question- What Does The Tooth Fairy Do With All Those Teeth?
Once the tooth fairy collects all those precious little pearly whites, she carefully preserves and stores them in her secret tooth vault. In her magical realm, these teeth are transformed into extraordinary treasures. Some teeth are used to create sparkling fairy dust, which the tooth fairy uses to spread joy and magic wherever she goes. Other teeth are transformed into tiny, twinkling stars that illuminate the night sky, adding an extra sparkle to the world.
But that's not all! The tooth fairy also uses these teeth to fuel her magical powers. Each tooth contains a small amount of the child's essence and memories, which the tooth fairy gathers to empower her fairy magic. These memories are woven into the fabric of her realm, contributing to the everlasting enchantment that surrounds her domain.
Additionally, the tooth fairy cherishes the sentimental value of each tooth. She understands the significance and milestone of losing a baby tooth, symbolizing growth and transition. To honor these special moments, the tooth fairy keeps a record of each tooth she collects, creating a magical chronicle of childhood memories.
So, you see, the tooth fairy has a multitude of magical uses for those tiny teeth. They become part of a grand tapestry of wonder and delight, contributing to the magic and mystique of the tooth fairy's realm.
Fun Fairy Craft- Fairy Garden
If you're eager to bring a touch of magic into your life with a fairy garden, make your way to CurlyCraftyMom. This enchanting destination is your gateway to inspiration and valuable insights on creating your very own whimsical fairy garden.
Explore a world of tips, DIY projects, and imaginative ideas that will transport you to a realm of wonder. With CurlyCraftyMom as your guide, embark on a delightful journey and learn how to craft a magical fairy garden that will captivate your imagination.
Looking For More Tooth Fairy Letters?
For those seeking more tooth fairy letters, we invite you to explore the art tooth fairy section of Just Family Fun. Prepare to be delighted as you uncover a treasure trove of charming tooth fairy letters. Click here to immerse yourself in a world of enchantment and discover a wide array of options to make your child's tooth fairy experience even more magical.