Free Printable Tooth Fairy Certificates
Losing a tooth is a huge milestone for every child, and giving your little one free printable tooth fairy certificates for each tooth they lose is a perfect way to make the occasion more special. Everyone looks forward to a bit of magic in their everyday lives, especially when they are little. Free tooth fairy certificates are just one of many great ideas to make losing a tooth a really magical event that your child will always remember.
Most of us can remember the feeling of losing a baby tooth and running excitedly to tell our parents, then waiting for the tooth fairy to collect it when you were sleeping. Every child is thrilled at the thought of waking up to find a coin or two under their pillow, but instead of the visit being all about financial rewards  you can use free tooth fairy certificates to encourage your child to build excellent tooth cleaning habits.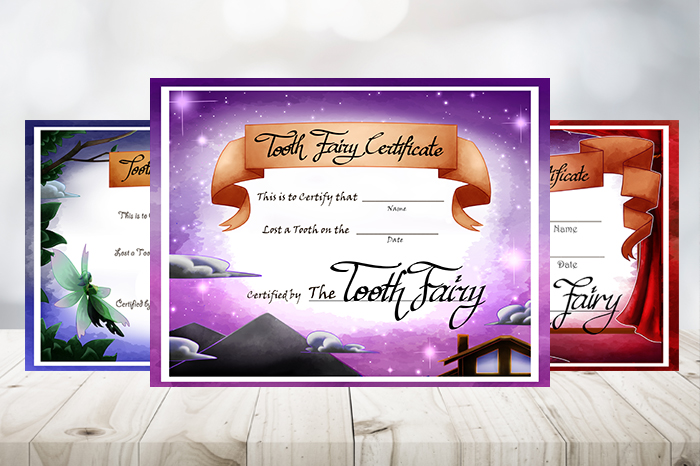 Things To Consider When Choosing A Free Printable Tooth Fairy Certificate
Is this the first tooth your child has lost? You might want to use an extra special certificate to mark this significant milestone.
How old is your kid? Children often begin to lose their teeth at around 6 years old and carry on losing teeth until they are about 12. It's never too late to begin this magical tradition, but older children may prefer a different certificate design to very young children.
Is your child a fan of the colour pink, do they prefer blue or maybe something completely different? Choosing a tooth fairy printable certificate with your child's favourite colours can make the special occasion of losing a tooth even more magical.
Check out our super collection of tooth fairy certificates below and choose whichever design is perfect for your child. You could choose a different design each time your child loses a tooth so they can collect them and keep them in a special folder, or display them on their bedroom wall.
General Printable Tooth Fairy Certificates
We've got a fantastic collection of printable tooth fairy certificates to choose from so you're bound to find the perfect certificate for your child.
It's a moment that comes to all parents: your little one's tooth is wiggly and they're waiting excitedly for it to fall out so that the tooth fairy will visit soon. A visit from the tooth fairy is a rite-of passage for small children, and every parent wants to make the occasion as special as possible. Children are always happy to find coins under their pillow, but you might also want to consider giving your child their own personalised tooth fairy certificate that they can keep forever or put up in their bedroom.
You could also leave your child a smile-related gift to encourage amazing oral hygiene, such as a small tube of child-friendly toothpaste, a brand new toothbrush or a small timer that lets your youngster know when their two minutes of brushing is finished.
What's Included In Our General Printable Tooth Fairy Certificates
We have a lovely collection of general printable tooth fairy certificates that are suitable for any occasion when your child has lost a tooth. Each colourful certificate has space for the tooth fairy to write your child's name and the important date the tooth was lost, making each certificate feel unique and personal. Most importantly, every free tooth fairy certificate has been certified by the tooth fairy herself with her very special signature.
The eleven beautiful designs include purple starry skies, swirly pastel clouds and pretty flowers, and some of our tooth fairy certificates even include a little picture of the tooth fairy herself. Each certificate prints onto A4 size paper and are perfect for putting into a frame if you want to.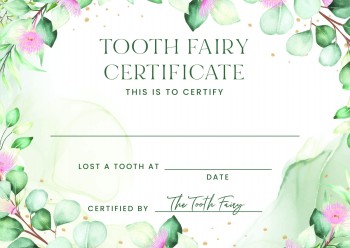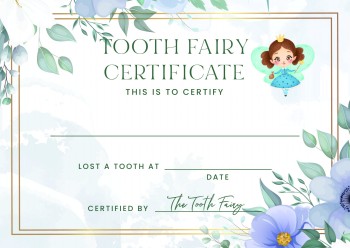 Tooth Fairy Certificate 1st Tooth
Losing a first tooth is a momentous milestone that every child should celebrate, and you can start a new magical tradition by leaving a very special tooth fairy certificate 1st tooth printable after the tooth fairy's very first visit. As well as making the experience a lasting special memory for your little one, you'll also be encouraging them to brush regularly and look after their new permanent teeth.
A first visit from the tooth fairy is also the perfect opportunity to answer any questions your child might have about this wonderful tradition and the mysterious tooth fairy herself. If you want to feel a little more prepared for answering some of your inquisitive youngster's questions, check out our list of 30+ Tooth Fairy Questions and Answers found here: https://toothfairyprintables.com/tooth-fairy-questions-and-answers/.
You may want to leave a few coins along with a tooth fairy 1st tooth certificate, but there are lots of other creative ways to celebrate this rite of passage beyond swapping your child's first tooth for cash:
Why not read a Tooth Fairy Bedtime Story? It's the perfect way to introduce your child to the Tooth Fairy and get them into the magical spirit. You could start a new tradition and read the book again each time the tooth fairy visits in the future.
Grab some glitter and leave little footprints on your child's window sill – using a doll's shoe for the footprint is perfect! You could also sprinkle a little glitter on your printable tooth fairy certificate. If you're not a fan of traditional glitter, there are lots of good recipes available online for edible glitter.
Is your child worried that the tooth fairy won't be able see where she's going at night in your house? You could make a glitter fairy nightlight with your child to help light her way! Find an old jar and spray adhesive glue spray inside. Pour glitter into the jar then shake it so the glitter coats the inside. Once dry, place tiny fairy lights or a battery operated tea light inside.
What's Included On Each Tooth Fairy Certificate 1st Tooth Printable
Each of our delightful tooth fairy certificates for 1st Tooth have space to write your child's name as well as the all-important date when their very first tooth fell out. Each certificate prints onto A4 paper or card, and they're perfect for popping inside a frame so your child can keep them forever.
The designs all feature colourful pictures of bees, butterflies and fairy toadstools and will introduce plenty of fairy enchantment into your little one's life.
Girls Tooth Fairy Certificates
Our beautiful Girls Tooth Fairy Certificates are perfect to leave for your little princess whenever she loses one of her teeth. Children love certificates and they are the perfect way to remember the day when they lost a tooth.
What's Included on our Girls Tooth Fairy Certificates
We have nine colourful Girls Tooth Fairy Certificates to choose from in pretty shades of pink and purple. Each free printable certificate is adorned with delightful illustrations such as fairy castles, flowers, rainbows and the tooth fairy herself!
There's space on each A4 certificate to write your little girl's name along with the date her tooth fell out, and the tooth fairy has signed each certificate so she'll know it's really come from the tooth fairy.
Boys Tooth Fairy Certificates
Our free Boys Tooth Fairy Certificates are ideal to leave for your little guy to find in the morning in place of a lost tooth. If your little boy (or girl) prefers more simple, less frilly designs or perhaps they just love the colour blue, we've got a fabulous set of five free printable tooth fairy certificates to choose from.
Fun Fact: Although many people think the tooth fairy is a girl, lots of others think she is male. In many Spanish-speaking countries including Mexico, the tooth fairy is believed to be a mouse!
What's Included on our Boys Tooth Fairy Certificates
Each of our five free printable Boys Tooth Fairy Certificates print onto A4 paper with room to write your youngster's name and the date they lost their tooth. The tooth fairy has signed each certificate too, so that they feel truly authentic.
The fun designs are bright and colourful with simple blue colour schemes that will look great displayed on any bedroom wall.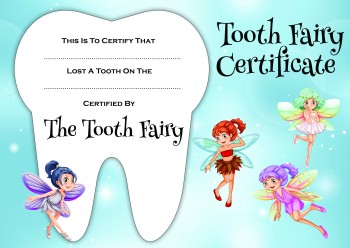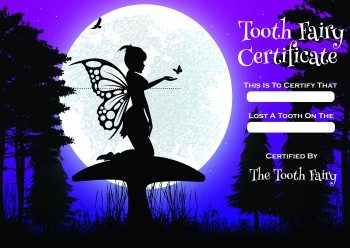 Benefits of giving your child a Tooth Fairy Certificate
Here are just a few of the benefits of leaving a free printable tooth fairy certificate for your child each time they lose a tooth:
Children need magic in their lives, and a tooth fairy certificate is the perfect way to add a little extra magic to the experience of losing a tooth. You can help spark a little imagination that they will carry into other areas of their lives too.
Parents are often busy and might be lacking time and creativity sometimes. Printing a free tooth fairy certificate is quick to do, but creates a long-lasting memory.
Some children can get anxious when they lose a tooth, but the excitement of the tooth fairy bringing a certificate and perhaps a small gift can help children overcome their fear.
Younger children don't always understand the value of money, but all children love to receive certificates. Certificates can last forever too!
Printable tooth fairy certificates are the perfect way to encourage excellent dental hygiene from a young age, rewarding children for their tooth brushing efforts.
With many of us not using cash as much these days, parents may not have any spare change lying around on the day their child's tooth goes missing. A printable tooth fairy certificate is a great alternative to leaving money for your child, and can often feel more personal too.
Bringing the magic of a childhood favourite like the tooth fairy to life for our children is a lot of fun for all the family, but it can be challenging at times for busy parents. Luckily there are lots of excellent resources available that can help parents create a magical Tooth Fairy experience that children will remember and love for years to come. Our free printable tooth fairy certificates are quick and easy to download and print, and make the perfect keepsake for each time your child loses a tooth.