Free Printable kids Crossword Puzzles
Just Family Fun's free, printable kids crossword puzzles can keep young minds busy and entertained for hours! It's no wonder why crosswords have been a beloved pastime for generations: they're engaging, challenging, and satisfying to complete.
So whether you need quiet-time to get things done around the house or want to challenge your toddlers with an independent activity, you have all the resources for fun right here in this ultimate crossword puzzle pack.
We recommend these crossword puzzles for children around 2-years-old to 9-years-old, but anybody can enjoy!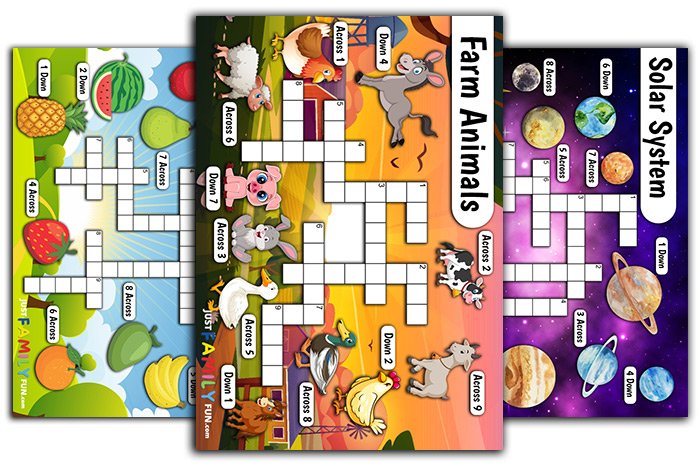 What's Included in Our Kids Crossword Puzzles
This set contains 9 printable crossword puzzles for kids. Each single-sided sheet has a blank grid to fill in and multiple images focused on various topics to use as clues. Find out more about each crossword puzzle design:
Colors: The color crossword puzzle asks children to identify various colors including but not limited to white, orange, pink, black, and yellow. Encourage your little ones to find matching colors around the house while completing their crossword puzzle to give the name of each color some context.
Farm animals: This crossword puzzle has images of a donkey, cow, goat, chicken, and other barnyard animals for puzzlers to name and write in the grid. Have your little ones ever seen any of these animals in real life? Help them remember the name of each animal by referencing the time you saw it in the wild or at the zoo!
Fruits: Hopefully your kids love all of these sweet, tasty fruits! This crossword puzzle points out the apple, pear, watermelon, pineapple, strawberry, and even more. Do they recognize them all?
Numbers: This puzzle is particularly useful for children learning their numbers! The clues are written in numerical form, such as 1, 2, 3, and children are required to spell out the numbers into the blank crossword grid in order to complete it.
Solar System: Our solar system crossword puzzle teaches kids about the major celestial bodies in our solar system, including Mercury, Venus, Earth, Mars, Jupiter, Saturn, Uranus, Neptune, and the Sun! If you're struggling to differentiate between the planets, try looking up images online and compare them to your crossword puzzle sheet.
Sports: Your kids have likely played any number of these sports in school! This crossword puzzle for kids focuses on football, soccer, tennis, basketball, and other fun sports and games.
Under the sea: This crossword puzzle requires your children to identify a dolphin, jellyfish, seahorse, crab, whale, and other sea creatures to complete their grid. These might take a little more thought and effort if you have never seen them in real life!
Vegetables: Do you have vegetables with every meal? Your little ones should be able to recognize broccoli, onion, peas, carrot, cabbage, mushrooms, and the other delicious veggies found on this crossword puzzle!
Zoo animals: If you've visited your local zoo or wildlife park, it's time to try out this crossword puzzle! Children are asked to identify the deer, lion, elephant, giraffe, zebra, tiger, and other zoo animals from images on the worksheet to complete their puzzle. How many do they remember seeing in-person?
How To Use Our Printable Kids Crossword Puzzles
Setup
To begin having fun, all you need to do is choose your favorite puzzle and print it out on white, A4 paper. You'll get the best image resolution and results if you print in full color!
We recommend filling out your printable kid's crossword puzzles in pencil. This way, if you make any mistakes, you can rub them out with an eraser and start over!
Optionally, you can laminate your kid's crossword puzzle and draw over the plastic with dry-erase or white board markers. When you've completed the puzzle, just wipe the marker away with a wet rag and it will be good-as-new for another puzzler to have a try!
Play
Crossword puzzles may look intimidating at first, but they follow a very simple pattern! On your worksheet, you'll find various images labeled with a number and direction, such as "1 Down" or "3 Across".
Now looking at your blank white crossword grid, you'll see corresponding numbers with square spaces for letters. Once you have determined the name of each image, such as "deer" or "carrot" you must fill in the grid by writing one letter in each box.
Your word should fit within the perfect number of boxes, including any crossovers with other words. If your letters don't fit, that means you got the clue wrong! Head back to the original image and think about what else the answer could be.
Tip: Always double-check your spelling before erasing any words!
Benefits of Crossword Puzzles:
Crossword puzzles have been a popular form of entertainment and mental exercise for over 100 years. That's right! The very first crossword puzzle was published on December 13, 1913 in The New York World.
These complex brain-teasers are popular for a reason. Dedicating time in your day to these puzzles has many benefits, especially these easier ones for preschoolers, kindergartens, and other young children! The benefits include:
Improving vocabulary: Just Family Fun's printable kid's crossword puzzles encourage the consolidation of basic vocabulary through fun, colorful visuals. Children may recognize these farm animals, sports, and more from television or books and begin to use the words regularly, thus expanding their command of the English language. If your kids haven't come across some of these words before, such as mango and conch, these crossword puzzles can be a fun way to introduce them for the first time. Studies show that for children under the age of 25, fun and engaging exercises like these puzzles are more effective in learning than traditional methods.


Enhancing spelling, grammar, and handwriting: aside from using the important vocabulary words found in our crossword puzzles, children will get the chance to write, spell, and use them in grammatically correct sentences.


Boosting memory and attention: crossword puzzles require children to remember and recall words they have already learned to fill in the grid blanks. This helps improve their memory and attention span, which can be crucial in other areas of life including studying for school and completing household tasks in a timely manner.


Having fun: finally, they're called puzzles and not tests! Crosswords are a fun way to spend time and refrain from boredom while still being productive and using your brain. Especially with our set of kid's printable crossword puzzles from Just Family Fun, your children will have a grand time peering over the colorful cartoons and creative images!
Crossword puzzles are a fun and effective way to help children improve their cognitive skills, expand their vocabulary, and develop their problem-solving abilities. Whether they're completing puzzles alone or with friends and family members, young ones can enjoy the endless number of benefits of our printable kid's crossword puzzles.
If you've enjoyed completing our crossword puzzles with your own kids or even your students, consider exploring Just Family Fun for other family-friendly experiments, games, and activities such as printable mermaid coloring sheets and an indoors firework science experiment using as little as water and oil.