Introducing our free Family Planner a game-changing resource for those struggling to organize meals, appointments, and weekly goals.
Our family planner is an effective tool for coordinating schedules, ensuring you never miss quality family time or forget important events. Take control of your family's schedule and make the most of your time together.
With our planner, you can easily manage and track activities for each family member, eliminating the stress of missed appointments. It brings harmony to your household and helps you prioritize your family's well-being.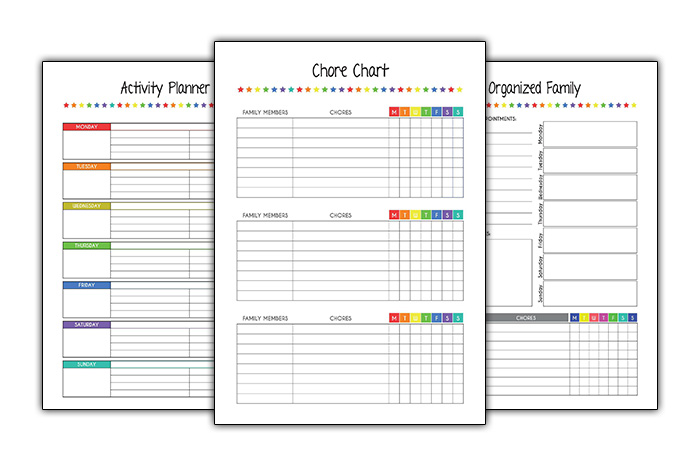 Whats Included In Our Printable Family Planner
These printable family planner pages include a meal planner, goal tracker, chore charts, and activity planner that are colorful, easy to use, full of variety, and genuinely fun to use with children – and as a disorganized dad, this will be my new planner to keep me on track. You can select different pages that you feel you need. Also, Free Printable Family Planner as a dad who has two full-time jobs, I simply don't have the time right now to sit down and create my own planner each week, and whilst this might not be the same for you, I can assure you that this resource will save you tons of time. Therefore, these free printable family planner organizer pages are perfect for keeping your busy lives simple.
This is a Free Printable Family Planner resource we have created for YOU. All you need is access to a printer. Click on the links below each description, download your page of choice, and print. I recommend starting by introducing a couple of family planner organizer pages at a time.
This will help your family get used to some changes and help you to fill out the pages easier to create a routine. I remember asking my mum how on earth she coped with raising two toddlers, maintain a full-time job and still provide the stay-at-home mum jobs like cooking, shopping, and cleaning the house, and she said it was the most stressful years of her life. She wished she had a planner would have organized the life which would involve my dad helping out, but because she was busy all the time and a family planner organizer wasn't a thing she went without.
Printable Appointment Planner
On the first page, we have family appointment planner in bright and colourful fonts. This sheet aims to help you keep track of events, classes, school nights and appointments. It also has a box for each day of the week to fill in any extra notes. As I only have the one child this part is really good for keeping track of my daughter's schedule as my partner can take over in the evenings and doesn't have to ask me all the time if she needs fed or a nap etc.
I began using this downloadable page a few months ago and I cannot emphasise how much it has changed my life. I literally write everything on that sheet so my fiancé can't complain when I supposedly haven't told him about a coffee date, hair appointment or in his case a missed doctor's appointment.
Personal tip: I would highly recommend printing a few copies of this sheet to stick around the house and then colour-coding each family member's event, so no one gets confused, but more so the fact that you can assign a parent to each event rather than trying to guess whose event is for which person.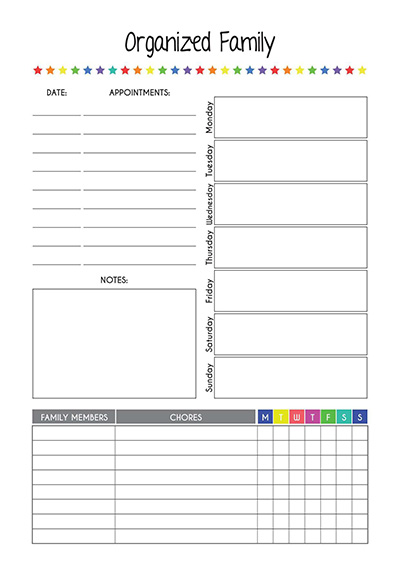 Following on from the appointment family planner is the chore chart. This printable sheet has eight boxes for different family members, so why not get everyone who is old enough involved. The chores don't have to be too complicated. For instance, someone call wash the dishes or fill the dishwasher up while another person clears the table. Or if your children are a little older you can get them to clean their room, put shopping away or water plants.
The sheet has checkboxes below each day to make sure that each family member has done their designated chore for the day which can be handy to track. You don't know how excited I was to introduce this sheet in my household. Before we had our daughter I was totally okay with my partner doing the bare minimum around the house because she works very long hours. I would just make sure dinner was ready and the house was clean, but let me tell you when you become a parent this job HAS to be shared and I found out the tough way. Free Printable Family Planner.
Personal tip: Add an incentive for the end of the week for everyone that does their designated chores. For example, a meal at a family restaurant or a day out to the beach. This encourages children to re-evaluate how they feel about chores because they know they are receiving something that will benefit them at the end of it.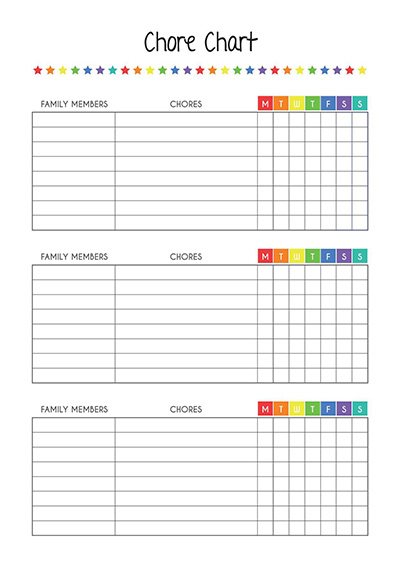 Next up we have the daily plan which includes a to-do list and a small reminder box for each day's top priorities. At the bottom of the page are boxes to fill out for menu ideas for breakfast, lunch, dinner, and even snacks. This printable sheet is a good start to organizing your day! Free Printable Family Planner. This is a good idea to get your family to write on the sheet what they fancy for meals albeit on the day or a few days in advance. It helps you prepare for shopping and it stops the greedy ones from constantly ask what is for dinner. We all know that feeling of when they don't like something and turn their nose up at it. I don't have to see you for you to relate to this.
Personal tip: If you are like me and have a busy work schedule I promise that this printable page becomes VERY handy. In my jobs I have to deal with a lot of clients, so if I have phone calls and Zoom meetings I write them on the planner so everyone in the family know not to disturb me.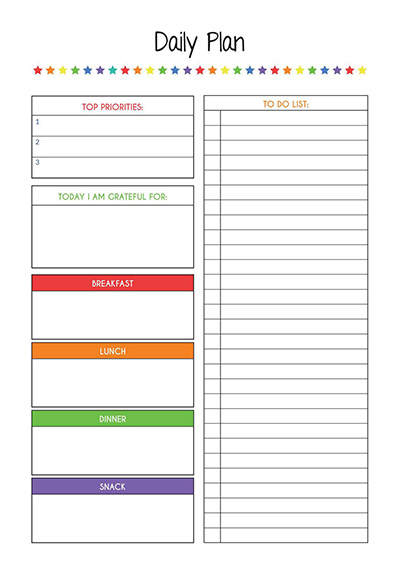 If you prefer to work on a weekly basis, look no further than this weekly planner. It is brightly coloured to show off each day with plenty of white space to write down everything. There is also a small section to write any extra notes. 
Time management is one of the biggest challenges that many people face on a day-to-day basis especially when their calendars start filling up quickly at the beginning of each week. It is a fact that the productivity levels of each person can vary from day to day, and modern tools that are supposed to help us work better and faster can be turned against us – as I write this I know I am thinking about the countless hours I spend scrolling through social media and watching other people's Instagram adverts.
Personal tip: Sit down one evening with the family and decide how you could dedicate some family time on the weekly plan. Maybe one week a Saturday is perfect because the sun is shining and no one has other commitments or a Wednesday evening because the rain is hitting hard against the windows and you have all decided a family movie night is ideal. See blog here for family movie night ideas if you are stuck.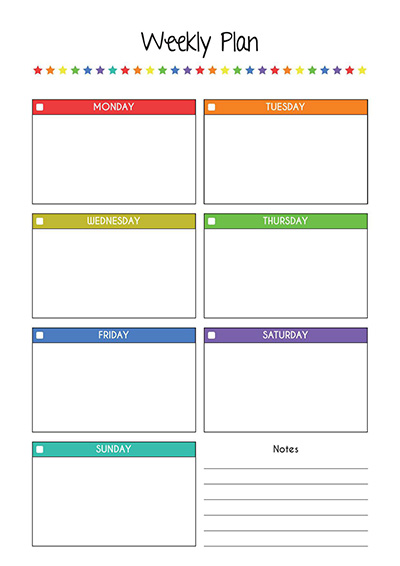 Printable Activities Planner
Introducing our innovative Family Activity Planner—an essential tool for families with active children involved in various sporting, guiding, and dance activities. This planner is designed to streamline and organize your family's social life efficiently.
With its user-friendly layout, each day in the planner features eight spacious boxes where you can easily jot down activities and their corresponding times. No more scrambling to remember schedules or missing important events. Our Family Activity Planner empowers you to keep track of everyone's engagements, bringing harmony to your household.
This planner is particularly favored by partners who struggle to keep up with their child's numerous activities. It provides a centralized hub for tracking your daughter's involvement, ensuring you and your partner are always in sync, whether it's work meetings, dance sessions, or any other commitments.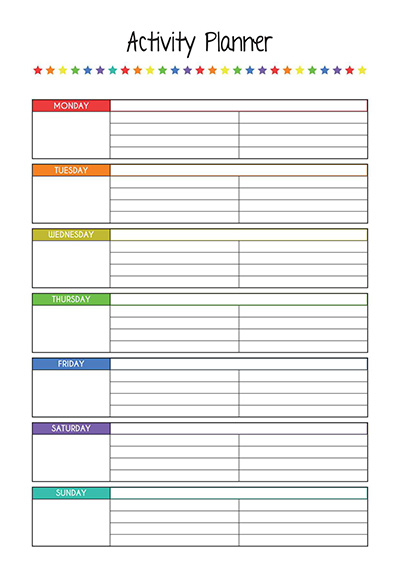 Moving on to the Goal Tracker downloadable sheet. This can be used to monitor your child's behaviour at school, write down any goals that you want to achieve or something you would like your family to conquer. There is a box for the top three goals month, important dates for birthday we all forget and then have to rush around buying presents for and a notes column for any extra bits and bobs.
As my daughter is very young I use this page to write the important milestones she should be reaching and the tasks that I can do to help her reach those goals. For instance, I wanted her to get used to colours, so I made a note of spending 20 minutes each day with some sensory toys and just listing colours. I know she can't say them back to me, but I am aware she is listening and taking in what she is saying to me.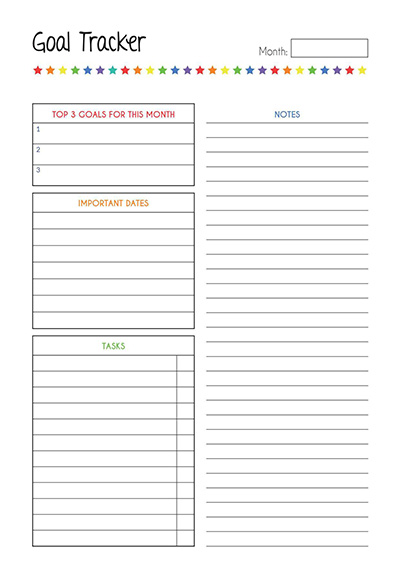 Printable Meal And Shopping List Planner
The Meal & Shopping List Planner is not just your average organizer—it's a game-changer when it comes to managing your family's meals and grocery shopping. This comprehensive planner is designed to simplify the entire process, ensuring you have everything you need to create delicious and well-planned meals.
At the heart of this planner is the meal planning section, where you can map out your family's breakfasts, lunches, dinners, and snacks for the week ahead. With dedicated spaces for each day, you can easily jot down your meal ideas, taking into account dietary preferences, nutritional balance, and any special occasions. Say goodbye to the last-minute scramble to figure out what to cook, and hello to stress-free mealtimes.
But it doesn't end there. Our Meal & Shopping List Planner takes your organization to the next level with its integrated shopping list section. As you plan your meals, you can simultaneously note down the ingredients needed for each dish. This ensures that when it's time to hit the grocery store, you have a comprehensive and organized shopping list at your fingertips. No more forgotten items or aimless wandering through the aisles.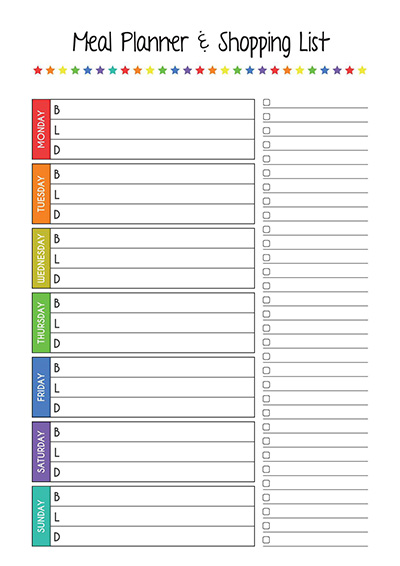 The Family Activity Planner doesn't stop at managing schedules; it goes above and beyond to accommodate all your family's needs. At the very end of the planner, you'll find a dedicated notes section, designed with versatility in mind.
This thoughtful addition provides a space to jot down anything extra that comes to mind, ensuring no important details or spontaneous ideas slip through the cracks. Whether it's a reminder for a family phone call, a special milestone worth documenting, or simply a space for your toddler to unleash their creativity, the notes section is there to serve you.
We understand that everyone has different preferences when it comes to writing. That's why the notes section offers flexibility with three options: a page with lines, dots, or a completely blank canvas. This way, you can choose the format that suits you best. Personally, I'm delighted by this idea because not everyone finds comfort in writing on lines. It allows for a more personalized experience, catering to each individual's unique style.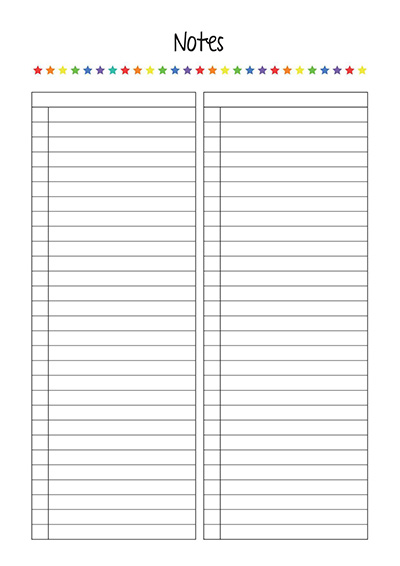 What do you think of the family planner organizer? They totally are a creative and fun way for you to get yourself organised. Please don't feel obliged to use all of the pages. I started off with using one or two pages for the first few months and then introducing more pages later on. They are completely free which is why I take advantage of them. I hope this helps your family get into a routine easier without the added stress. Click on the links in each section to download your free planner sheets now.