3 Printable Plane Outline Templates
Children and adults around the globe have been fascinated by paper aeroplanes for generations. These plane outline templates will go down a hit with any child that loves planes or is about to go on holiday.
There is a plethora of craft and educational activities you can use the plane outlines for. They make a brilliant fun activity for little ones learning about geography or the history of flight.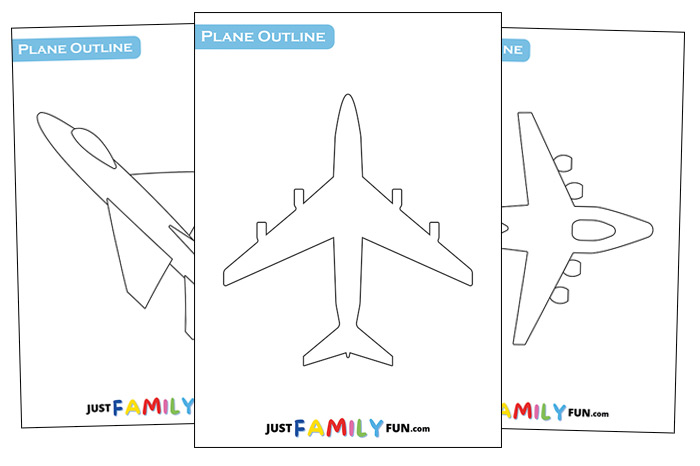 Our Plane Outline Templates Include The Following
The designers here at just family fun have created three different plane outlines that can be used as colouring pages, templates, stencils, or cut out for crafting activities.  Each of the three outlines is a simple image of a plane. One is a plane as seen from below, one from above and the final outline is a plane climbing through the sky.
What Can Our Plane Outline Templates Be Used For?
The three plane outlines can be used as simple colouring pages or for more exciting and imaginative craft activities.
Create stencils and templates from the outlines to apply planes to walls, t-shirts, posters or anywhere else you fancy. They would make great decor for bedrooms or party bunting for those children that love planes.
Let your children's imaginations soar whilst they fly planes around the world. Colour in as many planes as you like – create a whole fleet if you wish. Mark an area out on the floor as the airport, encourage your child to take the panes and fly to a country they have visited or pick one randomly from a map.
Have the plane land and you could even chat about what you would do at the final destination. Discuss how long the flight would be.
If you have a giant world map, you could create an around-the-world flight.
These planes make great outlines for plane lovers to practice their cutting skills. Try and encourage them to cut away all the excess paper first and then cut out the detail.
Let your child choose their favourite plane and decorate the sheet with pencils, crayons or felt pens. If you like cutting and sticking you could create a collage by glueing different materials onto the surface. Create clouds with cotton wool or make a runway for the plane to land on.
Use the aeroplanes you cut out above to make planes that really fly. Attach a paper straw with sellotape to the back of a plane. Insert a smaller straw or tube inside the straw. Blow into the first straw and the plane will fly across the room.
Since 1996 the member states of the United Nations (UN) have celebrated International Civil Aviation Day. Whether you are looking for an activity to do to celebrate the day this year or just looking for a crafting activity do entertain your children at home or on school these plane outlines make the perfect resource.