4 Printable Paper Doll Cut Out Templates
Hey there, fellow parents! Are you searching for an enjoyable and engaging activity that will captivate your children's imagination? Look no further! Just Family Fun has created a fantastic experience for you and your little ones with our Printable Paper Doll Cut Out Templates featuring our charming doll characters: Ariel, Arya, Belle, and Eloise.
Get your scissors out and start stylizing your dolls with our cutout printable clothes. Each doll comes with over 6 items of clothing, allowing for endless fashion combinations. Let your children's creativity shine as they mix and match outfits to create unique looks for their beloved paper dolls. It's time to embark on a fun-filled journey of dress-up and imaginative play!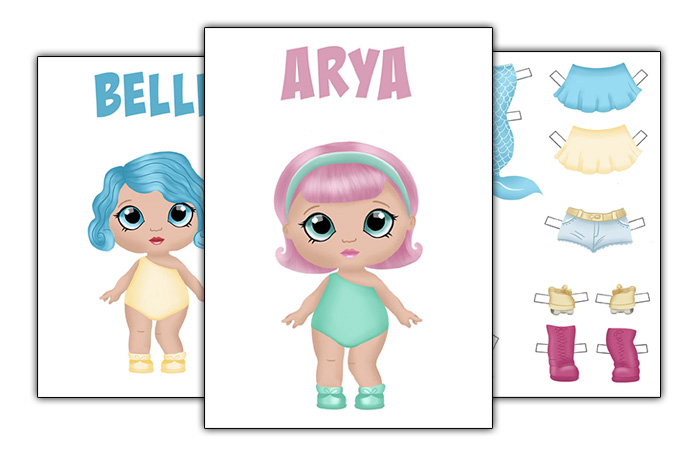 What's Included In Our Paper Doll Cut Out Templates
When you download our Printable Paper Doll Templates, you'll receive a complete set of materials to kick-start the fashion show:
Four Charming Doll Characters: Your child will have the pleasure of dressing up Ariel, Arya, Belle, and Eloise. Each doll has their own unique style and personality, ready to be brought to life through creative fashion choices.

Over 8 Cutout Clothes for Each Doll: Get ready to mix and match! With a variety of skirts, tops, accessories, and more, your child will have endless options for creating stylish and trendy outfits for their paper dolls.
Details About Each Doll: Unveiling Their Unique Styles
Let's take a closer look at each doll and discover their individual characteristics:
Ariel: This doll features white and pastel-streaked hair, accentuated with a cute blue bow. With an assortment of skirts, rollerblades, and funky glasses, Ariel is ready to showcase her fashion-forward outfits.

Arya: With a stylish pink bob and a delicate headband, Arya exudes charm. Dress her up in ear muffs and gorgeous green boots, allowing her to flaunt adorable and trendy looks.

Belle: Immerse yourself in the enchanting world of Belle, the mermaid-themed doll. She boasts stunning blue wavy hair, a magical tail, and a shell top. Additionally, Belle has an alternative western outfit for those daring fashion moments.

Eloise: Eloise is all about fashion-forward fun! Sporting a trendy purple topknot with a cheerful yellow bow, she rocks denim skirts and stylish cowboy boots with flair. Watch as your child unleashes their creativity while styling Eloise in the trendiest outfits.
Activity Ideas: Unleashing the Fashionista Within
Our Printable Paper Doll Templates offer more than just dress-up fun. Here are a few activity ideas to inspire your child's imagination:
Fashion Show Extravaganza: Organize a fashion show at home, complete with a runway and music. Encourage your child to create unique outfits for each doll and let them showcase their designs in a glamorous fashion event.

Fashion Design Challenge: Challenge your child to create a brand new outfit for their favorite doll. Provide them with art supplies like markers, colored pencils, and glitter to add their personal touch to the clothes.

Storytelling and Role-Playing: Encourage your child to invent stories and scenarios for their paper dolls. Let their imagination take flight as they bring their dolls to life and act out different adventures and narratives.

Collaborative Fashion Team: Invite friends or siblings to join in the fashion fun. Each participant can dress up a doll and then swap dolls to create unique fashion collaborations.
Conclusion: Let the Fashion Show Begin!
With our Printable Paper Doll Templates, your children will enter a world of fashion and creativity. The mix-and-match possibilities, coupled with the unique styles of Ariel, Arya, Belle, and Eloise, will inspire
If you enjoyed playing with our doll templates and had fun, you'll definitely love our Printable Paper Cut Out Characters. With over 20 delightful characters to choose from, you can easily print them out, cut them, and assemble them for endless enjoyment. Alternatively, you can also visit kids-pic.com, where you'll find an adorable doll that can be printed out.