Are you a fan of pretty sunflowers?
When we plant sunflowers in our garden, we do it to enjoy watching them bloom.
We also decorate our indoor ares with sunflowers as it makes us feel fresh and reminds us of spring. Today, we can let them decorate everywhere as we learn how to make paper sunflower out of paper rosettes in a few simple steps that we can use to decorate indoors, and ones which will not wilt within 2-3 days.
Making folded paper sunflowers is so easy and uses only a few simple craft items. It is awesome that we can make them so simply just by using some folded paper!
Whether you are an adult or a kid, this craft it suitable for anyone to make and will give you lots of fun!
Here is what you will need to make the paper sunflowers:
Materials
A4 papers (Yellow, green and orange/beige/brown colors)
Scissors
Glue
Stapler
Tape
Decorative items (Craft eyes, marker pen)
How To Make A Sunflower Out Of Paper
Firstly, Fold the yellow printed paper in half and cut along the fold with scissors.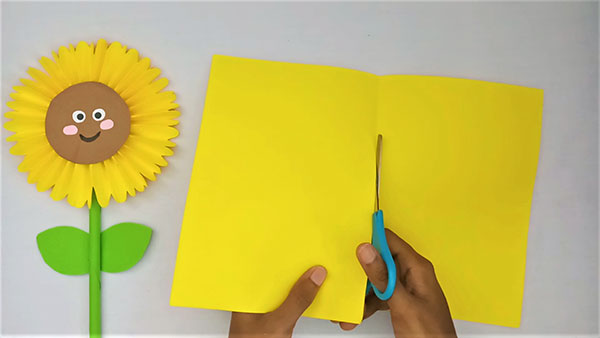 Fold the paper in an accordion style. Continue this method until you reach the end of the paper.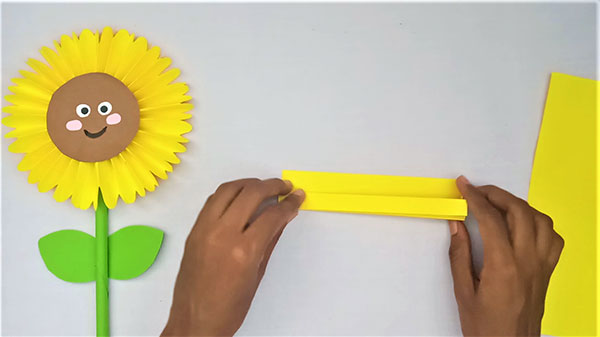 Then, cut the ends of the folded paper into a rounded shape by using the scissors.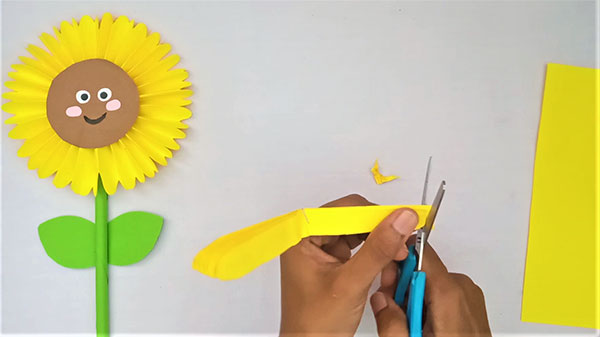 Fold the folded paper in half and pin it in the middle by using a stapler.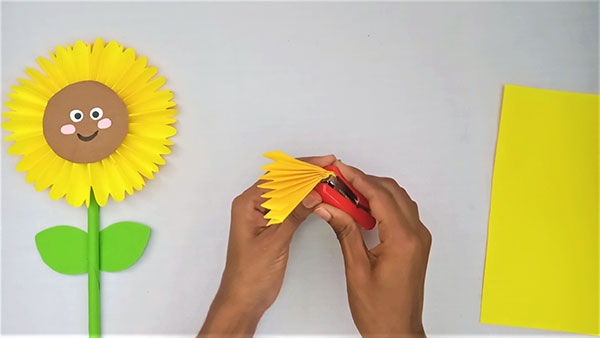 Spread some glue along the inside edge and glue together. You can also use double sided tape to hold them together.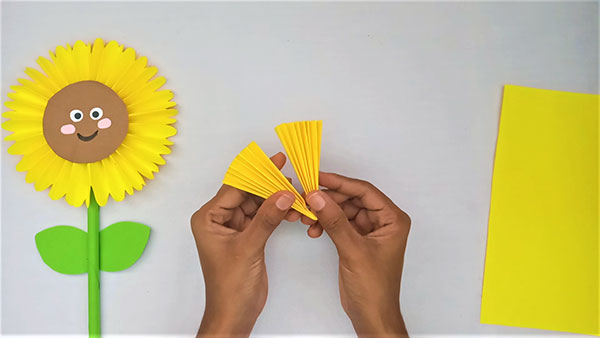 Repeat these steps with the other half of the yellow paper in exactly the same way.
Now, glue both of the folded paper pieces together. The Folded papers should now be pleated in a full and complete circle.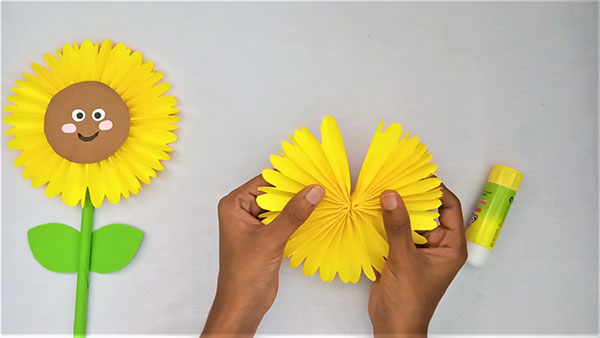 Using the scissors, cut out a small circle from the orange color paper. You can use brown or beige color if you prefer. This may delineate the stages of the sunflower life cycle.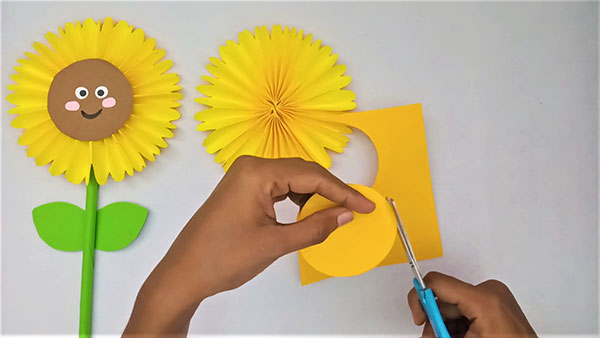 Glue the orange paper circle you have just cut onto the middle of the pleated paper circle.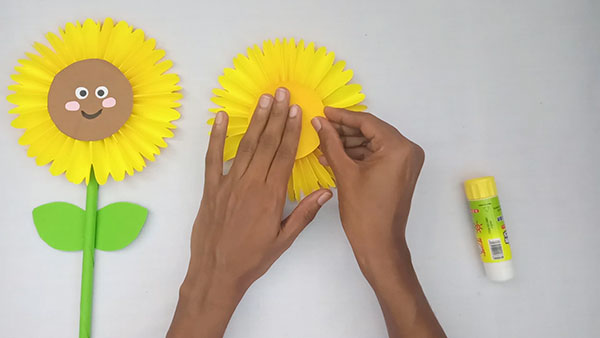 You can now decorate the flower surface as you wish, but definitely with a happy, smiley face!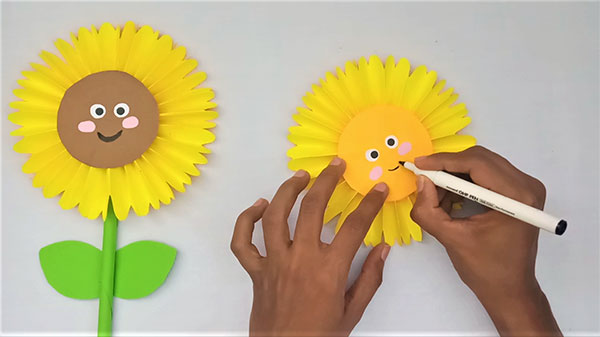 Your Sunflower face is now done! But what about making the stem?
Take 10 cm *25 cm of the green piece of paper and roll it by using a stick as a guide and then glue the end.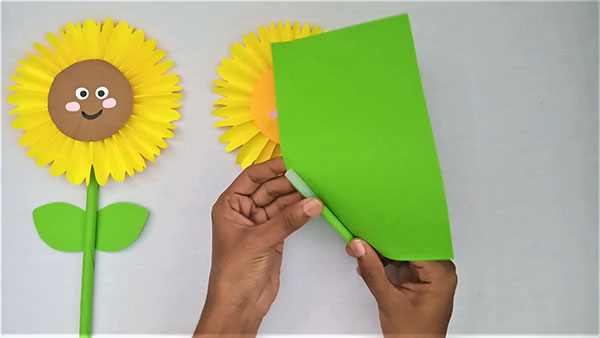 Cut off the excess edges of the stem to make the ends flat like straws.
To make the sunflower leaves, you can cut leaf shapes out of the same green color paper, and then glue onto the middle of the stem you've just made.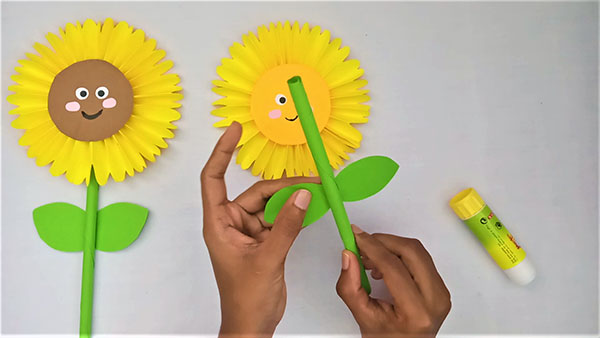 Finally, to complete the finished sunflower, you can glue the top edge of the stem and set onto the flower rosette. You can make this step extra secure by using tape too!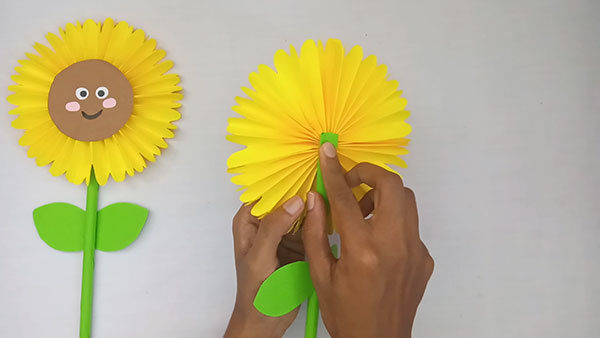 Ta- Da! It's done!
Now you have a pretty sunflower to decorate your room which will never wilt.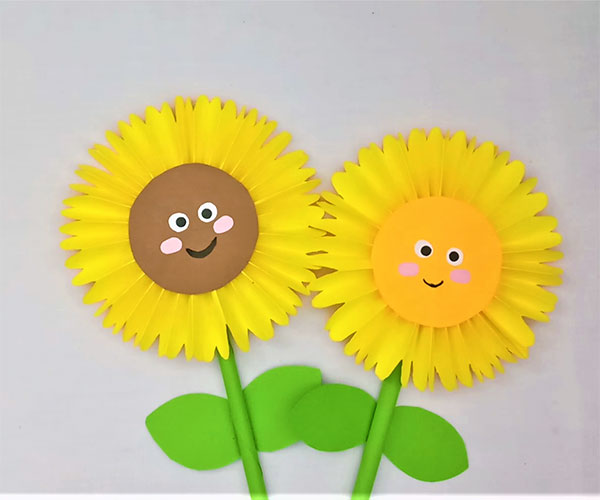 We hope you enjoyed learning How To Make A Sunflower Out Of Paper rosettes! Don't forget to check out our other fun and simple crafts to keep adults and kids occupied making beautiful things!