Printable Guitar Templates

Welcome to our collection of Printable Guitar Templates! Whether you're a musician, a craft enthusiast, or just looking for a fun activity to do with your kids, these templates are perfect for you.

You can use them to create your own custom guitars, or for coloring and decorating to make unique artwork. With three different designs to choose from, you'll have plenty of options for your next project. So, grab your scissors, glue, and markers, and let's get creative!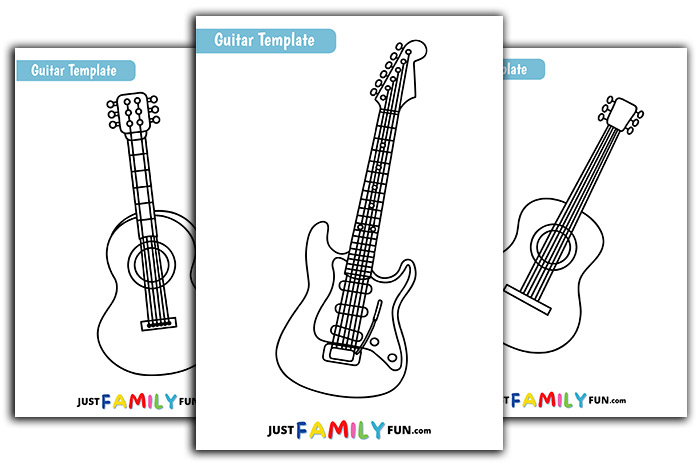 What's included in our Guitar Templates
We've included three outline images of acoustic and electric guitars in the downloadable guitar template pdf for you and your children to choose from. Choose one or use them all. They are free to use, so grab as many as you fancy.
How To Use Guitar Templates
Simply download the printable guitar template and print it out. Then simply use the image as a colouring page or as a template for a range of super fun crafts.
What you can use these Guitar Templates for
Colour the Guitar In
A great way to get started with our guitar templates is by colouring them in. Ask your child (or decide for them) to choose their preferred colouring materials such as crayons, coloured pencils or markers. Then let them decide on what colours they would like to use for their guitar. They can use realistic colours or choose their own unique colour scheme.
Waterpaints are a great option for colouring all over the guitar picture without hiding the detail of the guitar.
Encourage them to start by colouring in the body of the guitar, trying to stay within the lines. Then let them move on to the neck of the guitar, colouring in each fret according to their chosen colour scheme.
Finally, colour in the tuning pegs at the top of the neck and the strings.
Remember to let them have fun and be creative. Colouring is a great way to relax and express themselves creatively. Enjoy!
Decorated Guitars
Decorate the guitar with a range of materials. Why not try these ideas for decorating your guitars?
Use watercolours to create a wash of colour over the whole guitar, or add splatters for a unique effect.
Cut out small shapes or designs from patterned paper or magazines and glue them onto the guitar for a collage-like effect.
Create a 3D effect by adding layers of tissue paper or crepe paper.
Use glitter glue, sequins or gemstones to add sparkle to the guitar.
Make a 3D Guitar
Once they're done colouring the guitar in, they can cut out the guitar template and assemble it into a 3D guitar using a few simple materials like paper or cardboard.
Simply adhere the paper guitar to a piece of cardboard for durability. Use multiple pieces of cardboard to make the guitar as deep as feel appropriate.
Cut out guitar strings from a piece of wool or string and attach them to the tuning pegs located at the top of the neck.
Lastly, let your child strum away on their new guitar!  If they don't want to add strings, let them use it like an air guitar.
Halloween Guitar Pumpkin Carving Template
Looking for a creative Halloween decoration idea? Why not turn our guitar template into a pumpkin carving template?
Using the paper template as a guide, trace the outline of the guitar onto a large pumpkin. Then, use a carving tool to carefully cut out the guitar shape (you may need to use a smaller, more detailed tool for the strings and other smaller parts).
Once your pumpkin guitar is carved, you can place a small battery-operated light inside to create a fun and unique Halloween decoration. Or, use it as a stencil to paint or draw a guitar onto other Halloween decorations like banners or posters.
This is a fun and easy way to add some musical flair to your Halloween decorations, and is sure to impress your friends and family!
MDF Guitar Template
Why stop at just a paper or cardboard guitar template?
You can use our templates to make a more durable and long-lasting guitar template, using MDF. MDF (medium-density fiberboard) is a type of wood composite material that is perfect for making craft templates because it allows for intricate designs and can be sanded or painted without breaking.
Grab some MDF, draw around one of our guitar templates and cut out the MDF-shaped guitar. You can use this as an MDF guitar template for an eco-friendly reusable guitar template or decorate it.
This activity is not only a fun way for kids to express themselves creatively, but it's also a great way to introduce them to the world of music and instruments. Who knows, this could be the beginning of their journey towards becoming future rock stars!
So what are you waiting for? Download our guitar template now and let your kids' creativity soar!