30 Free Printable Puzzles For Kids (Toddlers and Preschoolers)
Hey there! We're excited to introduce the latest addition to our offerings at Justfamilyfun.com.
We've created a fantastic set of free printable puzzles for kids, now available in easy-to-download PDFs. Our team has been hard at work designing a collection of 30 delightful puzzles that we think you and your little ones will absolutely love.
Our youngest audience – preschoolers and toddlers – are always at the forefront of our mind when designing our puzzles. We want to make sure there's something for everyone, so the puzzles range in complexity from 2-piece sets for beginners to more intricate 16-piece puzzles for those seeking a bit more of a challenge. Better yet, these puzzles come in a variety of themes, so there's a puzzle to match every child's interest.
Whether you're looking for activities to suit a quiet afternoon indoors or a fun-filled playdate, our free printable puzzles will add an extra dose of enjoyment to your little one's day. Simply download the PDFs, print them out, and let the puzzling adventures begin! We hope these puzzles bring smiles, laughter and lots of quality family time.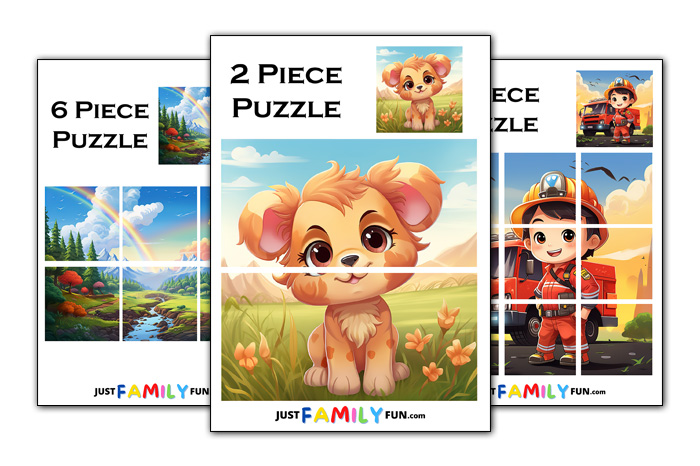 What's Included In Our Free Printable Puzzles For Kids Collection
Dive into a world of colour and creativity with our vibrant collection, perfect for your little explorers. They're more than just pieces – they're captivating adventures waiting to be unravelled.
For beginners, we've got adorable 2-piece puzzles featuring the cutest animals, bringing a smile to your child's face with every match they make. And if they're up for something a bit more tricky, they'll love our 4-piece puzzles. These feature a variety of fun character designs from spacemen and mermaids to unicorns and dinosaurs, which are sure to keep them engaged and entertained.
Stepping it up a notch, our 6-piece puzzles offer even more excitement. With themes ranging from picturesque landscapes to quirky characters, they'll provide an immersive experience that sparks curiosity and creativity.
And the adventure doesn't stop there. Our 9-piece puzzles highlight the essential work of emergency services, featuring police, doctors and firefighters. It's a wonderful way to introduce your child to some of the heroes who keep us safe every day.
And finally, if they're ready for the next step, we have mesmerising 16-piece rainbow-themed puzzles. These intricate designs not only challenge young minds but also celebrate the beauty of colour.
There really is something special for every little puzzle enthusiast out there. We've carefully curated these themes to ensure that each puzzle tells a unique story and provides hours of delightful exploration and learning.
How To Use Our Free Printable Puzzles
Using our puzzles is a breeze! Just follow these simple steps:
– Scroll down the page until you find a puzzle that catches your eye.
– Click the "Download" button under your chosen puzzle. This will open the design in a PDF file format.
– With the puzzle in PDF format, you're all set to print it. Simply click on the "Print" option in the top right corner of the PDF viewer.
– To make sure you can use your puzzles again and again, we recommend laminating them. This will allow them to withstand the test of time, and ensure countless hours of fun.
– Once your puzzle is laminated, grab a pair of scissors and carefully cut out the puzzle pieces. Remember, if you're a young puzzler, it's a good idea to have an adult assist you during this step.
– And there you have it! Your puzzle is ready to be enjoyed.
Have a blast putting together your newly printed and laminated puzzle. Happy puzzling!
2 Piece Printable Puzzles For Toddlers And Preschoolers
The first set in our collection is our delightful 2-piece puzzles. We've got a total of 9 charming puzzles available to download. Each puzzle features an adorable and colourful animal design that's sure to capture your little one's attention. From playful dogs to curious cats, majestic lions to quirky chickens, and even more to explore – there's a whole menagerie of animals waiting to be discovered.
These puzzles are specially designed with preschoolers in mind, perfect for when they're just beginning to explore the world of matching pictures. It's a fantastic way to introduce them to the joy of piecing things together and recognising shapes and patterns. Whether it's a rainy afternoon or a quiet moment at home, these puzzles offer a wonderful opportunity for learning and fun. So go ahead and download your favourite ones, and let the animal adventures begin!
Printable 4 Piece Puzzles
The next step for your young explorers is our collection of 4-piece puzzles. These are perfect if your toddler has mastered the 2-piece puzzles and is ready to try something new. We've created a set of 9 puzzles, each carefully designed to take your little one's puzzling skills to the next level.
With each puzzle having its own unique theme and character, the excitement never ends. From enchanting unicorns to roaring dinosaurs, and mystical mermaids to other captivating characters, there's a whole world of imagination waiting to be explored. These puzzles provide an engaging and enjoyable way for toddlers to further develop their cognitive skills and creativity.
So, if you're seeking a new adventure for your young puzzler, our 4-piece puzzles offer just the right balance of challenge and fun. Download them today and embark on a journey of discovery together!
Printable 6 Piece Puzzles
Next up is our range of 6-piece puzzles. These offer a bit more of a challenge, making them a great choice if your little one is finding the 4-piece puzzles a tad too easy. We've put together a collection of 6 designs for you to explore, which will provide that satisfying mix of difficulty and enjoyment.
With themes that range from trains to monsters, and even a sandcastle scene, there's a diverse array of options to capture your child's imagination. These puzzles offer a fantastic opportunity for kids to enhance their problem-solving skills and spatial awareness, all while having a blast.
So, if your youngster is up for a puzzle challenge that's just right, look no further than our 6-piece puzzles. With creativity and fun at the forefront, these puzzles promise a rewarding experience that will keep your child engaged and entertained. Don't wait – download them now and dive into the excitement!
Printable 9 Piece Puzzles
Take things to the next level with our 9-piece puzzles – a real step up for your young adventurers. In this collection, we offer three intriguing 9-piece designs that promise a world of fun and learning for your little ones.
The theme for these puzzles revolves around the essential emergency services that play such a crucial role in our lives. Your child will have the chance to explore the worlds of police, firefighting and medical services through these captivating puzzles. Each piece of the puzzle contributes to a bigger picture, offering an engaging way for kids to build their problem-solving skills, patience and attention to detail.
So, if your youngsters are ready to tackle a puzzle challenge that's a bit more of a thinker, our 9-piece puzzles are a perfect choice. With the joy of discovery and the thrill of piecing together these exciting scenes, your child's journey of exploration and growth continues. Don't hesitate – jump into the adventure and download these puzzles now!
Printable 16 Piece Puzzles
Wrapping up our collection, we present the ultimate adventure: our 16-piece puzzles. These are designed to really test your kids' puzzle-solving skills and provide an engaging experience. In this set, you'll find three beautiful 16-piece designs that are sure to captivate and excite.
These puzzles are a burst of vivid rainbow colours, each one showcasing a different form of travel – a plane, a train and a car. As your child assembles these intricate puzzles, they'll not only enjoy the fun of the puzzle-solving process but also explore the world of transportation in a playful and interactive way.
Kids will not only be entertained but also experience a sense of accomplishment as they conquer these tricky puzzles piece by piece. So, if your little adventurers are ready for a fun puzzle experience that pushes their limits and encourages their creativity, our 16-piece puzzles are ready and waiting. Download them now and embark on this exciting puzzle journey together!
We sincerely hope that your little ones have had a blast with our free printable puzzles for kids collection. And fear not, the fun doesn't have to end here! There are even more activities beyond these creations. We've curated an entire collection of other enjoyable puzzles that are sure to keep the excitement going. From engaging kids' crosswords that encourage learning through play, to captivating word searches that challenge their vocabulary skills – there's something here to amuse and entertain every child.
So, whether your kids are eager to explore new challenges or simply want to continue the puzzle-filled adventure, our diverse selection is ready and waiting. Keep the curiosity and enjoyment alive by diving into this range of puzzle options. After all, there's no shortage of ways to make learning and play an exciting and interactive journey! Click Here