Free Printable Play Money For Kids
Fuel your child's rich imagination with our FREE printable play money.
As a parent, you understand the importance of keeping children engaged, entertained, and learning in a fun and creative way. The inspiration for this business has always been to bring the fun to educational play with our range of printable worksheets, colouring sheets, games, and other activities designed to spark the imagination of young minds.
The most recent addition to our popular printables is our range of free, printable play money. Stop for just a second. Consider the potential to facilitate both learning and fun when you equip your children with a wad of (pretend) cash, along with a vast array of games and experiences to utilise it.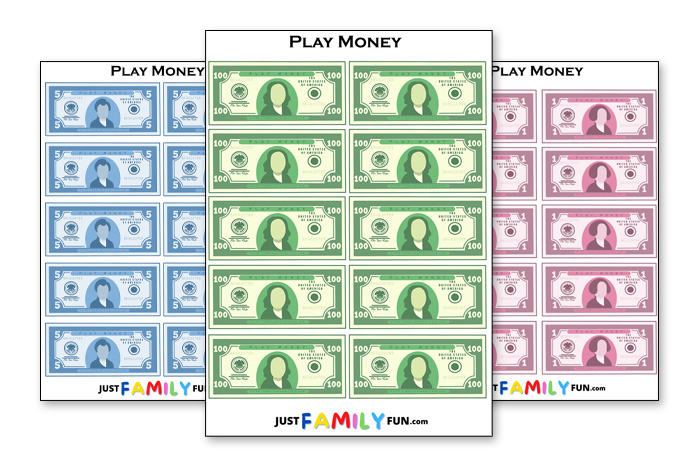 What's Included In Our Free Printable Play Money
Included in our printable play money designed for kids, you will find 1-dollar bills, 2-dollar bills, 5-dollar bills, 10-dollar bills, 20-dollar bills, 50-dollar bills, and 100-dollar bills for your children's enjoyment.
Play Money Benefits For Kids
Make financial literacy fun
Education is focused on the ABCs and 123s with something that could be compared to tunnel vision. No one is denying that reading and writing are essential ingredients of a happy and successful life.  But what about financial literacy? As children move into young adulthood the ability to make, manage, and save money is one of the most crucial skills they can ever learn.
Imagine the hours of fun your kids can have playing with their rolls of paper money. Their natural zest for life and curiosity mean that basic financial concepts can be introduced to them by incorporating money-based games and role play into their early life. Who can forget the fun of setting up a pretend shop or being a pre-school banker? Without even realising it, their daily play is teaching them life skills like counting, budgeting, making transactions, and making decisions about spending and saving.
Let career role-play open their minds
Play money serves as a catalyst for imaginative play and role-playing. Children act out the roles of bankers, shopkeepers, parents… or even cops and robbers, or pirates hiding treasure! Although maybe focus less on some of the 'careers' at the end of that list! This play which focuses on careers in the adult world helps them to exercise their problem-solving skills, their organisational skills, social interaction – and just all-around creativity! Role-playing helps children understand the world around them, develop empathy, and learn to navigate different situations, all while having a blast with their play money adventures.
Making maths fun!
Now, less of the ABCs and more of the 123s! Maths seems to be a constant topic on the news, particularly from politicians. This much-maligned subject seems to get a bad rap in the public arena – but maybe the answer to the problem is to inject some fun back into numbers! Of course, maths is a critical subject, and teachers and parents alike spend years, trying to engage their students and children in the subject. Maybe our free printable play money is the answer!
Whether they are a shopkeeper selling playdough apples, or a busy mum paying for a cotton wool ice cream, children are using their printed-out play money as an invaluable teaching tool. Without even realising it, they are practising their addition and subtraction, as they exchange, count, and manage their play money. Having the play money physically in their hands makes the process more real. More understandable, And ultimately more applicable to everyday life.
Improving people skills with paper money
Getting friends and family involved in their play money activities is an excellent way for children to develop their social interaction skills. It's not all about just playing in a group – maybe there's a future high-flyer in the group who is learning their trading and negotiating skills at the living It for
These games foster fun, in the form of teamwork and cooperation. They help children learn how to share and work together effectively. These social skills are essential for their personal development and future success in both education and career.
Teaching Responsibility
Using play money introduces the concept of responsibility in a gentle and age-appropriate way. Children can learn about the consequences of their choices, such as overspending leading to a lack of funds for other activities. By experiencing these consequences in a safe play environment, they develop a sense of accountability, which is valuable for their overall character development.
Exciting Play Money Activities to Explore:
Fantasy Shopping Spree:Transform your home into a miniature shop, allowing your child to step into the roles of both shopkeeper and customer. Engage in counting, change-making, and even negotiation exercises during this delightful shopping experience.
Maths Practise and Budgeting Fun:Introduce fundamental maths concepts like addition, subtraction, and multiplication using the play money. Pose questions such as, "How much does this toy cost if it's $5, and you want to purchase three of them?" or "If you have $10 and spend $5 on a toy, how much do you have left?". This activity combines learning with enjoyment.

Financial Responsibility

:Teach your child about the significance of saving and budgeting. Set up a play bank or employ a piggy bank to impart the value of saving for the future.

Role-Playing Adventures

:Encourage imaginative play by assuming roles like bankers, cashiers, successful entrepreneurs or intrepid treasure hunters. This nurtures creativity and enhances communication skills as children partake in imaginative scenarios.
Artistic Money Makeover:Similar to coloring pages, our free printable play money can become a canvas for your child's creativity. Allow them to adorn their banknotes with stickers, drawings, or even glitter to craft personalized currency.

Currency Lessons

:Educate your child about real-world currency and the various denominations of bills and coins used in the USA and add a history lesson about the historical figures featured on notes.
Money-Themed Games:Create engaging games, such as a play money scavenger hunt, where children search for hidden play pounds around the house. Alternatively, organize a "store" game where they can buy and sell items using their currency.
Replacement Game Money: Use our free printable play money to replenish lost notes from your favourite family card or board games, rather than purchasing a new set.
Incorporating downloadable and free printable play money into your children's everyday games and activities is a fantastic way to offerings is a fantastic way to make their fun functional. Not only are they role-playing, burying treasure, and creating imaginary stores, they are also developing their social skills and bringing numeracy into their play.
Check out our site and find hundreds of free, printable resources for you and your children. Make learning fun every day with our free printable play money, colouring sheets, reward charts and many other resources.