Free Printable First-Word Flashcards
Our free, downloadable and printable first-word flashcards are fantastic for babies and toddlers who are just starting to talk. Using flashcards is a fun activity to share with your young child and can help them to pick up new words. You can start to use vocabulary flashcards as young as 6 months old.
The flashcards are thoughtfully designed with bright and stimulating images to capture your child's attention. They will enjoy looking at them as much as practicing naming them.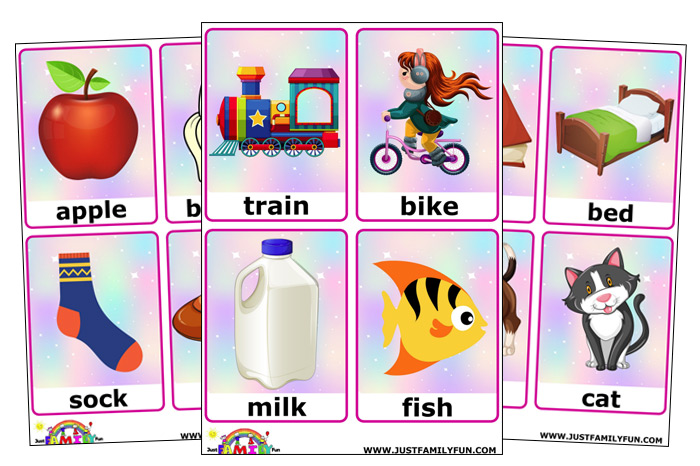 Our First-Word Flashcards Include
We have chosen a range of items that are familiar to your child such as a teddy, banana and book. Learning this key vocabulary will help your child to communicate and express themselves.
A subject that is guaranteed to capture a child's interest. Our cute illustrations of cat, dog, cow and more will have your child excited to practice their flashcards with you.
Another topic that many children love. We cover a range of vehicles such as cars, boats, and trains. Key vocabulary that will help them to talk about the world around them and also identify some of their favourite toys.
How To Use Our Flashcards
Flashcards can be used in lots of fun and exciting ways.
Show and Tell – Show the flashcard to your baby and say its name clearly. Repeat a few times. Keep it fun and use a sing-song voice, animal noises and vehicle sound effects. Choose only a few cards at a time and keep the session short.
Name the Card – Hold up the flashcard and ask your child to name the image. If they get it right add it to a pile on your right, wrong answers on the left. As you repeat the game, more and more cards will end up in the right pile. Remember, lots of praise and high fives for correct answers.
Find the Flashcard – A great activity to encourage movement. Spread out the flashcards an appropriate distance away for your child's ability. This could be a short distance or the other side of the room. You could also place them on a higher surface, like the sofa, if you want to encourage pulling up to standing. Name a flashcard and ask your child to find it. They must make their way to the card by crawling, walking or pulling up and select the right one to bring back. They can be rewarded with lots of claps and cuddles when they succeed.
Match to the object – It is important to help your child understand that the picture represents a real-life object. If you have any small toys that match the flashcards, use them too. Have your child match the objects to the cards or show them at the same time. For older children, you could use flashcards as a scavenger hunt. Hide the toys and show your child the flashcards. Can they find the right toy without you name it?
Top Tip – Make your flashcards tough enough to withstand a toddler by laminating them, printing on card, or gluing onto the card. This will toughen them up and make sure they last for lots of fun flashcard sessions.
Recommended by Just Family Fun's Readers