Do you have a future botanist on your hands? Is your house filled with leafy greens and spiky plants? Then Just Family Fun's free printable cactus templates are perfect for your family! Our set of cute, cartoon cacti templates can guide an endless number of art and craft activities for preschoolers and young children. Whether you are limited to crayons and colored pencils or have a stash of glitter, string, and scissors at home, these cacti templates will cure your boredom!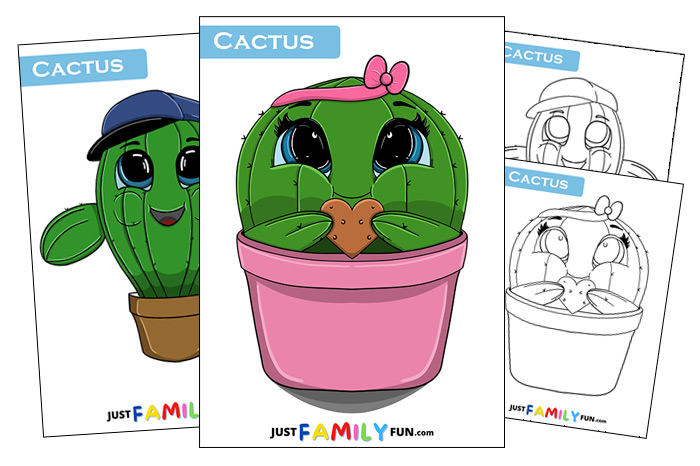 What's Included In Our Cactus Template PDF Download
This set includes four printable cactus templates. They come in two styles:
A fully-colored and vibrant boyish cactus wearing blue clothes and an alternative black-and-white template for you to decorate yourself.


A bright and vividly-colored girly cactus wearing pink clothes and an alternative black-and-white template for you to decorate yourself.
We recommend printing out your cactus templates in full color to achieve the best effects. You can use them for many activities, such as…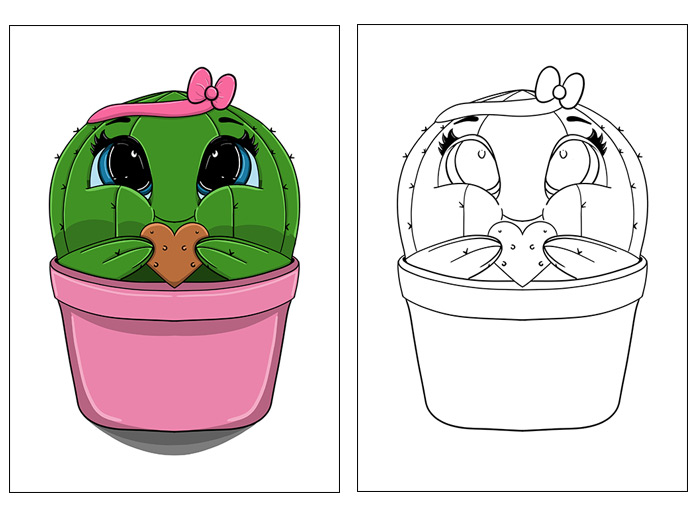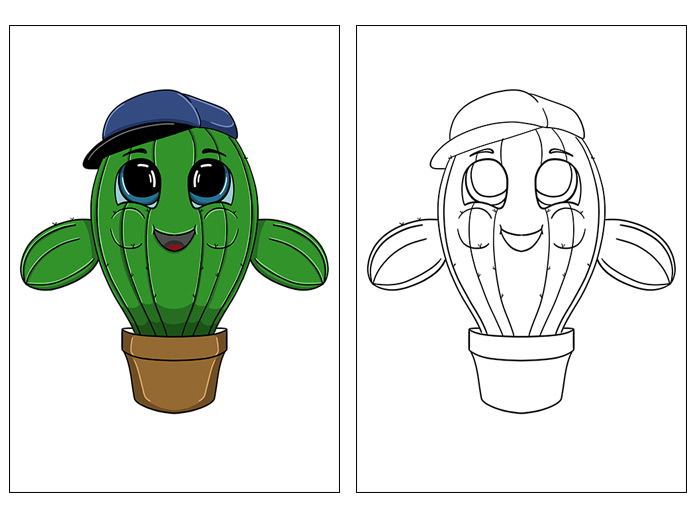 Simple coloring sheets!


Set your kids free to decorate and color in their black-and-white cactus templates as they please. This encourages creativity and allows young children to express their thoughts in a fun way!

Create a garden on your wall or

refrigerator
Once you've colored in your cacti, cut them out and paste them on your wall or fridge with Blu Tack! The more cacti you color and create, the larger your garden will grow.

Use different artistic mediums and tools


If your little ones have mastered crayons and colored pencils, let them try decorating their cacti templates with other artistic mediums. Safely using glitter, sequins, snippets of paper, and string can improve your childrens' hand-eye coordination and fine motor skills!

Give your cacti names and backstories


Especially if they're going to live in your garden, your cacti need names. Try to find the silliest, most bizarre, funkiest names to give your cacti so they feel at home on your fridge! If you're feeling especially creative, think of their history and backstory. Where did they come from? How many siblings do they have?

Create puppets


Once your cacti are named, you can create puppets out of them! Cut out each cactus and use it as an outline to cut another piece of paper with exactly the same shape. Line up the edges of your two cactus shapes, then carefully glue the edges of the papers together. Remember to leave a gap at the bottom of the planting pot large enough for your finger or a clean popsicle stick to fit through. Leave the puppets to dry then try them out!

Play pretend "hide and seek"


Hide your young one's cactus friend somewhere around the house for them to find! They'll have to run around just to find it hiding in the dirty laundry, behind the cereal box, or even under their pillow. Get creative with your hiding spots!

Make tissue-paper flowers


To add a bit more flare to your cacti, try making paper flowers and gluing them to your templates! All you need to do is rip small pieces of colorful tissue paper, fold them in half, and glue them together in alternating directions!
Some species of cacti can live to be 300 years old!
Most cacti are found in Australia, South Africa, and Mediterranean countries.
Cactus spines function like leaves. They produce nutrients for the plant without losing as much water!
Hummingbirds are one of the cactus' main pollinators!
Cactus roots are typically seven feet long to absorb as much water as possible.
There are nearly 2,000 different species of cacti!
Some cactus species are endangered. It is illegal to sell and trade these plants!
More fun cactus facts can be found here.
If you've enjoyed Just Family Fun's cactus templates pdf, you may like to try our other activities! Check out our Sunflower Template as well.