Free Alphabet Letters Printable
Are your little ones practising their ABCs? Are you looking for a fun way to help them practice drawing their letters? Or perhaps you are working on an arts and crafts project together and could use a letter stencil to help you to decorate it? Whether you need a stencil for educational or decorative purposes, Just Family Fun has you covered with these free alphabet letters printable templates.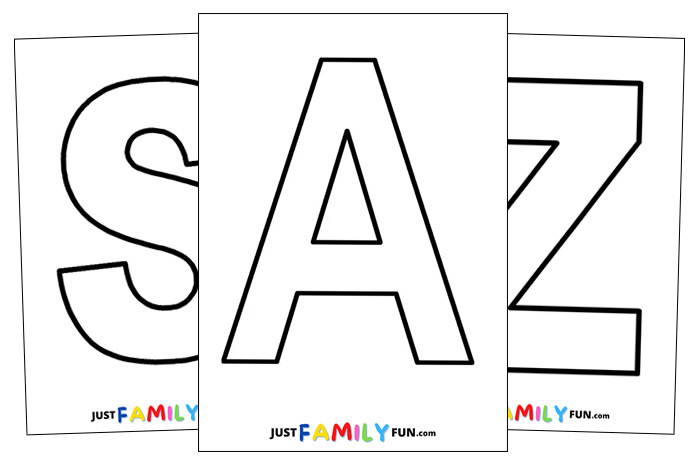 What's Included in Our alphabet letters printable Templates
The pdf includes all 26 letters of the alphabet. The letters are available in both uppercase (ABC) and lower case (abc) so you can choose the right format for your purpose. There is one letter per page, making it easy for you to either print all of them or to pick and choose to print only the letters you need. To make the letter stencils as easy as possible to use and to help them last for extended use, we would recommend printing them out onto cardboard if possible. Once you have printed the letters that you need, simply cut them out and you're good to go!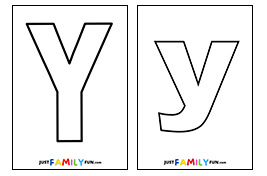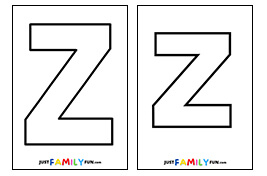 There are several ways that you can use our free alphabet letters printable templates, both educational and fun. We've brainstormed some ideas and listed just a few of our favourites below for your easy reference.
If your little one is at the stage where they are learning to write letters, the letter stencils can be extremely useful in helping them to practice writing the letters correctly and in a uniform shape. They can move on to copying the stencil letters instead of tracing when they are ready.
In early learning, letter recognition is a key skill. You can use the stencils to create your own flashcards to work through with your children. It can be a lot of fun to use personalised flashcards, although if you would prefer to use ready-made flashcards, you can find some free printables here.
It's always a popular idea when you suggest getting the colouring pens out! Why not have your child colour in the letters? They could also draw objects beginning with the relevant letter on the same page. This could also save you some time if you were considering the flashcard idea as perhaps your older children could design the flashcards for you to use with your youngest!
The stencil letters can be used to create cards to be used for memory and matching games.
When most kids get to a certain age, they get real enjoyment from having their own privacy – and from drawing up signs to make the rest of the household aware of this! Whether they want to create a "Keep out" sign for their bedroom door or whether they want to mark "Private" on the front page of their diary, the letter stencils can be used for them to do this.
Kids and adults alike usually like to keep the front pages of their notebooks looking tidy! The stencils can be used to neatly write names and subjects on your notebook covers.
Whether your child has a school arts project or whether you are working on a fun project together at home, the alphabet stencil is bound to come in handy to help you all decorate your project to a high standard!
Everybody loves the personal touch of a handmade card, don't they? If you print the stencil letters to a smaller scale, they can be used to draw lettering on handmade cards or party invitations.
If you have a special occasion or event coming up such as a birthday party, the alphabet stencils can be used to draw the lettering on banners, posters and signs.
The alphabet letter stencil templates aren't just for kids! You can use them yourself to create any banners, posters or signs you need within your home or business. They can even be used to help you with home decoration if you want a cost-efficient way to stencil letters on to your wall.
No matter whether you are looking for alphabet letters printable templates solely for fun and decorations or whether you need them for educational purposes, we hope you and your whole family get beneficial use from our free printable resources.
If you've found some creative ways to use our letter stencils, please feel free to share your stories and pictures with us on Facebook, Twitter or Pinterest. We love to see our printables being put to clever use!