Weather is an important part of our lives and it's a great way to teach preschoolers and kids of all ages about the environment. Weather coloring pages are an excellent tool to help young children learn all about the many types of weather and seasonal events including rain, snow, wind, hurricanes and sunshine.
These free printable colouring sheets can be fun and educational at the same time, allowing kids to explore different weather conditions in a creative way.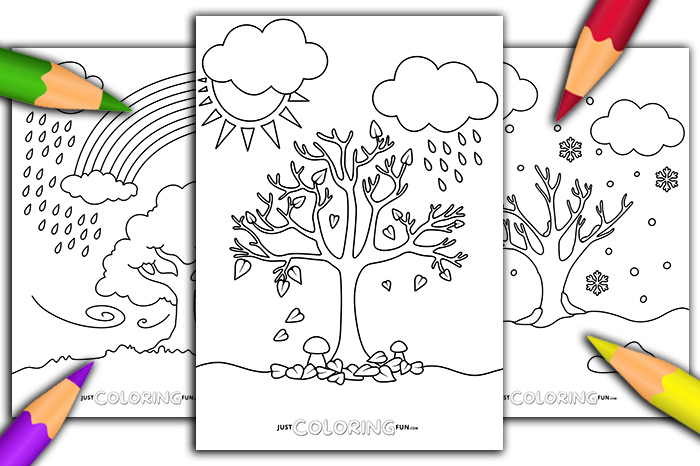 What's Included In Our Weather Coloring Pages
We've included 6 different weather coloring page free printables for you to download and print. From sunshine on a tropical beach, to rain, hurricanes and snow we're sure that you will find a free weather coloring pages that you and your little one will love.
5 Crafts You Can Use Our Weather Colouring Sheets For
Crafts are a great way to get creative and have fun with the family and once you've coloured in your colouring sheets you can use them in so many different ways to make beautiful creations. Here are a few craft activities you can use your childs coloured colouring sheets for. 
Weather Wall Art
Kids love to see their art work on the wall and creating wall art is a great way to use the weather colouring sheets. All you need is some blank paper or cardstock, a frame and your favourite coloured pencils or markers. Start by selecting the weather design you want to use for your artwork. Then transfer the image onto the paper or cardstock anbd colour it in. Once the master piece is created simply pop it into a frame and hang it up in your home or office! It's a great way to brighten up any space with your childs personalised artwork.
Weather Greeting Cards
Colouring sheets can be a great way to make greeting cards. Whether it is for a holiday, birthday, or any other special occasion, the vibrant colours and intricate designs of colouring sheets make them ideal for creating unique cards.
Weather Mobile
Have your child color different weather coloring sheets, then cut them out and attach them to a string. Hang the strings from a clothes hanger or wooden dowel to create a weather mobile.
Weather Booklet
Print out several weather coloring sheets and staple them together to create a booklet. Have your child color each page and write a sentence or two about each type of weather.
Weather Collage
Cut out different weather coloring sheets and arrange them on a piece of paper to create a weather collage. Your child can add other materials such as tissue paper, cotton balls, or stickers to create a 3D effect.
What Other Types Of Activities Can I Do With My Child To Learn About The Weather?
Learning about the weather is a great way to engage children and have fun at the same time.
With a little creativity, there are plenty of activities you can do with your child to explore the different elements of weather. This could include making a cloud-in-a-bottle model, creating paper rainbows, or using a thermometer to measure temperatures.
You can also take your child outdoors to observe natural phenomena such as a rainbow in the sky or snowflakes falling from the clouds.
To wrap it up, weather coloring pages are a great way to get your child interested in learning about the weather. If you liked our crafts you may like the weather crafts suggested over on Craft Play Learn.
With a little creativity, there are many other activities you can do with your child to learn about the weather. So grab some crayons and get creative! You and your child can have fun while learning more about the world around them